Dish Announces 4K Box, Live TV Streaming Service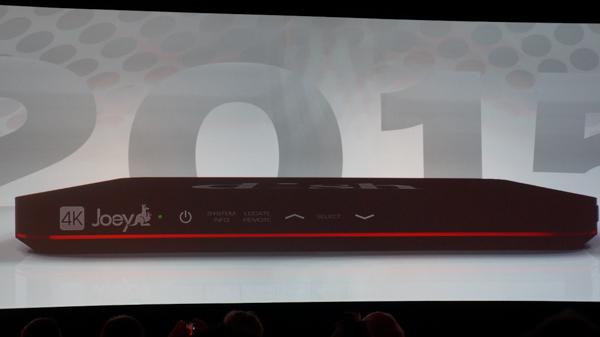 In typical Dish grandstand fashion, the company reeled off a slew of announcements about an upcoming 4K set top box, the launch of Sling Television stand-alone streaming service, newly designed hopper menus and remote control, and whole home audio. After opening with a marching band decked in red lights, and five dancers in Joey Kangaroo costumes, it was a back-to-back news for the satellite TV provider.
For all those who say there is no 4k content, 2015 is the year of steadily growing content as is evidenced by the announcement of the 4K Joey that will be released in the summer of this year. In the Dish system, a Joey is a slave receiver device that gets its signal from the main Hopper unit. The 4K Joey will connect to the Hopper and to a compatible 4K TV that has an HDMI 2.0 connection with HDCP 2.2 (copyright protection). A special picture-in-picture feature allows two full HD 1080p pictures to play side-by-side.
The Hopper is getting a full user experience makeover with a new User Interface (menus) and a newly designed remote control. The "carbon UI" is white on black (which looks cool but is harder to read) and displays information about the chosen channel's program. Beneath the program information is a carousel grid of similar channels. A complete departure from the old "TV Guide" style channel and program list, the new menu is designed to work with a new remote that sports 17 buttons—down from 53 on the old Dish remote—and a touchpad for swiping, scrolling, and tapping. This remote will also have Hopper Voice for search and voice command control. It will be released in Spring 2015.
Netflix was added to the Hopper less than a month ago and will shortly be joined by the music video Vevo app. Vevo has a library of 100,000 HD music videos that can be streamed for free and will be available by the end of January through a firmware update to exisiting Hoppers. Dish will later add more streaming capabilities including the Lyve photo app that can access all of a user's photos and videos on any of their devices that have the Lyve app.
Recognizing that Hoppers and Joeys are often connected to a home theater receiver and speakers, Dish announced that it will add whole-home music to its set top boxes. Together with a Dish music mobile app, users will be able to stream music separately to each device or together for a synchronized party mode.
Dish has paid attention to the viewing habits of young adults from 18 to 35. As the "millennials" audience is not subscribing to traditional TV providers, Dish is trying to reach them by getting into the OTT (over-the-top online streaming) game with Sling Television (available in February). Sling Television is a pay service that will stream live and video on demand content from a number of partners including ESPN, ESPN2, TNT, TBS, Food Network, HGTV, Cartoon Network,Travel Channel, HGTV, andDisney Channel. The base price for Sling TV is $20 per month with add-on programming for Kids, News and Info, and a Sports Extra to cost $5 each per month.
Sling Television will have a DVR-type feature where users can pause, rewind and fast forward live and VOD channel programs. It will also include a 3-day Replay feature that lets users watch select shows that have aired in the past 3 days. Sling TV is an online service that does not require a Slingbox, and will be available on a number of platforms similar to the current Sling TV app, including mobile devices, Roku, Fire TV, Android TV, Smart TV, and Xbox One.