Denon DVD-2900 Universal Player
Denon has a long history of making first-rate components at reasonable prices, and now comes their entry in the burgeoning market for universal DVD players. No company, it seems, can fail to have one of these players in its lineup these days, and at $999, Denon's DVD-2900 is among the least expensive. Yet it still includes all of the must-have features one expects in a high-end player.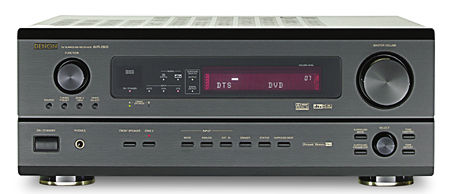 The proliferation of universal players is beginning to remove the need to choose a format for most consumers, thus ending the little-noticed format war between DVD-Audio and Super Audio CD. But while consumers might not have to worry about choosing a format, record stores now have the burden of needing to stock both DVD-Audio and SACD titles in addition to CD and a few titles on cassette (not to mention DVD-Video discs as well). Still, it's easier to buy DVD-A and SACD discs online these days. I particularly recommend the new multichannel SACD reissue of Pink Floyd's Dark Side of the Moon.
Description
The DVD-2900 is a large, serious-looking instrument in black that weighs a meaty 17 pounds. Buttons are big and handily marked—no ambiguities as on some players, notably some recent Sony products that sacrifice ease of use for handsome, unique faceplates. The Denon's large metal disc drawer opens relatively slowly—majestically, some might say, while others would call it ponderous. Even the instruction manual is a tome, at 184 pages, largely because it provides the instructions in Spanish, French, and English . . . I think. It's one of the least comprehensible manuals I've seen in a long time.
Like all of its universal brethren, the DVD-2900 plays DVD-Video, DVD-Audio, multi channel SACD, CD, MP3, CD-R/RW, and DVD-R/RW. Alone among the players I've seen, it also displays Kodak Picture CDs and works as a JPEG photo viewer.
The DVD-2900 provides full bass management with a single fixed crossover point at 80Hz. This eliminates the need for an outboard bass-management device such as the Outlaw ICBM, which is proving to have been an excellent but interim product. The DVD-2900 also provides speaker-distance adjustments, allowing you to set the distance from the listener-viewer's chair to each speaker. An onboard test tone lets you increase or decrease the output for each speaker.
The onscreen menus are graphical, as in virtually all universal players (Pioneer's DV-47A is the exception), and straightforward —not tricked out with gimmicks, as I sometimes feel about Sony's menus. The Denon's menu system is exceedingly easy to use.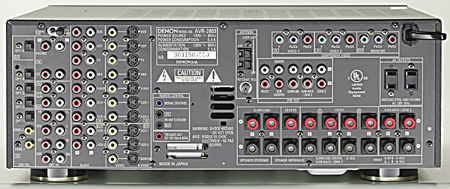 For the video signal, the DVD-2900 uses a 12-bit/108MHz D/A converter—a robust processor comparable to those in most such players. It's a little less impressively specified than the 14-bit/108MHz processor in Sony's DVP-N999ES, which plays SACDs (2- and multichannel), but doesn't play DVD-As and costs $200 more than this one. Audio signals use 24-bit/192kHz D/A converters, a signal rate dictated by the DVD-A format.
The Denon also offers progressive-scan output using the same Silicon Image digital video processor used in the DVD-9000. In addition, the DVD-2900 provides 3:2 pulldown correction and a panoply of picture adjustments. Among these is an 11-step gamma control for adjusting the relationship of input to output brightness. Most discs don't need adjustment, and the use of these filters is generally unnecessary, but it's good to know they're there if needed.
The DVD-2900 can display the blacker-than-black bar on the PLUGE pattern from test DVDs such as Video Essentials, which is useful for setting black levels. And its remote, though not backlit, is easy to use. It also has built-in Dolby Digital and DTS decoders. As the company explains, the reason for offering the decoders is to allow those surround signals to be manipulated by the Denon's own bass-management speaker-placement circuitry and then passed to the analog output. Why you'd want to do that instead of performing those chores in the receiver or processor is not clear to me. While you normally have to use the player to perform these functions for DVD-Audio and SACD, a digital connection from the player for Dolby Digital and DTS will take advantage of the often more flexible digital signal processing in the receiver or surround processor.
LATEST VIDEO