Demos: How Sweet It Bis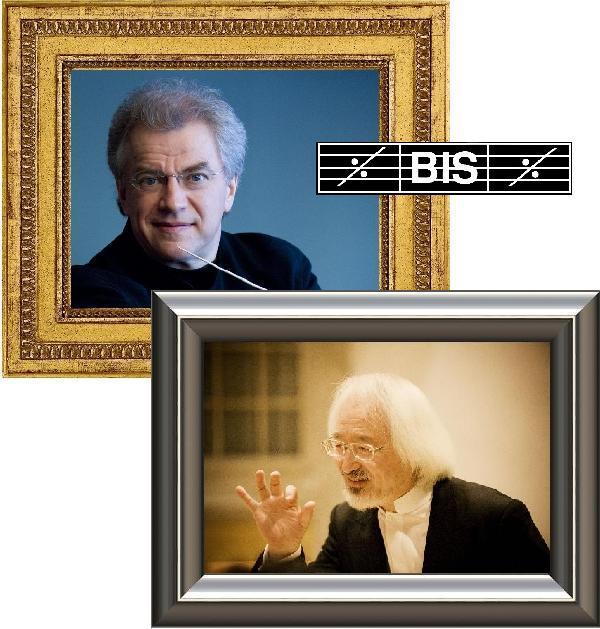 Bis is a Swedish music label with a
large catalogue
of Super Audio CDs. Among them are two releases that have become my go-to choices for major works in the orchestral repertory: Beethoven's nine symphonies and Bach's six
Brandenburg Concertos
. Both are DSD recordings, less than a decade old, with surround and stereo soundtracks. They'll cost you more than most CD box sets of the same works. But the chance to hear these vibrant performances in high-res DSD via SACD is well worth the price. Think of surround as icing on the cake.
The Finnish conductor Osmo Vänskä conducts the Minnesota Orchestra in Beethoven: The Symphonies. Vänskä is one of the good guys in the classical music industry. When the cash-strapped orchestra's management locked out the musicians in a dispute over pay cuts, Vänskä sided with the musicians, conducting the orchestra in exile from its usual venue. He even resigned in protest, only to be rehired "in a move that some are calling a victory for art over commerce," according to The New York Times. That the music director had led the orchestra in its Grammy-winning Sibelius symphony cycle was probably a factor. Not every regional orchestra has that feather in its cap.
Prior to this my reference standard for a complete set of the Beethoven symphonies has been Herbert von Karajan's early-1960s recordings with the Berlin Philharmonic, which I have on LP, CD, and PCM-sourced SACD. However, even on the SACD, I've always found his string sound a little acerbic (which he remedied when re-recording the cycle in the 1970s). Karajan also tends to favor the strings over sections of the orchestra, perhaps an element of the "Karajanizing" to which his critics object (along with his WWII-era past). Vänskä's Beethoven has an irresistibly propulsive vitality, like Karajan's, but his treatment of the string section is more nuanced. Sometimes the strings are out front; sometimes they hang back and let the reeds, winds, or brass sing. While he takes the first and second symphonies a little too slowly, the vigor and clarity of his other interpretations make this cycle the most satisfying Karajan alternative I've heard to date—for a complete cycle, that is. Carlos Kleiber still rises above all others, but he recorded only the fourth, fifth, and seventh symphonies (and the sixth on an audience tape being marketed on CD).
Masaaki Suzuki leads the Bach Collegium Japan in Bach: Orchestral Works including the six Brandenburgs and an additional four orchestral suites (making the set a good value despite its relatively high price). Suzuki founded the group in 1990 to bring baroque music to Japanese audiences. Conducting the concertos from the harpsichord, with his flowing white hair, he must cut quite a figure. The group's numerous other Bis releases include dozens of Bach cantatas, a longterm recording project still in progress.
There are loads of other Brandenburgs in print, and many of them, like the Collegium's, use period instruments. But this one has a couple of advantages. One is the superb Bis DSD recording, a precisely focused treble-rich treatment that doesn't try to dumb down the instruments, instead uncovering their distinctive richness. Treble-rich doesn't mean treble-thin. Listening to it is like drinking a giant mug of strong coffee. Those twin French horns in the first concerto are a wake-up call. The fifth concerto's extended (and increasingly frenzied) harpsichord solo showcases Suzuki's keyboard prowess. I'm not averse to modern-instrument recordings of this work—Karl Munchinger's London set with the Stuttgart Chamber Orchestra, and even the Karajan equivalent, are worth hearing. And I've got several other period-instrument recordings on my shelves including the Orchestra of the Age of Enlightenment (a bargain 2CD set at $10). But Suzuki's is the one I'll be turning to most often in the near future.
Both releases are five-disc sets with half-inch-thick cardboard boxes holding plain white paper sleeves. As someone starved for shelf space, I appreciate the compactness of the boxes, and they are less susceptible to damage than plastic when mailed in a jiffy bag. I also prefer the loose paper sleeves to tight card-stock sleeves that abrade the discs or mechanically complex, easily broken, multi-disc plastic jewelboxes. These are SACD/CD hybrid discs, so even without an SACD-capable player, their CD layers will play in any CD-capable player or computer. The CD layer can be ripped (in CD resolution or less, of course) for porting to other devices.
If you want to download these sets, you have options, but they're limited in fidelity. The Beethoven/Vänskä cycle is available from HDtracks, in five batches of 24-bit files for $12 each, but sampling rate is limited to 44.1 kHz. You can also download the set from Amazon for $42, or iTunes for $50, but only in the lossy MP3 or AAC formats. The higher-resolution, surround-enhanced SACD set is a better buy than any of these downloads, at $36 online.
The Bach/Suzuki set sells for $40 on SACD. It is also available from the Amazon MP3 store for $9.49, which might seem a bargain, but I urge you not to buy it in an inferior lossy format. Ditto the $30 iTunes download. Treat yourself to the SACDs (and, if necessary, an Oppo to play 'em on). Shop around to shave a few dollars off the disc prices quoted here.
Audio Editor Mark Fleischmann is the author of Practical Home Theater: A Guide to Video and Audio Systems.
LATEST VIDEO