Demos: A Box of Larks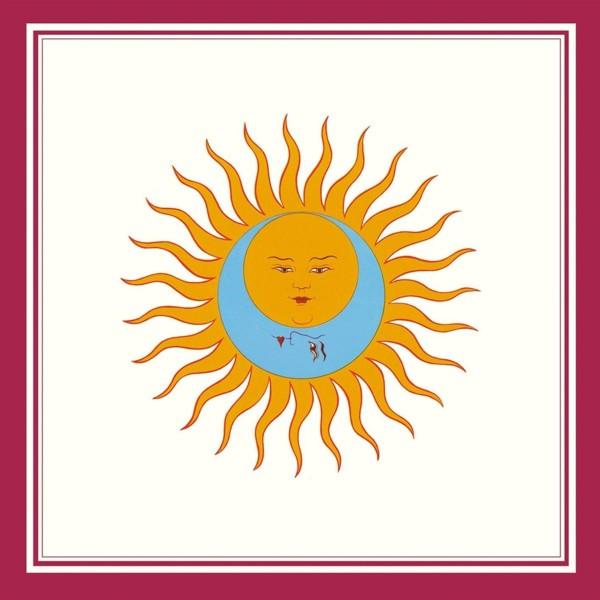 King Crimson's
Larks' Tongues in Aspic: The Complete Recordings
is a reissue on steroids. This is the only Crim album to have been singled out for a massive box set including 13 CDs, a DVD-Audio disc, and—in a first for indie label DGM—a Blu-ray disc. Like most other releases in the ongoing 40th Anniversary Series, this one features fresh high-res 5.1- and 2.0-channel mixes by Porcupine Tree's Steven Wilson—and you can also buy those mixes in a far less costly two-disc DVD-Audio and CD set. But the LP-size monster box of
Larks
is in a class by itself as it documents the intensely innovative 1972 lineup that featured avant garde percussionist Jamie Muir along with what became the surviving quartet of former Yes drummer Bill Bruford, bassist John Wetton, violinist David Cross, and guitarist Robert Fripp, the only founding member.
The 5.1 mix comes in four different flavors. On the Blu-ray disc are uncompressed LPCM and lossless DTS-HD Master audio versions. On the DVD-Audio disc are lossless Meridian Lossless Packing and lossy DTS versions. All have bit depth and sampling rate of 24/96 except for the plain-DTS version which is 24/48. The two discs also include an abundance of stereo mixes. On Blu-ray they include Wilson's new 2012 Stereo Album Mix, the older 30th Anniversary Remaster of the original mix, and digital transfers of both the U.K. and U.S. vinyl, all in LPCM 24/96. On DVD-Audio are the 2012 Stereo Album Mix in both LPCM 24/96 and PCM 24/48 and the 30th Anniversary Remaster in PCM 24/48.
Both discs also include an album-length selection of Alternate Takes & Mixes (LPCM 24/96 on BD, PCM 24/48 on DVD-A). Both include video content in the form of a German television appearance. The Blu-ray disc also includes The Session Reels, a fly-on-wall view of the recording process. The 13 CDs include the 2012 Stereo Album Mix, the 30th Anniversary Remaster, the Alternate Takes & Mixes, and the Session Reels. The remaining CDs cover live performances in the U.K. and Germany over a one-month period in late 1972, mostly sourced from audience bootleg cassettes and restored to the extent possible. Be warned that some of them are low-fi in the extreme. Plentiful paper materials—most notably an LP-size booklet with a Fripp interview by DGM's David Singleton and notes by Crim biographer Sid Smith—include a paper ticket that purchasers can use to access one more live bootleg from the DGM website.
In the King Crimson canon several albums stand out as creative milestones. They include the debut album In the Court of the Crimson King as well as Red, Discipline, and the ProjeKcts four-disc box set. Larks' Tongues in Aspic is one of the elite, but though it is bursting with ambition and originality, and loaded with dazzling moments, it has always seemed less than the sum of its parts. Wilson's 5.1 mix goes a long way toward addressing that problem, untangling the complex thicket of Jamie Muir's percussion instruments and enlarging the band's field of operations to a soundfield with the listener sitting right at the heart of things. I sometimes refer to this kind of thing as a dreamscape mix, and depending on how it's done, it might be either edifying or disorienting. Wilson nails it: This 5.1 mix is actually less disorienting than any of the stereo mixes. It almost seems as if this album were purposely made for the surround medium. While the high-res aspect of the surround and stereo mixes offers a new window on the album's instrumental textures, it is a two-edged sword: Engineers evidently had trouble miking and/or taping the dual percussionists and occasionally distortion rears its head on some of the cymbal smashes.
Wilson offers more revisionism in the Alternate Takes & Mixes which amount to a totally reimagined alternative version of the album with some familiar elements removed and unfamiliar ones added. He delights in offering Fripp guitar parts we haven't heard before—Crim fans can never have enough fresh Fripp. "Exiles" is reduced to a Muir solo track, with its slogging army of footsteps and tolling bell, while the math-rock epic "Larks' Tongues in Aspic Part II" opens with a false start, loses its violin part, and turns into a straight guitar/bass/drums workout as it might have been played by the stripped-down trio that would record Red a couple of years later. Then there are The Session Reels, an album-length compilation of work-in-progress snippets that feels like a Larks-based stream of consciousness. Add the live material and you've got every surviving minute of studio and live recordings by this five-man lineup.
If that sounds like an attractive proposition, act now: DGM and Amazon have sold out of this limited-edition release and Burning Shed will soon follow. DGM has manufactured only 7,000 copies of the box, and it'll be sold out by the time you read this. But the two-disc DVD-A/CD set will be in print for some time, complete with high-res surround and stereo mixes and alternate takes, for well under 20 bucks.
LATEST VIDEO