Definitive Technology Launches Mythos ST-L Tower Speaker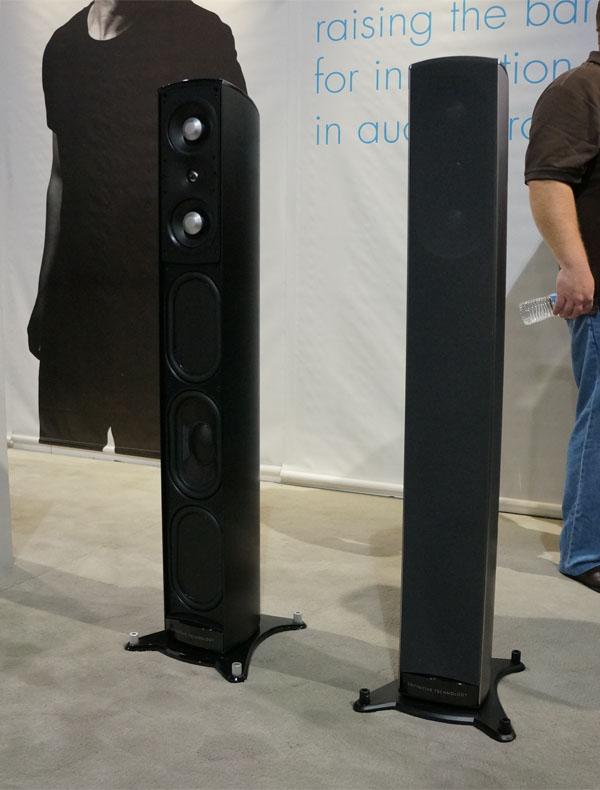 Those who think of the Definitive Technology Mythos tower speaker as nothing more than a slender lifestyle speaker will be floored when they hear the new Mythos ST-L. I just heard a pair of 'em at the CEDIA Expo, and the deep, defined bass these 6.75-inch-wide towers pumped out was one of the highlights of the show for me.
The ST represents a substantial upgrade from the original ST. The amp for the powered woofer section has been upped to 1,200 watts per tower from the original's 300 watts. According to DefTech, the woofer itself (which is accompanied by two passive radiators) has 25% more excursion than the old one. The bass is tuned through a digital signal processor, where the older model uses analog EQ circuitry. Plus, there's now a volume control that lets you adjust the bass level from your listening chair.
The treble and mids sounded extremely neutral, yet at the same time surprisingly lively and ambient, especially given the relatively dead environment of the portable sound room I heard the speakers in. DefTech says all the drivers were developed specifically for this speaker over a three-year process. The magnesium dome tweeter is DefTech's first non-aluminum tweeter. Two of the company's BDSS drivers handle the midrange.
The only thing that's the same is the aluminum extrusion that houses the speaker.
Price? $2,499 each, or $4,998/pair.