Core Brands Talks SpeakerCraft, ELAN, Niles, Panamax, and Sunfire Introductions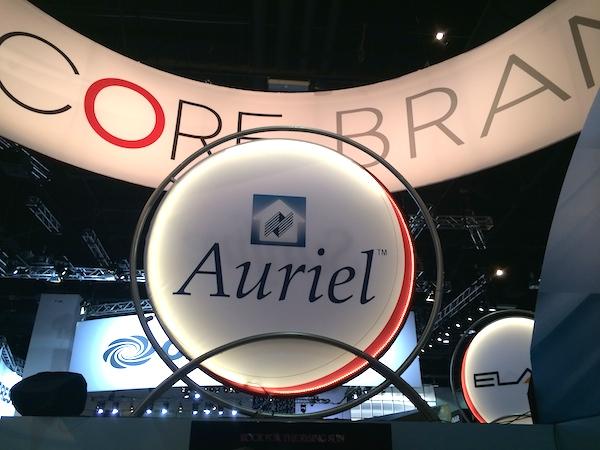 There's a good chance that you've never hear of Core Brands. On the other hand, there's an even better chance that you know of at least one - if not most - of the brands that are part of the Core Brands group: SpeakerCraft, ELAN, Furman, Panamax, Xantech, Sunfire, and Niles. Although the press conference began almost 25 minutes late and it was difficult to hear the presentation due to all of the commotion on the show floor, several interesting announcements were made.
Pioneering architectural speaker manufacturer, SpeakerCraft, is "re-crafting" the company and released a number of new speakers in the AIM Series 2 line, some of which include tweeters in a rotatable line array configuration that provides more high-energy output and allows for the use of a lower crossover point between the tweeter assembly and the mid-bass driver. SpeakerCraft also introduced five new amplifiers, including a six-zone, six-source model with home theater control and the ability to be operated by a remote control, touch panel, or tablet.
ELAN debuted the ELAN g1 entertainment and control system. ELAN says the new controller "is robustly configured with 3 IR outputs, 1 IR input, 1 bi-directional RS-232 input, 1 sensor, 1 HDMI output (720p/1080p) and 1 audio output. Its built-in WiFi enables all of its functions to be IP controlled, and PoE enabled, it uses dramatically less energy than conventional controllers. It is shipped complete with a hand held remote, top of the line IR sensor, three IR emitters and a serial adaptor." The ELAN g1 can integrate up to 16 zones of security, two door locks, one AVR and 32 displays. It can also control lighting (24 devices plus up to 24 custom g1 keypads), up to three thermostats, up to three IP cameras, and a huge amount of irrigation gear (up to 16 groups and 256 zones).
Niles announced that it is now shipping the company's Auriel MRC-6430 whole-home audio controller. Niles says that the MRC-6430 system is both easy-to-use and easy-to-install. The user interface is said to be consistent regardless of the device (including Windows or Mac computers) being used to control the MRC-6430, and the installation is wizard-based in order to reduce installation and configuration time. The MRC-6430 can handle six sources and has four 60 watts x 2 amplifiers built-in. The Auriel software platform on which the MRC-6430 is based is capable of controlling both IR and IP devices.
Panamax showed off three new products starting with the BlueBOLT-enabled Panamax SM3-PRO System Manager that the company says simplifies remote system management along with providing electrical protection, energy management, and network monitoring capabilities. The SM3-Pro includes two banks of three outlets each, a two-port network switch, AVM protection, and two accessory ports for external sensors or triggers. The unit will begin shipping in late 2014. The second product introduced was the Panamax M4000-PRO power manager. Panamax says that the M4000-PRO is "designed for moderate to high-end A/V system installations" and allows users to remotely manage power, energy consumption, and network status remotely. When connectivity is lost, the M4000-PRO can automatically reboot routers and switchers in order to re-establish connection with the internet. The M4000-PRO has seven outlets on the rear panel and three controllable outlet banks. There's also a 12-volt trigger input, antenna/CATV protection, phone line/Ethernet protection, and one front-mounted AC outlet. The final of the three new Panamax announcements was the Power 360 Series of products, which you can read about here.
Although not much time was spent discussing it, Sunfire announced three new XTEQ subwoofers. The new subs are designed to be as compact as possible, and Sunfire says, "The 8-inch XTEQ8, 10-inch XTEQ10 and 12-inch XTEQ12 are housed in enclosures barely bigger than the size of the woofer diameter, with the XTEQ12 measuring just 13.5"(W) x 13.5"(H) x 13.5"(D)." In addition to using diametrically opposing drivers, one active and one passive radiator, the new subs include continuously variable crossover and phase controls, anti-walking treads, RCA line in and line out with slave connections for easy pairing of two subwoofers, and both audio-sensing and 12-volt trigger turn-on options. The Sunfire XTEQ8, XTEQ10 and XTEQ12 will have MSRPs of $1,500, $1,750 and $2,000, respectively, when they begin shipping later this year.