Cinema Verite, Corman's World, Torchwood: Miracle Day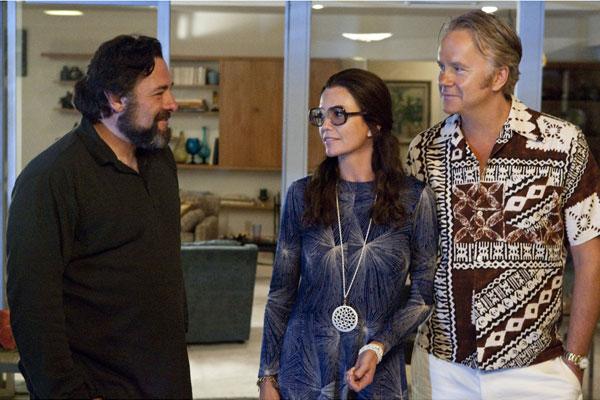 Hello, and welcome to my first Blu-ray blog for
HomeTheater.com
wherein we take a look at a few interesting discs that you might have missed among the weekly cascade of blockbusters and otherwise more heavily advertised releases.
Cinema Verite (HBO)
From the directors of American Splendor comes another riff on real life, namely a dramatized look behind the scenes of what was considered the very first example of Reality TV, a category I typically loathe. In the early '70s, the PBS experiment An American Family put documentary cameras into the home of The Loud Family. No one—not the crew, not the TV audience, and least of all The Louds—knew what they were in for, and the results have become a fascinating cautionary tale.
The intent was to capture everyday family life on film and present it in a compelling fashion, but instead viewers bore witness to the disintegration of that clan, including the outing of oldest son Lance (Thomas Dekker), unheard of at the time.
This cleverly cast film, which debuted on Home Box Office last April, stars a particularly affecting Diane Lane as matriarch Pat Loud, along with Tim Robbins as the philandering husband and James Gandolfini as the creative force behind the show. A behind the scenes "making of" with cast and crew interviews in provided, and even an audio commentary by Lane, joined by Cinema Verite directors Shari Springer Berman and Robert Pulcini.
Corman's World (Anchor Bay)
Get to know Roger Corman, the veteran producer of some 400 movies (among them Death Race 2000, Rock 'n' Roll High School and the original Little Shop of Horrors), only a fraction of which star mutated animals that threaten mankind. Every corner-cutting, cost-controlling story you've ever heard about the creator of the "Corman School" of filmmaking—fast, cheap yet still remarkably effective—is probably true. But he is also known for giving first chances to many of Hollywood's biggest names, many of them now Oscar winners: Martin Scorsese, Jack Nicholson, Francis Ford Coppola, Ron Howard, Jonathan Demme. And his talented fans include Quentin Tarantino and many more.
Director Alex Stapleton's documentary, now on Blu-ray from Anchor Bay, serves as both an education and a love letter, with interviews from a long list of famous A-list and "genre" stars, and even more are included among the disc's bonus features.
Torchwood: Miracle Day (BBC)
The wildly-popular Doctor Who spinoff (the title is actually an anagram of those same letters), Torchwood ran for two seasons and a miniseries on the BBC before Starz picked it up and Americanized it with the addition of some familiar faces (Bill Pullman, Mekhi Phifer, Mare Winningham) and an uneasy alliance of sorts between the shadowy Torchwood Institute and the CIA.
The charismatic John Barrowman once again stars as Jack Harkness, a 51st Century adventurer who finds himself here in our present as part of a secret crime-fighting organization. This ten-episode, unofficial fourth season spins an intriguing sci-fi yarn wherein the people of Earth suddenly stop dying. It's a sufficiently thrilling turn of events at first, but soon the reality of impending overpopulation and dwindling resources demand investigation, and a solution. In contrast, the bountiful extras include episode audio commentary, profiles of the colorful characters, promotional clips for the series as seen on iTunes, a special effects featurette, the original behind-the-scenes special and the Torchwood: Web of Lies motion comic.