The Changing of the Guard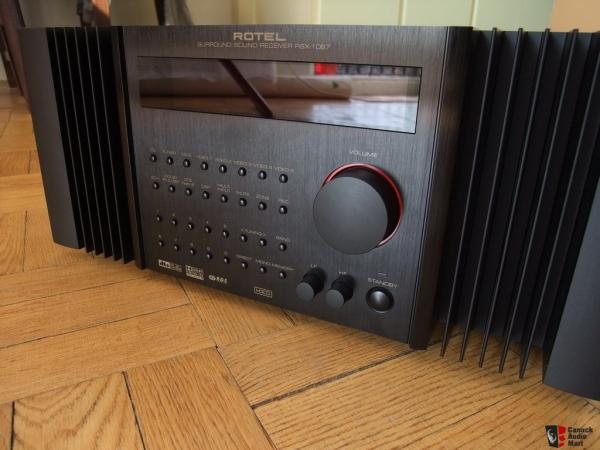 I adopted a new reference receiver recently. You've already read all about the product itself, the
Denon AVR-X7200W
. But it's one thing for a reviewer to evaluate a product positively. It's another thing to give it the coveted reference-receiver berth on my rack. This is a big event, so perhaps I should say a few words about it.
Why do I need a reference receiver? For loudspeaker reviews. Any speakers I review need an unimpeachable source of power. Both the speaker manufacturers and I have to have absolute confidence in my reference receiver. If I'm asked what I use, when I answer the question, the reaction should be "that would do fine."
Why don't I buy a reference receiver? If I reviewed nothing but two-channel, I certainly would buy an amp. In fact, I actually did buy a Jeff Rowland Model One power amp and Consonance preamp some years ago (and sadly they go unused most of the time). I also own a couple of stereo integrated amps including the Peachtree Decco2 that sits on my desk. But because AVR technology is a constantly shifting quicksand, keeping my reference surround receiver up to date would be a constant expense. And I hate to break it to you, folks, but I'm not getting rich at this. So I depend on AVR makers to provide me with a constant procession of the latest and greatest.
Why did my last reference receiver have to go? As excellent as it was, the Pioneer Elite VSX-53 was a seven-channel receiver that had evolved no further than Dolby TrueHD and DTS-HD Master Audio. With the advent of Dolby Atmos and DTS:X, it was time for the changing of the guard. I now need a receiver that handles the new surround standards—and it has to have nine amp channels to support a full 5.1.4-channel Atmos and X configuration. It doesn't hurt that the Denon is capable of passing and upsampling to Ultra HD, though I must admit I haven't bought a UHDTV yet. I'm waiting for the HDR thing to shake out.
Why did I pick the Denon? Naturally it won five stars for performance; otherwise it wouldn't have gotten the nod. It has plenty of power and can therefore handle any speaker that can run off a receiver. But my reference receiver has to do more than sound great. It has to sound neutral. Otherwise it would influence my assessment of a speaker's tonal balance. The Denon is well qualified in that respect. In the short time I have known it, I have come to trust its truthfulness absolutely. Any receiver imposes some of its personality on a loudspeaker but this Denon does it less than most.
Did features play a role? No, the feature set was secondary. I think it's great to have Audyssey MultEQ XT32—the best version of Audyssey's room correction, with the highest filter resolution. But I don't get to use it because it would interfere with my reference receiver's prime directive, which is to behave neutrally in loudspeaker reviews. I prefer to compensate for my room's acoustic deficiencies mentally rather than introduce another variable in the form of room correction. In fact, I keep the room correction shut off all the time, even for personal listening, to avoid misunderstandings.
Does the Denon change anything? It does change my frame of reference. While I might strive for neutrality when picking a reference receiver, there is no such thing as absolute neutrality. I have never embraced the ideology that amps measuring alike always sound alike. So I will have to make minor adjustments. But the Denon's personality isn't far removed from the Pioneer's. It has a bit more power, but I can live with that!
How long will the Denon last? At this point it's hard to imagine what kind of tumult would rock the foundations of home theater audio technology hard enough to justify jettisoning the Denon for a new reference receiver. But then, I'd have said the same thing about the Pioneer and its predecessors. They're valid choices until they're not.
Finally, is the Denon the greatest reference receiver I've ever had? No, that honor belongs to the five-channel Rotel RSX-1065 and its seven-channel successor the RSX-1067 (pictured above, photo courtesy of Canuck Audio Mart). Parting from the 1067 was particularly painful. But they were pre-HDMI and the time had come to move on. These Class AB receivers dated from before Rotel's adoption of Class D ICEpower amplifier topology. However, I never considered their brawny amp sections to be outdated. These were receivers with the oomph of outboard multichannel power amps. They were effortlessly dynamic and I can't believe this is a receiver good. I still see their distinctive front-mounted heat fins in my dreams.
Audio Editor Mark Fleischmann is the author of Practical Home Theater: A Guide to Video and Audio Systems, available in both print and Kindle editions.