China's Changhong Expands TV Lineup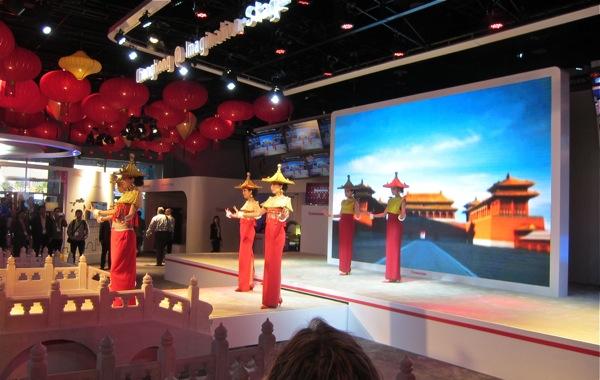 I spotted the Chinese TV make Changhong at last year's CES. But their booth was modest with little traffic. This year they made a big show of it, with ladies in Chinese garb bringing in the crowds.
They weren't dancers, but simply walked around the stage in a stately, choreographed, Tai Chi like way. The booth was decorated in a very Chinese (Chinesey?) fashion, and when the ladies were on break images would flash in the screen in both Chinese and English, one of which read, "In these colorful civilizations, the Chinese civilization inherits is brimming with the harmonious peace and benevolence beauty." Probably looses a bit in the translation. I suspect what they mean to say is, 'The colorful ethnicities the Chinese civilization has inherited are brimming with harmonious peace and the beauty of benevolence." Or something like that.
In any case, Changhong's televisions were quite respectable, and they were one of the few manufacturers to demonstrate glasses free TV (and an effective demo at that). But like Haier below, their challenge is penetrating overseas markets.
WHERE TECHNOLOGY BECOMES ENTERTAINMENT