Will the Lockdown Change A/V as We Know It?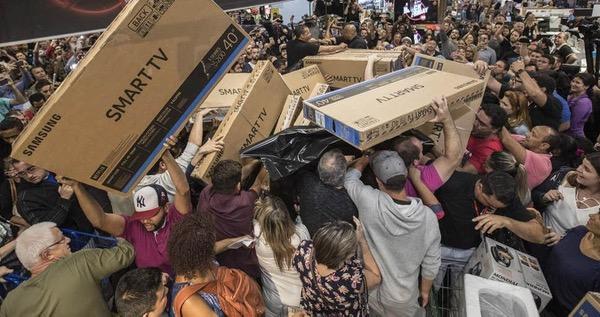 Ah, the good old days. Happy crowds coming together in joyful celebration, shopping together for a new TV on a lazy Saturday afternoon. Seems like only yesterday.
Oh, wait, it was. But in the greater scheme of things, how the current Wuhan Virus pandemic will affect our small world of consumer audio-video isn't a big topic on the nightly news. Nevertheless, that's our gig here, and it's important to consider the possible consequences. Will this be the end of the A/V world as we know it?
I don't think so, but it could have significant consequences. I've written about a few of them in recent blogs, but there's always more to be said. On the possible future viability of movie theaters, some grumbling in the past week suggested a possible bankruptcy at AMC, the largest theater chain in the country. Just recently, however, AMC announced a plan to arrange for $500 million in new loans to keep it solvent until Thanksgiving, assuming theaters will be open by then.
But there's more than one type of business closure. If a theater or other business burns down without insurance, and the owners have no other resources, it might be gone forever. If, however, it simply closes for lack of funds and can't get a loan to stay open, the infrastructure is still there. Assuming the anticipation of future profits, a buyer might be found to take over a theater, or an entire theater chain. But it's also possible that a full-chain buyer would close less profitable outlets in smaller towns. New York, Chicago, and LA theaters would survive, but the future of theaters in places such as my relatively small town here in coastal northwest Florida would be in doubt despite this being a heavy tourist area. I can only hope that the new AMC arrangements will allow them to keep all of their theaters active when they reopen.
But if theaters do reopen in the fall, will audiences return immediately or will there be a slow bounce-back — or none at all? There's no way to know that for now. But at least some theatergoers might be anxious to catch up on the major films that weren't released on pay-per-view during the lockdown. There are biggies in that group, including the new Bond flick No Time to Die, a new Marvel movie The Eternals, and Tenet, the latest Christopher Nolan film.
Fans may not only be bored with TV by then, but could find that TV has become a forest of reruns with no new shows to watch. Why? Because those shows would normally be in production by now. Hollywood, like most businesses that require in-person contact to function, isn't currently producing anything. The only possible exceptions are writers, with the luxury of writing scripts without the pressure of having to finish them yesterday. They might even have an entire season of scripts ready to go before episode one even starts production — an unheard of luxury.
The economic effect on retail sales has been and will be crushing. Sales of audio and video products have been affected as well, perhaps more so than some as they're typically non-essential or even impulse buys. You certainly won't see a flood of Black Friday-like buyers filling the stores any time soon.
High-end audio could well take the biggest hit. It's heavy with small, competing companies created in anticipation of making it big, or because of a passion for what they do, or both. The effect on video, mainly televisions, might be less severe but not trivial. While most folks cooped up at home are watching more television than ever before, they already have a working set. Some may be tempted to upgrade, but this won't create a flood of buyers.
In a recent blog from the British website AV Forums (not to be confused with the AVS Forum in the US) it was even suggested that set makers, experiencing delays in consistent deliveries of their new 2020 sets, might even forego new 2021 models for next year. We've received or been promised several new 2020 sets for review, but how that reflects on retail availability is at present unknown. A visit to my local Best Buy to investigate isn't currently possible, but a stroll through Amazon did show far more 2019 models for sale there than 2020s. For those with the resources there might be appealing sales out there, as brick and mortar and on-line sellers struggle to keep afloat. But just be sure you know which year's model you're getting that good deal on.
Long term, many surviving vendors, particularly audio, might take a closer look at the decisions they made to move production off-shore over the past decades. Moving back might raise prices, since most budget and mid-range products, and some at the high-end as well, fall into that category. The long-term tradeoffs one way or the other will be controversial.
We can only hope that this historic pandemic, affecting far more than our own little corner of the world, is over soon. We're living in interesting times.