CES We Hardly Knew Ye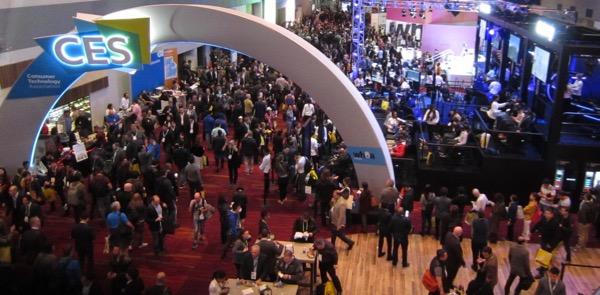 CES 2020 is history. It might seem odd for me to comment here on an event I didn't attend. But
Sound & Vision
editor Al Griffin, along with free-lancers, went and got the job done. Upwards of 185,000 dedicated souls registered for the event, including over 30,000 from points outside of North America. As far as I know it's the biggest consumer technology show on the planet.
CES is a trade-only event; the great unwashed are not formally welcomed. But in past years it wasn't unknown for eager and resourceful consumers to find a way to attend, often with the help of a friendly dealer happy to favor one of its regular customers with a guest registration. I have no idea if that's still a thing, but prices in Las Vegas during show week are now so outrageous they're likely to discourage all but the most well-healed tire-kickers. When I last attended two years ago a nice but unpretentious hotel like Treasure Island would cost upwards of $400 a night or more during prime show days, and rates of $600 or more at the best hotels weren't unheard of. Those same rooms for a tourist, when no big convention is in town, would likely cost half that — or less.
Taxi lines during CES are long, show buses to and from your hotel (free — so far) can easily consume an hour each day, and hotel parking that was free for decades is now, according to reports, an additional expense. Buffet dinners that used to cost $10-$15 are now over $30. Fancier than before to be sure, but Las Vegas at CES is no longer a cheap date.
It was reported years ago that Las Vegas hotels dreaded CES because the attendees weren't big gamblers. They've definitely found ways around that. So have the airlines; airfare to Sin City also jumps at show time. You know what they say, "What happens in Las Vegas is gonna cost ya."
Another development that has discouraged me (and likely others) from going to CES (though I'm pondering a grand return next year — I love a parade) is the rapid shrinkage of audio as an important part of the show. Decades ago CES meant audio. And in recent years CES was still a must-go for specialty audio companies. Dozens of them would fill three full floors and more at the Venetian hotel. For many years now my main gig at the show has been video, but I'd always set aside at least one day of the show's run to scope out the newest audio goodies.
But apart from a few loyal attendees like GoldenEar, Lenbrook (NAD, PSB, Bluesound, Dali), and Sound United (Marantz, Denon, Polk, Definitive Technology, Classe), audio at the Venetian is now a wasteland, driven out by the same high costs mentioned above, not to mention the tabs demanded by CES itself. Most audio companies are small. No matter how pricey their wares (an unfortunate trend) they aren't Sony or Samsung when it comes to show budgets. These small (by CES standards) companies now get more of a bang for their limited budgets by exhibiting at the growing number of audio-only hotel shows throughout the year open to the public. In the U.S these shows feature Axpona in Chicago (April) and the Rocky Mountain Audio Fest in Denver (October), but there are others as well.
CES began in the 1967 in New York but soon moved to Chicago in the spring. A winter show was later launched in Las Vegas, but after a decade of two shows these were eventually combined into the single January show we have now.
Video is still a headliner at CES. But as with audio in the past, other technologies are vying for attention. Computers, of course, but also robotics, self-driving cars, drones, cell phones and watches, and every sort of technology you can imagine and some you can't now fill a convention area that could host a Super Bowl twice over if it had more parking.
The term CES was always short for the Consumer Electronics Show. But a few years ago, recognizing the broadening of the industry, the Consumer Technology Association that runs CES decided that CES should be a designation in and of itself and no longer stand specifically for Consumer Electronics Show. The later has been relegated to a name that must no longer be spoken — the Voldemort of the show era. It's now just CES. Go figure.
One technology you won't find in abundance at CES is projection. Yes, companies like Hisense and LG, offering short-throw projectors separate screens, trot out their wares there. But home theater per se, with dedicated front projectors and screens and copious enclosed room demos, is still the domain of the CEDIA show in September. With roughly 20,000 attendees, CEDIA (which still stands for the Custom Electronic Design and Installation Association, thank you very much) is a much more human-sized show than CES. God willin' and the crick don't rise I wouldn't miss it.