Startup Carmaker Byton Puts a Widescreen in its Dash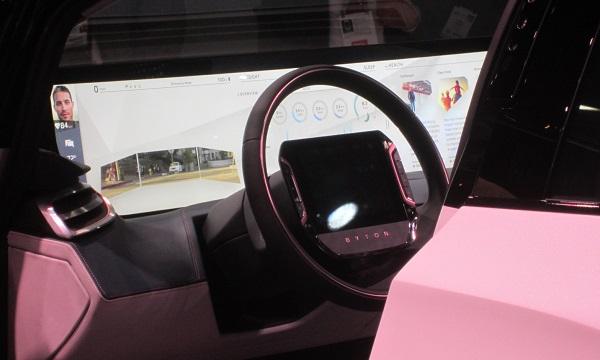 CES, of course, is all about consumer electronics. And as you've probably noticed, today's cars are jam-packed with electronics. But that's nothing compared to what's coming down the road in the near future.
It seems like everyone with a spare billion or so is getting into the car business. Specifically, the advent of practical electric cars, encouraged by current or proposed government regulation, has spurred numerous automotive startups. Byton is a Chinese startup company that aims to put an electric crossover on the road by 2019. At their CES press event on Sunday, they announced that pricing will start at $45,000.
Your first question is this: why would a home theater magazine like Sound & Vision care about an electric car? Well, for starters, just look at that screen in the dashboard. It measures a whopping 49 inches across. Of course, it will display all the usual car-type info, but surely it will be configurable to also display entertainment. With that width, the driver and passenger could each enjoy separate movies, or maybe someone will figure out a way to reconfigure the pixels to show ultra widescreen movies across the entire width. Also, check out the screen on the steering wheel; it will linked to Alexa. And, of course, the rear-seat passengers will have their own screens on the back of the front seats.
And here's why in-car entertainment will be super important, and of interest to us audio/video nuts: This car will launch with Level 3 autonomy, and be compatible with Level 4. With Level 4, we are all just human cargo with lots of free time on our hands as our vehicles shuttle us from one party to the next. And that means the vehicle will be the perfect place to watch movies, on a big screen, with a good sound system. In other words, the next evolution of home theater will be car theater.
Right now, Byton has a handmade but drivable prototype. They say they have $320 million in funding and 400 employees, but that's a drop in the bucket compared to what's required to actually manufacture cars. They envision making 300,000 cars annually. But what are the chances that Byton will actually bring a single vehicle to market? Who knows. Regardless, that gigantic widescreen on the dash is a bonafide harbinger.
Mark my words: Your next car, or certainly the car after that, will have a car theater on board.