CES 2012: Audio Electronics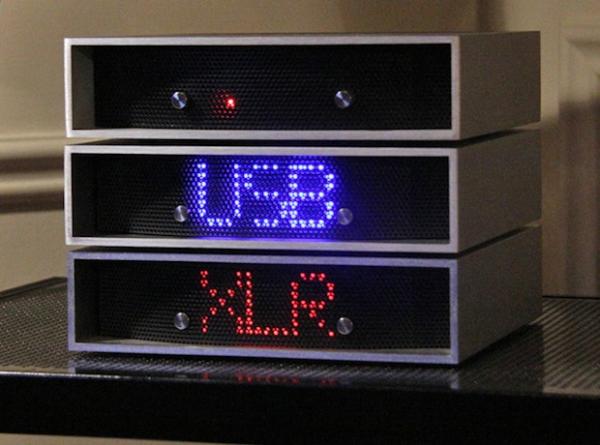 For audio geeks, most of the real fun at CES is over at the Venetian Hotel, where high-end (and not-so-high-end) audio companies demonstrate their products in dozens of guest suites. While the rooms in the Venetian are known for $200,000 speakers, $100,000 amps, and $20,000 speaker cables, you can also hear great speakers and amps for as little as a few hundred dollars.
Here's a collection of the audio electronics that caught my ears during the show. This isn't a comprehensive list — I didn't have enough time to visit even half the rooms at the show — but it's sure to give you a rough idea of some of the show's most interesting sonic developments.
There were also a few audio things I didn't get pictures of — because they're not really things, they're technologies.
One is THX's new high-efficiency amp technology, which exists only in lab prototypes. The company says its technology delivers the same sound quality as traditional Class AB amps, plus greater efficiency even than Class D (i.e., digital/switching) amplifiers, without the radio-frequency emissions problems that have plagued Class D. It's so efficient, the company demonstrated it in a 400-watt-per-channel stereo amp that runs off an internal battery pack. The technology consists of three parts: a super-compact DC-to-DC converter that boosts the voltage to levels sufficient to achieve the desired power; a tracking power supply that continually adjusts to deliver only as much power as the amp needs; and a specially designed Class AB amplifier stage. No product announcements as yet — THX is currently pitching the technology to its licensees.
Another (although technically it's a video feature) is the InstaPrevue feature Onkyo is adding to select receivers later this year. It can display images from as many as four HDMI sources on a single screen, so you'll never be confused about what's attached to what input again (and you can watch multiple ball games while you're playing Madden NFL 12 on your Xbox 360).
Still another is the new SRS Enviro technology, which is designed to get the maximum possible realism from whatever audio source you've got. The software consists of two parts: an analyzer that examines the incoming signal and figures out the best thing to do with it, and a spatial rendering engine that processes the signal. SRS demoed Enviro with a scene from Cowboys and Aliens. First, it took the two-channel downmix and played it through two speakers in what was probably the best simulated surround sound I've ever heard. Next, it enhanced the 5.1 version — still playing it through a 5.1 system, but with enhanced spatial effects and a more seamless presentation than standard 5.1. Last, it converted the 5.1 into 12.1, with high and low center speakers, two pairs of front left/right speakers, two pairs of side surrounds, and a pair or rear surrounds. Expect to hear Enviro in everything from TVs to soundbars to A/V receivers.