CES 2011: The Speaker Report Page 2
Over-the-top on-walls
Home theater sound was definitely downplayed at this year's CES, but a couple of companies introduced new speakers that might make your media room sing. Paradigm's Millennia LP on-wall measures just 1.5 inches thick, and sports a slick gloss-black finish. Price is yet to be determined, but I'm happy to see Paradigm has created a new compact in-wall sub, the $449 PCS-825Q, to add a little more oomph to the Millennia LP without consuming your floor space.

Klipsch somehow managed to squeeze little horn tweeters into its new Gallery on-walls, which feature a unique curved enclosure that manages to look elegant and high-tech at the same time. The company says all the models can play down to 60 Hz, which is about an octave below what some of today's skinniest in-walls can do. Prices are still TBD, but figure around $200 each for the smallest models, going up to about $700 for the three-channel soundbar model.


Like other Waterfall Audio speakers, the satellites in the company's new 2.1 Multimedia Pack (or Serio High-Force 2.1 system, depending on whom in the room I spoke with) incorporate glass into their design. The sleek transparent glass frame surrounds a 3-inch full-range driver, and a small sub fills out the sound. You can hang the sats on the wall, plop them on a table, or mount them atop optional $299-per-pair stands.

The elite meet
The high-end exhibits at the Venetian Hotel always showcase extraordinary creations. Sure, some showgoers scoff at the often-extravagant prices, but let's face it: The guys who get $10 million bonuses from their hedge fund gigs usually spend their surpluses on far sillier stuff.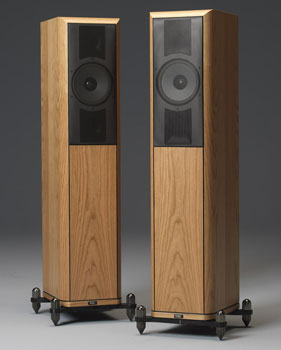 Thiel

Not everything at the Venetian cost big bucks, though. Thiel's new SCS4T, a tower speaker that's essentially the company's SCS4 bookshelf speaker in a larger enclosure, impressed me almost as much as anything else I heard at CES but costs a relatively reasonable $3,690 per pair. Meridian's DSP3200 was no less extraordinary, even though it's quite a bit smaller. Unusually, the internally amplified speaker employs a full-range driver to cover the range from about 200 Hz to 20 kHz, with a 6-inch woofer to handle the bass. Thus, there's no crossover in the critical vocal range. Meridian showed the $6,000-per-pair speaker in both white and black.

Meridian
It seems like every year, every attendee at the Venetian can't stop raving about the latest Magico speaker. The new Q3 costs $34,000, features a complicated and ultra-massive metal enclosure, looks very cool, and sounds amazing. Same old, same old - at least for this brand.

Wisdom Audio demoed the most unusual speaker at CES: the LS4, a tower speaker that snugs up against a wall and measures 84 inches high. Each one comprises four huge, heavy panels, and each panel incorporates large ribbon midrange drivers and a slim ribbon tweeter. Figure $40,000 per side plus $10,000 each for the subwoofers, and you're getting near $100,000 for a full system. But with 100 dB rated sensitivity, you definitely don't need a big amp to drive them.
LATEST VIDEO