Cerwin-Vega expands the XD Desktop Series with Classic Looks and Sound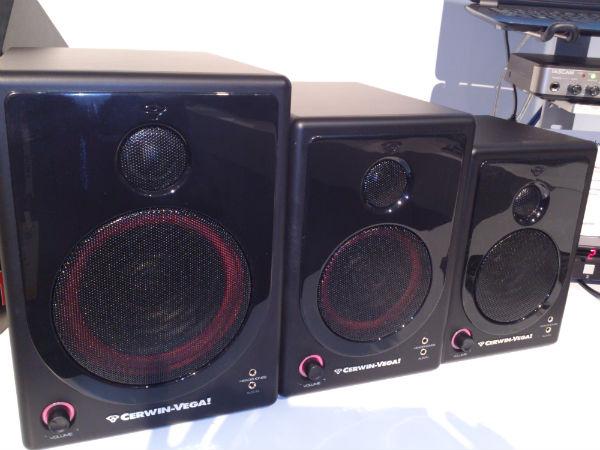 Stopping into the Gibson tent at CES was like stepping back in time - back to when speakers looked like speakers and had full, balanced sound. The main CES show floor was full of tiny earbuds and tons of tinny portable wireless speakers, but here in the tent, Cerwin-Vega was showing off their new line of active desktop speakers, and I was glad I stopped by.
The new additions to the XD series of speakers have a classic style. The front of the speakers have a high-gloss black finish and the rest of the cabinet is finished in a matte black, ideal for reducing fingerprints in a busy office setting. They all have the familiar red surrounds fans of Cerwin-Vega will recognize. The XD series consists of three different sizes - the older XD3, XD4 or the XD5 with corresponding 3", 4", or 5" woofers. They are all two-way designs - the XD3 and XD4 have ¾" tweeters and the XD5 uses a 1" tweeter. The XD8 is the matching subwoofer. The XD3 has a 30-watt amplifier, the XD4 has 40 watts, and the XD5 has 50 watts. The subwoofer and a built-in 80-watt amplifier. Prices start at $99.
The speakers have a volume control on the front, as well as a range of inputs and outputs on the front and rear to let you set it up with sound from your computer or to quickly add a portable playback source. It comes with a remote control so you can set it on bookshelves across the office and still control the sound - a mute button lets you take a call in an instant.
The XD Series from Cerwin-Vega (part of the Gibson brand) gave me hope that real audio can exist, even in the office.
LATEST VIDEO