Projectors: The Display of Choice at CEDIA 2017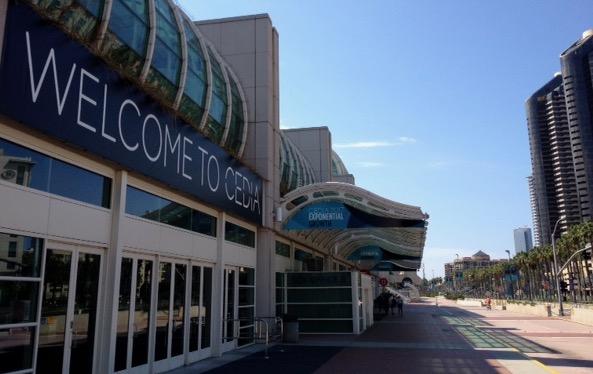 CEDIA EXPO, held this year in San Diego, is history. Next year it'll be in San Diego once again. In the past it's been held at a central location, such as Indianapolis, Denver, or Dallas, to keep it equally reachable from all parts of the country. But attendees from California were certainly pleased.
I flew in from Florida, and spent an inordinate amount of time checking on the status of hurricane Irma. It missed my neck of the Florida panhandle, but not before it made my trip home, between flight cancellations, a really big adventure—including a delightful eight hours spent exploring the Dallas airport.
If there was a central theme to this year's event I missed it. But the latest consumer electronics buzz phrase, the Internet of Things (IoT) was expected to be big. Over the years CEDIA has evolved from a primary emphasis on audio/video and home theater into adding whole house audio, home automation, and other new sales opportunities for the custom installers who make up the bulk of both CEDIA members and CEDIA EXPO attendees.
Areas peripheral to home theater pop up from year to year, sometimes catching on, sometimes never to be seen again. A few years ago medical monitoring was on tap, enabling remote checking to see if grandma was taking her meds and being regular in other respects. But I didn't spot anything of the sort this year, not that I was looking for it.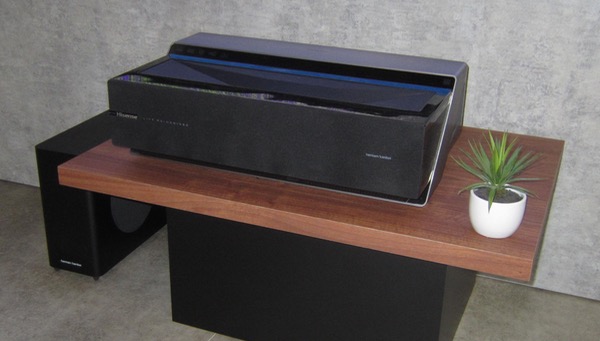 Projectors Rule
But audio, video, and home theater remain, and there was plenty in those departments to keep things interesting for the show's three day run. Far more so than CES, projectors are the display of choice at CEDIA rather than flat screens. The latter were limited to small booths from the majors, including LG, Samsung, and Sony. Hisense, though angling for a bigger presence in the US market, had a tiny booth compared to their huge presence at last January's CES. But they made the most of it by introducing a 4K, short-throw projector. At $10,000 it comes with a 100-inch diagonal screen, a built-in speaker system from Harman Kardon, and a small, outboard wireless sub.
While I wouldn't suggest that short-throw projectors dominated the show, they're certainly a growing market segment. They're positioned so close to the screen, and just below it, that they barely intrude into the room. But this is merely the revival of a very old idea. Early Mitsubishi projection televisions, dating from the late '80s or early '90s, hid the electronics used to drive three CRT projection tubes inside a large cabinet. The screen sat exposed on the top, and when you wanted to watch television the projection hardware slid out (manually, of course) and flashed the image back onto the screen.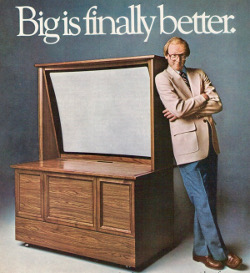 While the concept is the same, today's short throw projectors are far brighter, sharper, and more compact thanks to digital technology. They now produce a large picture at a fraction of the cost of an equivalently-sized flat screen set, and in a more domestically friendly way than hanging a projector from the ceiling at the back of the room. And they're coming down in price. At least two manufacturers, Vivotek and Epson, showed short-throw projectors for less than $4,000. Though they're both 1080p and not 4K, the pricing is certainly attractive.
Nevertheless, short-throw projectors can't yet produce images as big as, or arguably as good as, front projection designs. And despite the claims, and their typical use of ambient light rejecting screens, their performance will still suffer if viewed in a bright room. For the best picture you still can't beat either a front projector with ambient light control or (if you can settle for less epically-sized images) a flat screen set in a dimly lit or dark room. Nevertheless, short-throw projectors fill a need, and there's nothing to stop you from dimming or shutting off the lights when you watch them.
There were still plenty front projectors on hand as well. Sony made the biggest splash with three new, full 4K SXRD designs. Two are new lamp-based models at $5,000 and $8,000 and the third is a new laser-lit design at $25,000. In an all-too brief demonstration in a dark, enclosed space, the latter looked truly spectacular and offers a real challenge to JVC's DLA-RS4500 flagship (also laser-lit, at $35,000). I sat in on a Sony projector workshop where they compared the JVC and Sony side by side and it was nearly impossible to choose which one was the "best." Manufacturer sponsored events can be dicey, but this one seemed to be on the up and up.
JVC's more (relatively) affordable projectors can accept a 4K source but still use 1920x1080 imaging chips together with pixel shifting to project a reasonably effective simulation of the 4K resolution in the source. Epson's "4K" projectors use a similar technique with their 1080p imaging chips. Both JVC and Epson put on excellent demonstrations at the show with these models, though they're not true 4K.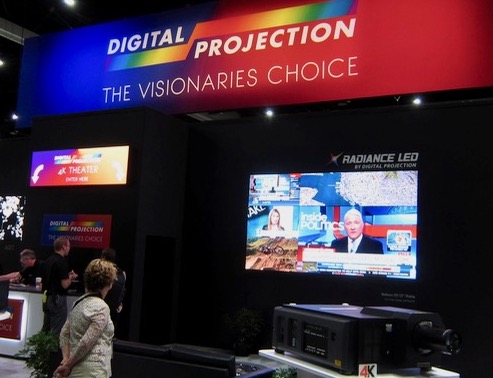 Sony, JVC, Epson, and a few others who offer reasonably priced and sized projectors were joined, as always, by the big boys that offer home designs competitive with what you'll get in your local multiplex, often with prices to match. This year the latter were represented primarily by Barco Residential and Digital Projection. Digital Projection is a long-time fixture at CEDIA, and invariably produces impressive results both in their own booth and in audio demos elsewhere where they're used to supplement the sound.
The most impressive of the latter this year was given by Synthesis in the Harman Kardon booth, on a 2.40:1 screen that measured about 20-feet wide—one of the largest at the show. What I saw from Digital Projection here was often jaw-dropping. Their calling card is brightness, and with lumens rated into six figures they can certainly light up an immense (by home standards) screen. But with this much horsepower on tap, black levels are often the first casualty. These torch-mode projectors simply don't do well with dark, low contrast scenes in a way that Sony's, JVC's, and Epson's can—though none of the latter can put as much brightness onto a screen the size of a small cinema. (Sony, it must be said, is also a big wheel in the theater projection market, though with much larger and brighter models than they typically sell to consumers.)
And There Was Audio, Too
My beat wasn't audio, and CEDIA is, in any event, dominated by in-wall, on-wall, and in-ceiling speakers. But of the floor-standing and bookshelf variety, B&0, B&W, Definitive Technology Elac, Focal, GoldenEar, KEF, Martin Logan, Meridian, Monitor Audio, Paradigm, RBH, and others at least showed some of their wares, though more often than not on static display. CEDIA is not the place to audition speakers, and only a few manufacturers attempted serious audio demonstrations. There were also, as usual, a load of new AVRs and a few new pre-pros, but nothing dramatic such as a 16-channel pre-pro with full room compensation for under $4,000 (a model from Emotiva comes close, but it's been visible at earlier shows).
There are now a number of serious solutions to the distance limits inherent to HDMI connections—important to both custom installers and DIYers dealing with projectors located over 25-feet from equipment racks. These solutions involve new HDMI cable designs (some of them powered by the signal), fiber optics (these have been around for a while) and CAT6. The latter uses a CAT6 Ethernet cable to carry the signal, with a transmitter at the source to convert the HDMI to Ethernet and a receiver at the display to convert it back to HDMI.
We've covered much of the above, and more, in our CEDIA show blogs posted Thursday through Sunday. Check them out for additional information. And look for reviews of many of the things we saw and heard in future print issues of the Sound & Vision.