CEDIA Expo 2012: Under-TV Speaker Systems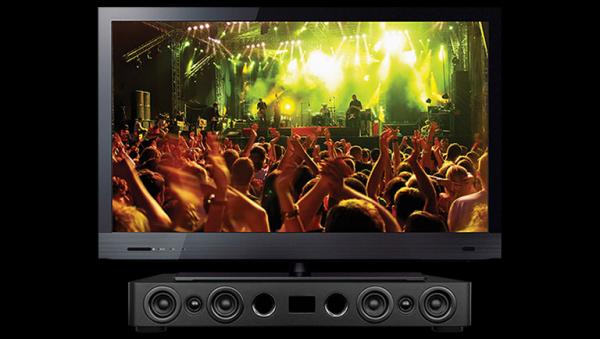 Under-TV speakers should have taken off years ago. They give you all the benefit of a soundbar but they're a lot easier to install. Just place one under a flat-panel TV, connect a cable or two, and you have a reasonable facsimile of home theater sound in a matter of minutes. But until recently, the only company in the field has been the company that invented the category, Zvox Audio.
Based on what I saw today during Press Day at the CEDIA Expo in Indianapolis, this product category seems ready to explode. Three new models were introduced, all with features and designs intended to take the category into a higher level of performance and convenience.
Two of the designs come from sister companies SpeakerCraft and Proficient Audio, both of which are part of the newly founded Core Brands division of Nortec. The Proficient version is called MaxTV. The $599 unit incorporates dual 5.25-inch downfiring woofers, four midranges and two tweeters, run in a stereo configuration and powered by 80 total watts of amplification.
Proficient demoed the $599 unit with a "big red button" that switched between the sound of the MaxTV and the speakers in the LG flat-panel TV perched on top of it. Of course, a sound shootout with a flat-panel TV is about as challenging as a bowling match against a golden retriever, but still, it was pretty shocking how much better the MaxTV sounded. The mids and treble sounded clear and natural, and the bass was not only full but pretty well-defined, too.
Cooler still is the unit's Bluetooth capability, which lets you stream audio from a smartphone or a Bluetooth-equipped laptop.
The SpeakerCraft version is called the CS3, and looks pretty much the same as the MaxTV. It lists for $699.
Upstart company AudioXperts showed a sleeker, higher-end take on the under-TV sound system called the 4TV. At $1,999, it's obviously in a different category than the Proficient and SpeakerCraft offerings, although its basic configuration is similar. It uses four low-profile 4.5-inch woofers, four newly developed HART (High Aspect Ratio Transducer) midrange drivers measuring about 2 by 4.5 inches, and two tweeters. The unit packs a total of 350 watts of Class D amplification.
The 4TV is obviously slim, sleek, and sexy, but its features are what really grabbed me. There's a swivel built into the bottom that lets the unit and the TV on top swivel to face the viewer. It has built-in Apt-X Bluetooth for streaming from smartphones, and a port for an optional Apple AirPort Express module for streaming through AirPlay. A proximity sensor illuminates the backlit controls on top whenever you come near; they extinguish after a few seconds so they don't distract your viewing.
Proficient's Loren Maldoon told me that the reaction from distributors to the MaxTV was tepid until they heard it, but once they heard it, they all started placing orders—including a unit or two for their own homes. That's gotta be a good sign. And Bose's recent $399 entry, the Solo probably won't directly compete with the products I saw today, but the company's undeniable marketing power will surely attract a lot of attention to this neglected product category.