CEDIA: The Early Days
The beginnings of CEDIA date back to 1989 when a group of audio/video professionals who called themselves "custom installers" got together to formulate a plan to establish an industry group that would promote the interest of its members and offer professional training as well as a place to exchange ideas and exhibit new products. The Custom Electronic Design and Industry Association was borne out of those early meetings.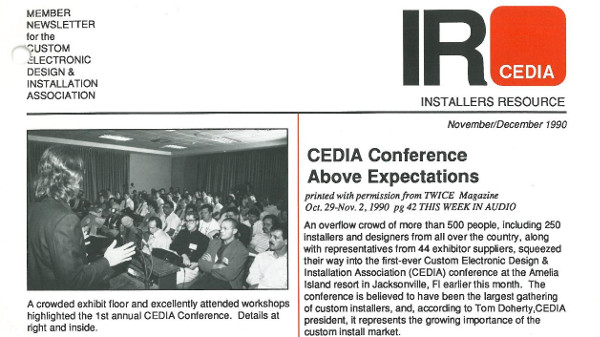 The first CEDIA Expo was held in Amelia Island, Florida in 1990. Modest in scale, it drew 500 attendees and featured table-top displays of pioneering products designed specifically for the emerging discipline of custom installation. Here's an account of that historic event as it appeared in the trade newspaper TWICE:
An overflow crowd of more than 500 people, including 250 installers and designers from all over the country, along with representatives from 44 exhibitor suppliers, squeezed their way into the first-ever Custom Electronic Design & Installation Association (CEDIA) conference at the Amelia Island resort in Jacksonville, Fl earlier this month. The conference is believed to have been the largest gathering of custom installers and, according to Tom Doherty, CEDIA president, it represents the growing importance of the custom install market.

"It was way above expectations," says Doherty. "We thought we'd have 200 people, and that would have been the largest gathering of custom installers to share information. To have this kind of turnout… I think everyone is pleased, installers and manufacturers alike."

Each of the first three seminars held on the opening day of the show attracted a standing-room crowd of more than 260 people, which included both attendees and exhibitors. A total of 24 seminars were held on a variety of subjects over the three-day get-together. "I couldn't afford not to be here," said one Sarasota installer.

The conference featured seminars on home automation, custom rear projection construction, selling boardroom systems, video distribution and IR control, and a panel discussion on home theater involving representatives of Lucasfilm, Dolby, Shure and AVI. The three-day conference was split into one day for business seminars, followed by two days of technical talks, workshops and panel discussions, mostly involving representatives from hardware manufacturers, such as Audioaccess, Audio Ease, Carver, Sonance, Harman Kardon, JBL, and Luxman, among others.

An exhibit area with tabletop displays enabled manufacturers to display new products, many presented to installers for the first time. Sony, for example, shipped its entire house display to the Florida resort to showcase its Digital Transfer System.

"It's amazing," says Brad Kibble, national sales and marketing manager for consumer integrated systems at Sony. "It's a real good turnout. People have come here to learn and to share."
Related:
A Blast from Custom Installation's Past.
2014 CEDIA Lifetime Achievement Award winner Frank White reflects on the early days of custom installation.
Share your stories of the early days of CEDIA in Comments.