CEDIA 2017 Swiss Army Knife Winner Is: Meridian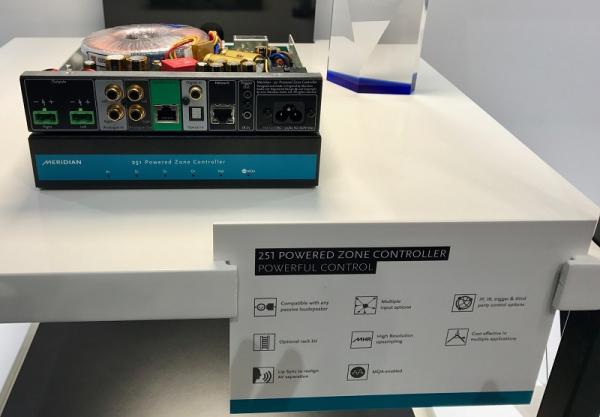 Every tradeshow has that one standout product that seems to be able to do just about everything. At this year's CES, I gave that award to Kef's LS50 Wireless (
read about them here
) for outstanding achievement in a streaming loudspeaker. The award for most do-it-all product at CEDIA this year has to go to Meridian for its new 251 Powered Zone Controller, a product capable of satisfying the audio demands of numerous situations, and doing it all while keeping a British stiff upper lip and delivering Meridian's world class performance.
The 251 is the latest product in Meridian's new 200-series, and it does so much, it's almost easier to say what it doesn't do. Unlike a real Victorinox Swiss Army Knife, the 251 would be hard pressed to open a bottle of wine or pick a stray piece of lettuce from your teeth, however that's almost where its limitations end.
The 251 offers numerous inputs that are treated to Meridian's High Resolution up-sampling via twin 192kHz/24-bit DACs, removing jitter via Meridian's proprietary FIFO (first-in first-out) buffer and applying the company's renowned apodising filter to rid the signal of any number of nasties before amplifying the signal to 100-watts x 2 (4 ohms) and sending it over speaker wiring to any passive speaker or soundbar. All this is done with the loving care and attention to detail you'd expect from a Savile Row tailor, custom fitting your audio for maximum performance.
Connections are on board for Toslink and coaxial digital, stereo analog (or "analogue" as Meridian would put it, offering you a proper cup of Earl Grey tea while doing it), Meridian SpeakerLink input for connecting other Meridian goodies, and Ethernet for network control. Adding a subwoofer or additional amplifier is simple via the analog output. The 251 also features an IR input and a trigger output to further its usefulness. There is even built-in lip sync adjustments for timing corrections when used with a video source.
If you tire of your own music collection, or need a break from watching the latest Netball or cricket match, the 251 can stand in as an endpoint for Sooloos music management, and it also offers support for Roon's terrific audio platform. Since the 251 is built from the floor up with high-resolution audio in mind, the 251 is full capable of playing MQA (Master Quality Authenticated) files, even including a snazzy little light that illuminates when it is receiving MQA. Of course, the front panel lighting is subdued in the British way, not wanting to overly call attention to itself.
Built in England and covered by Meridian's five year warranty, all this kit fits into a small 1U, half-rack width package that can easily wall mount behind a flat panel TV to serve as a near invisible hub for controlling all manner of entertainment in either a single room or as part of a whole house audio system. Control is done via standard IR, or via IP with a native iPad app, or integration with a variety of third-party control systems. Setup and configuration is performed via a simple web GUI.
Meridian is accepting pre-orders for the 251 now, with product expected to ship this month for $1500. Please form an orderly queue behind me.