Canton LE 100 Series Home Theater Speaker System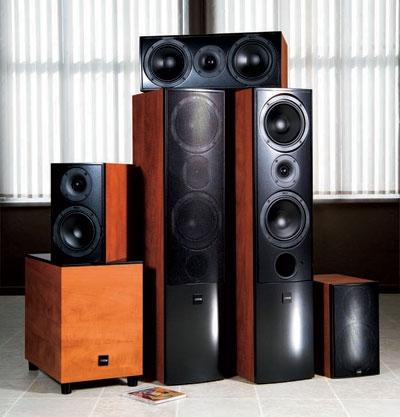 Recently, a friend pointed me to an interesting Web site called youhavebadtasteinmusic.com.
Apparently, they send a strangely dressed guy with a megaphone out to the concerts of some popular bands to harangue attendees about their musical taste.
As far as I know, no such service exists for speaker buyers, who are frequently lured first to the best-known brands. Though these companies may produce great-sounding speakers for the money, a handful of superb if unheralded speaker manufacturers end up being overlooked by prospective buyers who fail to dig deeper.
Canton is one of those companies - the kind that's just not on the radar for average shoppers. Given that it shares its name with a town in Ohio best known as home to the Pro Football Hall of Fame, you'd think it was an American company. But Canton is actually a German business, and a damn big one at that. As Germany 's largest speaker manufacturer, it has produced highly regarded speakers since Nixon was in the White House - though it apparently waited for the Clinton era to start actively promoting in the U.S. In the interim, it built a state-of-the-art design and production facility and began manufacturing all of its own drivers and crossovers in house.
With its LE 100 line, Canton targets customers looking to step up in performance from basic entry-level speakers, but who may not be quite ready to take that heart-jolting leap into full-fledged audiophilia and the attendant high prices. Although the LE line was launched nearly five years ago, the speakers I reviewed are all new models that incorporate several design and component upgrades. We put together a $2,346 home theater system comprising a pair of LE 170 tower speakers for the front left/right, an LE 150 CM center speaker, a pair of LE 120 bookshelf speakers as surrounds, and an ASD 220 SC powered subwoofer. The system's total price puts it well above most entry-level sub/sat speaker systems, but still at the lower end of midprice home theater speaker systems that include front towers.
The Cantons are unusually attractive for a system at this price. All the speakers were finished in a woodlike cherry vinyl laminate (other finishes are available), and the compact cherry-and-graphite powered sub won a look of approval from my wife - always a good start. The speakers sport graphite lacquer faceplates and black metal grilles, which, thanks to UPS's rough handling, I found were removable (if one hadn't come loose in shipping, I wouldn't have had the guts to pry them off).
The LE 170 tower has two 7-inch graphite-reinforced polypropylene woofers flanking the tweeter plus a 2-inch front-firing port. While metal-dome tweeters are sometimes seen in speakers in this price range, Canton employs a 1-inch silk dome. The company maintains that fabric tweeters can sound better than metal ones in this price range. Build quality of the MDF cabinets was exemplary, much better than average.