Braven Balances Slim Looks and Big Sound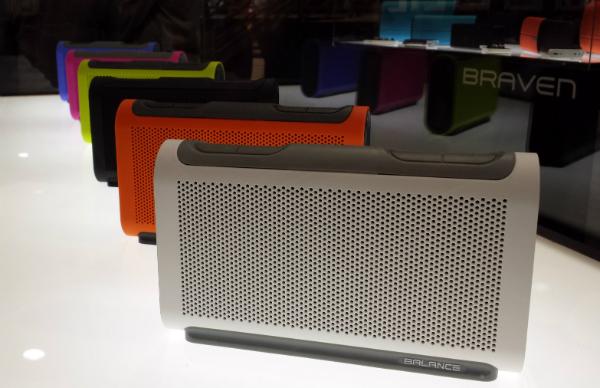 It's hard to get big bass sound from a small, portable player, but the Braven Balance, debuting at CES seems to make it work. The Balance, MSRP $150, uses bass optimization that pumps out a surprisingly full sound from such an ultra-thin speaker -it even maintains a decent amount of bass at softer listening levels.
The Balance features a non-slip coating that combined with its IPX5 waterproof rating, make it perfect for poolside or even creekside while camping. It has a 4400mAh battery for hours of playback and it can also charge other portable devices. The Balance has a built-in noise-cancelling microphone so it functions as a waterproof speaker phone. The thin profile makes it easy to take along to work or play.
"Music and fitness go hand in hand, they help you maintain a balanced mind, body and soul," said Andy Fathollahi, Chief Executive. "The Balance is the perfect speaker for the active mobile lifestyle. It unites smart design with functionality by having a slim shape to fit into any bag or backpack and the power to get your adrenaline going."
The Braven Balance comes in a rainbow of colors: Raven, Alpine, Raspberry, Electric, Sunset and Periwinkle, and will be available in Q2 of 2015. That's almost too many color choices. But they sure look pretty all together.