Bluesound Soundbar Offers Hi-Res TV Solution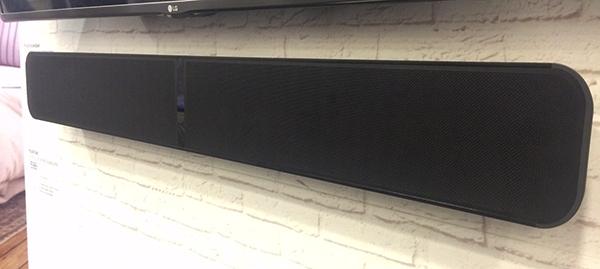 Bluesound, the hi-res compliant multiroom audio platform from Lenbrook, the makers of NAD audio electronics and PSB speakers, has added a critical new product at CEDIA in its first soundbar. Priced at $999 and available later this month, the Pulse Soundbar is designed for screens 42-inches or larger, and offers up a number of features that should please audiophiles who want to start building a Bluesound system or extend an existing system into the TV room.
With acoustic design and voicing handled by PSB's Paul Barton, the bar offers a 3-way, 8-driver design: two high excursion 4-inch woofers with additional bass support from a pair of 4-inch passive radiators, two 4-inch treated paper midrange units, and two 1-inch soft dome tweeters. A 120-watt DSP-controlled DirectDigital amp provides each driver its own dedicated channel. The 42.25-inch extruded aluminum cabinet is said to allow thinner walls and better optimization of the internal cavity for bass response that's flat to 70 Hz and 55 Hz at the -3dB point. Lenbrook officials stressed that this eliminates the need for a dedicated subwoofer in all but the most demanding situations. Where more bass is needed, Bluesound will offer later this fall the wirless Pulse Sub ($599), a thin-profile subwoofer that can stand vertically or be laid flat to slide under furniture as needed. There's also a standard wired subwoofer output compatible with other subwoofers, and Bluesound will offer a wirelss dongle.
Inputs include optical digital for accepting a feed from the TV, an analog stereo line input, USB for plugging in a flash drive with music files, and AptX Bluetooth for connecting a phone. But the real draw is Bluesound's WiFi based, hi-resolution platform, which supports streaming of hi-resolution audio files up to 192 kHz/24-bit from a home network or hi-res streaming services. Decoding of streamed files encoded with MQA, the well-regarded Meridian-developed hi-res compression scheme, has recently been added to Bluesound's ecosystem and is featured here as well. The BluOS interface app, which directs dedicated music streams simultaneously to different Bluesound powered speakers and player modules around the house, is available in versions that run on iOS and Android mobile devices, as well as Windows and Mac PCs. For TV watching, the soundbar offers IR learning so basic functions like volume and mute can be handled by an existing TV, cable box, or universal remote.
Other new Blusound products include the RM720, a compact module that mimics operation of the company's Powermode2 powered player and retails for $899. Up to eight RM720s can be loaded into a rack for powering in-wall or ceiling speakers in up to eight individual zones. The CI580 ($1,299) is a centralized 4-zone Bluesound preamp rack player that can feed signals to an existing outboard multizone amplifier.
New NAD products include BluOS and updated video modules for the company's modular AVRs, and new integrated amplifier/DAC combos in the Classic series that function as the heart of home hi-fi system. These are also adaptable to BluOS with addition of an optional modular board that slips into the back panel.