Is Bluesound an Audiophile Sonos Killer?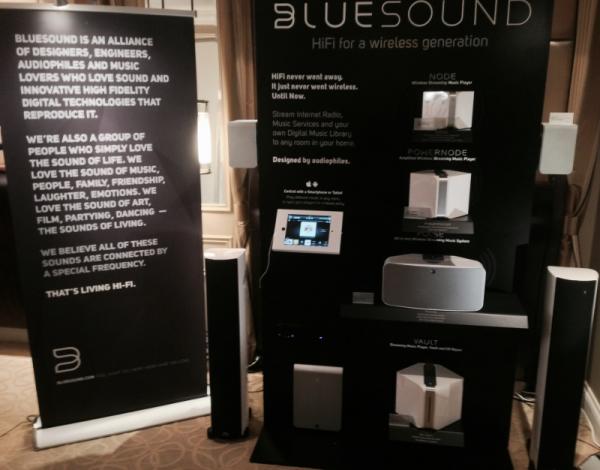 I stumbled across Bluesound at a suite in the Venetian on my last day of the show and I'm certainly glad that I did. This new company is comprised of many of the same people from NAD with a true passion for delivering uncompromised audio, and Bluesound looks to have an array of products that might be the first true high-end challenger to Sonos' wireless music dominance.
The Bluesound system is comprised of four primary components: Node, PowerNode, Vault, and Pulse. With a combination of these units, you can build a wireless housewide music system that suits your needs and is capable of streaming FLAC, AAC, ALAC, WAV, AIFF, WMA, WMA-L, OGG and MP3 files up to full resolution 24-bit/192kHz quality!
The Node ($449) is a source component that connects to an existing stereo system, and offers analog and optical digital outputs, along with 802.11n WiFi and Ethernet connectivity to your network. A USB connection can be used for adding local storage or connecting supported peripherals like a Bluetooth module. The Node incorporates an ARM Cortex A8 processor that delivers four times the processing speed of other systems, providing speedy operation.
The PowerNode ($699) is the amplified version, offering 50-watts per channel amplification into 4 Ohms. The PowerNode's direct-digital amplification is designed by NAD to deliver clean, powerful sound. A subwoofer output is also on board for adding more bass.
The Vault ($999) combines a Node with a 1 Terabyte hard drive and a slot-loading CD ripper, providing a simple way to quickly rip, store and stream music. With a collection residing on the Vault, the system can have full operation without needing to power on a computer.
Finally the Pulse ($699) combines integrated speaker, 80-watts of total amplification, and a 35-bit/844kHZ DAZ into an all-in-one music streaming system. The Pulse will be the perfect addition to areas like offices, studies and kitchens where you want to add quality music but don't have the space to put a stack of gear.
All components are offered in gloss black or white and can be controlled by iOS, Android, Windows or Macintosh. The system will also support Slacker and Qobuz high-res audio streaming service as well as the ability to purchase and directly download high-resolution tracks from HD Tracks on top of Rdio, WiMP & Tunein Radio. Stay tuned for a full review of the system by Darryl Wilkinson.