Bang & Olufsen Brings High-Style Sound and Image to CES
Denmark's Bang & Olufsen continues its long tradition of melding style and technology at CES with the BeoVision 11 LED-based LCD HDTV, featuring an unusually robust six-speaker sound system, and the ultra-slim BeoLab 12 line of powered speakers.
Available in 40-, 46- and 55-inch screen sizes with prices starting at $5,995, the 3D-capable TV is DLNA-compliant for streaming content from a smartphone or home network via Wi-Fi and has an ambient light sensor that automatically adjusts brightness and contrast. It also includes a motorized wall mount for adjusting the position of the screen via remote control. B&O offers a choice of six colors for the fabric panel below the screen, which can be framed in silver or black.
The BeoLab 12 speaker line now has three models: The 12-3 (shown) and 12-2, featuring an acoustic lens that disperses high frequencies in an 180-degree arc, and the new 12-1, which excludes the acoustic lens. Sound is reproduced by a flat 6.5-inch woofer and a 2-inch midrange/tweeter in the BeoLab 12-1, which packs 160 watts of power, while the 320-watt 12-2 and 480-watt 12-3 add a 0.75-inch tweeter (with acoustic lens) plus a second woofer in the 12-3. All are offered in silver or white and pricing is $4,613/pair for the 12-3, $3,120/pair for the 12-2, and $2,950/pair for the 12-1. The speakers can be mounted on the wall or placed on optional floor stands.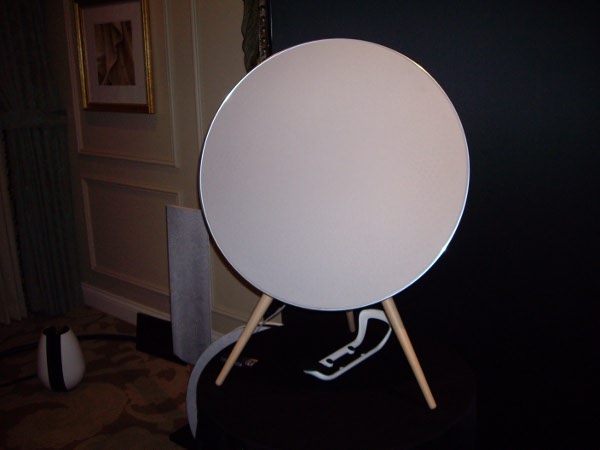 B&O also showed the nonconformist BeoPlay A9 wireless music system, featuring AirPlay and DLNA connectivity plus five powered speakers—pairs of 0.75-inch tweeters and 3-inch midranges with an 8-inch woofer—that deliver remarkably full sound; total power is 480 watts. A touch sensor lets you adjust the volume by running your hand along the top of the speaker. Fabric covers are available in six colors and the solid wood legs come in oak, beech or teak.
LATEST VIDEO