The Band: Live at the Academy of Music 1971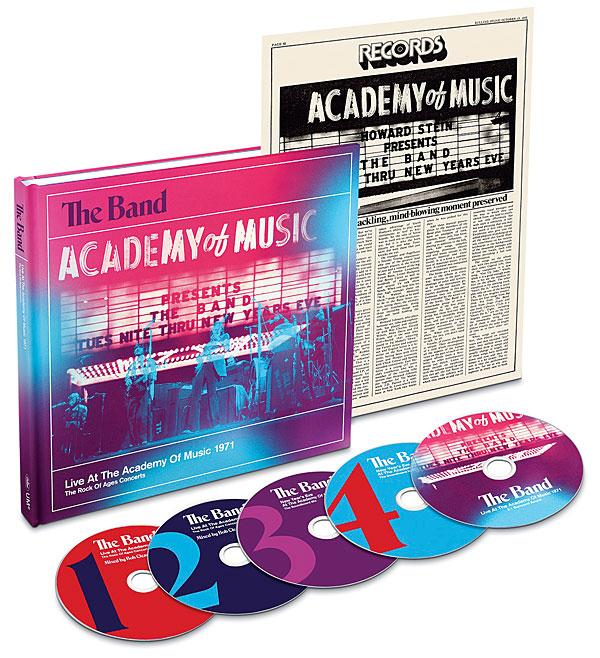 Music From Big Pink
(1968) and
The Band
(1969), The Band was also known for being a supernaturally gifted live act, having honed its stagecraft through many arduous but rewarding years on the road. Highlights from a magical four-night stand at New York's Academy of Music were set in stone—or rather, on wax and disc—with 1972's
Rock of Ages
. The album was a critically acclaimed best seller and a triumph in the eyes of everyone it touched. Well, almost everyone.
"It was received tremendously back then, and everybody loved it—except me," admits Robbie Robertson, The Band's chief songwriter and sonic architect. "I was so not satisfied with it. I wasn't able to get the level of mixing up to the level of the music being played." Harsh words from the man playing guitar onstage during all those shows, but Robertson has been able to remedy those inadequacies on the five-disc box set The Band: Live at the Academy of Music 1971 (Capitol/UMe). The residency's best performances are spread across the first two discs, while a soundboard of the complete New Year's Eve show (mixed by Robertson's son, Sebastian) comprises discs 3 and 4. And on the DVD (disc 5), Bob Clearmountain's spot-on surround sound mix brings the necessary in-the-hall and onstage-placement dimensionality to tracks like the delicate hymn "I Shall Be Released," the hard-charging fable "The Weight," and the unbridled energy pill "Chest Fever"—the latter two tracks made complete with the dynamic horn section arranged by New Orleans brass impresario Allen Toussaint simply owning the surround channels.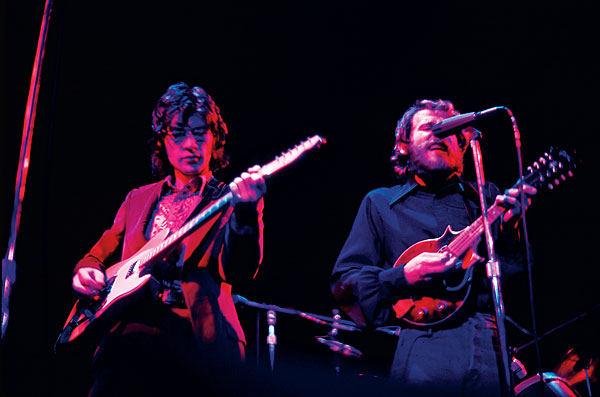 In the following interview with S&V music maven Mike Mettler, Robertson outlines how Academy was rescued from its aural nadir and remixed for maximum 5.1 enjoyment, plus he tells what it's like to play with Bob Dylan sans a safety net.
MM: Two years ago, when we talked about the 5.1 DVD-Audio remix you'd done for The Last Waltz, you told me you wanted the listener to be "in the third row with the audience all around you and behind you." What was your philosophy for the Live at the Academy of Music 1971 surround sound mix?
RR: Well [brief pause]… I decided on the fifth row for this one.
MM [chuckles]: Oh yeah? I thought I was sitting two rows further back this time….
RR: I felt some of the performance was escaping around you in a way, so I had to find the right spot: nice and centered.
MM: Since The Band has three different lead vocalists—Richard Manuel, Levon Helm, and Rick Danko—did you have to mix differently for the vocal character of each singer?
RR: There were certain placements I had to be mindful of, yes. Bob Clearmountain and I experimented, through trial and error, on "Rockin' Chair" [disc 2]. On that song, Richard is singing the lead on the verses, and then on the chorus, he goes up and sings a high harmony, and Levon takes over the lead. These are all very delicate factors for getting the right balance in the mix—getting the harmonies clear, what goes left and right and center, and handling the overall level.
The song's instrumentation is extremely simple, and you think, "Well, that was one of the easy ones," but that's not always the case. Sometimes the songs that hardly have anything going on can be the ones hardest to get across. But all of the details had to be figured out. They didn't change or happen on their own.
MM: It's like reconstructing a puzzle.
RR: Right. And it's fun to get everything in proportion and all in a balance so you're hearing it in the way it was performed where everybody is placed in his right position. At the same time, it's got to work musically as well. It's a balancing act, but it was fun to get it right.
I feel like this new mix is a real fulfillment for me. Now I can hear everything on "Rockin' Chair." The way the horn section and Garth [Hudson]'s organ are weaving together and the way [Helm's] kick drum and [Danko's] bass are rubbing together on this track are just perfect.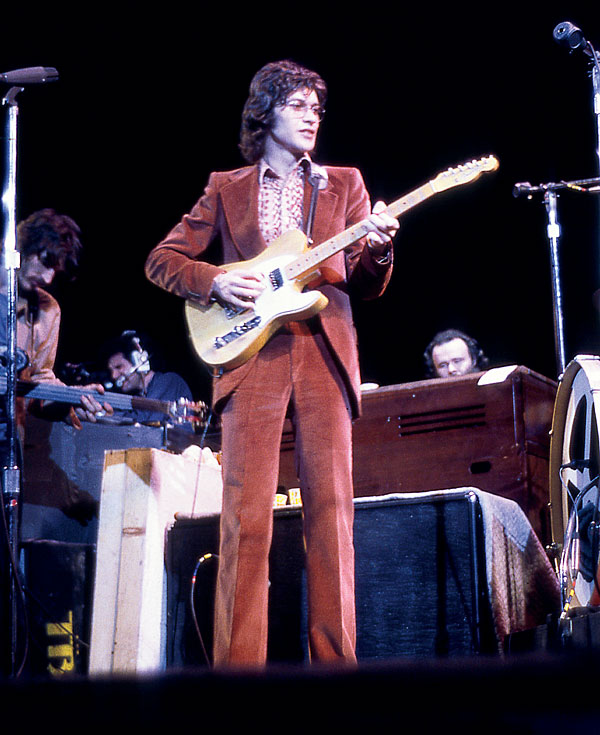 MM: Why weren't you happy with the original mix on Rock of Ages?
RR: It was my fault. I thought it was murky. We were mixing at Criteria Studios in Miami, and the studio we were in there wasn't even finished being built. The room where we were trying to mix hadn't been set up and tuned. All of this stuff hadn't been figured out, and I had no choice. It was just a technical thing.
I had done the whole mix with [Ages engineer] Phil Ramone, and when I got back to Woodstock and listened to it, I didn't like it. I said to him, "Phil, I'm not happy with this." And he said, "No, I'm not either. I've never had an experience like this before. I'm in shock." He said there was something in the studio down there that led us to a place that wasn't true to the performances we knew.
So I had to mix it all over again. He [Phil] had to go on to another project, and I mixed it with another engineer [Mark Harman] who was familiar with the music. I did the best I could, but I knew deep down there was a clarity missing, and the levels weren't what I wanted them to be.
MM: Bob Dylan joined you for the New Year's Eve show. Does the onstage dynamic change when you play with him?
RR: Because of all we had to do to get ready for those four nights—arranging the horns, setting up for the live recording, understanding the acoustics in the theater—we didn't have time to rehearse with Bob. But we had played together so much over the years, I thought, "Yeah, we can wing it." We didn't even know what songs we'd do before Bob came out. And then there we were, figuring it out on the spot, and I could hear it in the music. It's loose and spontaneous, and as real as it gets.
MM: You made an interesting choice to go with the soundboard mix for that night.
RR: I'm thrilled with the mix Sebastian [Robertson, his son] did there. It's completely different than what I did with Clearmountain. It really has a very basic, right-off-the-board vibe to it. And I love that—to have the Friday-night New Year's Eve show just the way it was. It's a dream come true for me.
MM: Well, it only took 40 years for you to get satisfied with this mix, and I certainly think it was worth the wait.
RR: I know! Can we do it a little quicker next time, please? [both laugh]
CD & DVD
Label: Capitol/UMe
Audio Formats: 48-kHz/24-bit PCM Stereo (CDs), DTS-HD Master Audio 5.1 48-kHz/24-bit (DVD)
Number of Tracks: 56 on four CDs, 27 on one DVD
Length: 5:44:36
Producers: Robbie Robertson (box set), Michael Murphy, Matt D'Amico (co-producers), Sebastian Robertson, Jon Castelli (soundboard mixes), Bob Clearmountain (DVD)
Engineers: Phil Ramone, Mark Harman (box set), Ryan Nasci (soundboard mixes)
Besides knocking the psychedelic movement off of its puffy cloud at the end of the '60s with the seminal roots-based rustic albums