Back to the Future—Again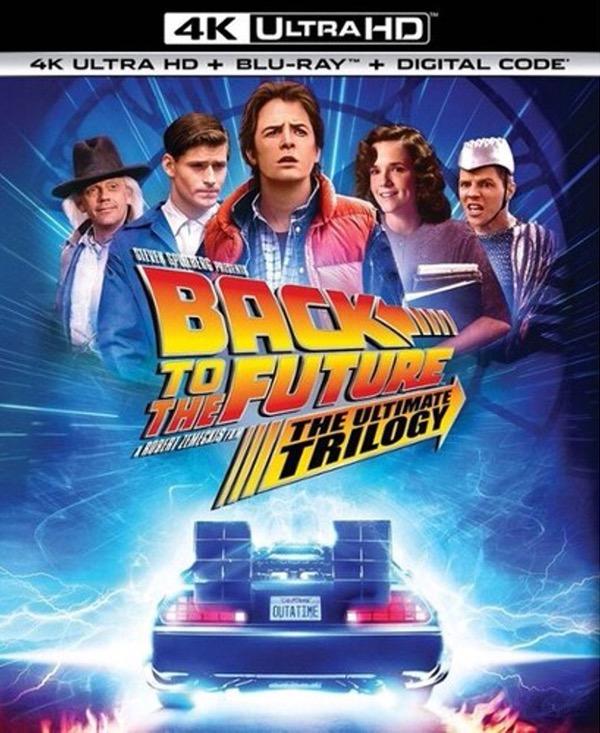 The slipcover to the new release of the
Back to the Future
trilogy, just released on 4K Ultra HD Blu-ray for the first time, refers to the threesome as the "most popular movie series of all time." I'm not sure about that; the trilogies of
The Lord of the Rings
and the original
Star Wars
(episodes 4, 5, and 6 in George Lucas' bizarre numbering system) might have something to say about that. But
The Lord of the Rings
is a long slog for some viewers, running over 10 hours in its extended versions. And
Return of the Jedi
, episode 6 of
Star Wars
, with its army of cuddly teddy bears (can you say merchandizing?) was too cutesy by half.
But both of the latter trilogies were essentially serious endeavors, their heroes battling evil. Back to the Future, on the other hand, is a tongue-in cheek romp. It plays with time-travel in largely successful ways, making fun use of the paradoxes involved while at the same time driving through them so quickly that only after post-viewing reflection do you wonder, " If Marty goes there, and Doc does that, how will that work with Marty 2 and Doc 2 still hanging around in the same time line or a different one?" But while serious time-travel movies can be tripped up by all of this (Primer, a bare-bones-budget sci-fi film, at least attempts to sort this all out), Back to the Future merely goes where the flow takes it, logically or not.
Back to the Future
Back to the Future wasn't originally planned as a threesome. It's first episode is therefore self-contained and can be enjoyed on its own. Marty McFly is a Hill Valley high-schooler in 1985 (the present in this 1985 movie), whose interests appear to be limited to skateboarding, his rock band, his girlfriend Jennifer, and his looney scientist friend, Doc Brown. All of these play key roles in the trilogy, as does the town bully Biff Tannon, the McFly family's nemesis. When Marty meets up with Brown for an experiment involving Doc's a time travelling DeLorean (!) he's accidentally thrown back 1955. There he finds the 1955 Doc Brown who ultimately helps him return home to 1985, but only after serious complications.
Back to the Future Part II
Back to the Future Part II, released in 1989, is the odd duck of the trilogy. It alternates between 2015 and 1985, playing with the concept that a change in one timeline can have serious, even catastrophic, repercussions for the future. In this 1985 timeline an adult Biff Tannon is now a casino-owning thug. Hill Valley, under Biff's thumb, is an ungodly mess. In a way this depiction of the 1985 town was certainly inspired by It's a Wonderful Life, but on steroids with very different details. The end of the film is a cliff-hanger, with Doc Brown thrown into the past (the end of the film has an extended trailer for Part III, "Summer 1990"). While the darkest of the three films, BTTF II is amusing to those of us in 2020 as to how the 1985 filmmakers envisioned 2015. Let's just say that they were a wee-bit off, though in ways that might have appeared almost plausible to its 1989 audiences. It's also the closest of the three films to a PG-13-rating (all three films were generously rated PG, though sprinkled here and there with PG13-level language).
Back to the Future Part III
The third film, cleverly titled Back to the Future Part III is thankfully closer in tone to the first film, though in some ways very different. Marty ventures back to 1885, to save Doc Brown, who has become trapped there due to events at the end of BTTF II. Once there it turns into more of a comic western than a time-travel story. But the ending, when Marty and Doc Brown have to get the DeLorean up to its time-trigger point of 88 miles per hour in a world with no gasoline, ends the trilogy in rousing and satisfying style. In some ways BTTF III is, for me, the most satisfying of the three films, though it's a close call. I understand why most will choose the first as their favorite.
The films are perfectly cast, particularly the two leads. It's common knowledge by now that Michael J. Fox wasn't the first actor cast as Marty. But the change, when made, proved magical. The same for the choice of Christopher Lloyd as Doc Brown. Fox's career was limited by chronic illness (he was diagnosed with Parkinson's in 1991), but he continues to work today. Lloyd is also still active in both films and television.
The Ultimate Trilogy
The four-disc 4K Ultra HD package comes in two versions: Back to the Future The Ultimate Trilogy and (for roughly $30 more!) Back to the Future 35th Anniversary Giftset Trilogy 4K. The latter is also available in a Steelbook version from Best Buy. A standard HD Blu-ray set is also available. But there is, as yet at least, no way to purchase the newly-remastered discs individually, either in HD or UltraHD. This report is on The Ultimate Trilogy. The 35th Anniversary edition, as purchased from Amazon, has received a flood of complaints about Amazon's packaging, resulting in shipping damage for some buyers. I saw no such complaints about the less expensive Ultimate Trilogy. In any event I acquired my set locally, where I could check its outward condition before pulling out my credit card.
This package includes both UltraHD and standard HD versions of each movie, plus a bonus disc of previously unreleased special features (the special features from previous releases are also included on the movie discs). I have only one complaint about the packaging. The booklet that contains the discs is beautifully done (though how it will stand up in heavy use is unknown) but it's cardboard sleeves for each of the seven discs are so tight that I feared for the disc's safety (from scratching or other possible damage) every time I take one of them out. But they certainly won't fall out if you tip the booklet upside down!
I viewed only the UltraHD 4K discs of the three films and haven't yet digested the special features. I watched Parts 1 and III on a 96-inch wide projection screen with a JVC pixel-shifter 4K HDR10 projector, and Part II on a 65-inch 2017 LG 4K OLED in Dolby Vision. All three of the UltraHD movie discs have been remastered in 4K HDR with Dolby Atmos audio. The video presentations on the three films ranged from very good to spectacular and easily met or exceeded the quality you'd expect from an UltraHD transfer of a modern film. A few shots here and there were a bit soft, but that's true of most films. Overall, colors were rich and deep, and detailing was impossible to criticize. Noise reduction was largely undetectable (though I admit I'm less fussy about this than many perfectionists). The HDR was good where it needed to be but not overdone and, of course, more effective on the flat screen TV than from the projector. The only issue I experienced was some excessive darkness in a few scenes in the flat screen/Dolby Vision replay. A little readjustment of the display's controls reduced the problem.
The audio wasn't quite in that near state-of-the-art category. While consistently clean and clear, it was a step or two behind the best recent film soundtracks. None of the three films were a match in bass and dynamics for recent sonic blockbusters such as, for example, Blade Runner 2049, but you wouldn't expect them to be. The Atmos channels were highly active, but since the original films weren't mixed with any such format in mind, the remixers appear to have decided that they should steer the music balance toward the overhead and surround speakers to give them something to do. Not all the music, of course, but enough that this was my only serious criticism of these new releases. I'm a strong believer in music being firmly front-centric, not only because that's where it usually belongs (apart from enough ambience to support the environment and mood) but also because in many (if not most) systems the front speakers are usually the best performers.
Having said that, Alan Silvestri's terrific scores for all of the films were cleanly reproduced, and there were some surprisingly effective audio sequences, particularly in the climactic dance scenes in Part I and to a lesser extent the clock dedication party in Part III. And the train finale in Part III, as Doc and Marty struggle to get the DeLorean up to 88 miles per hour, was awesome.
This three disc package isn't cheap, but I can't imagine any fans of these films not wanting to add it to their collection.