AXPONA 2019: A Guide to the Best Sound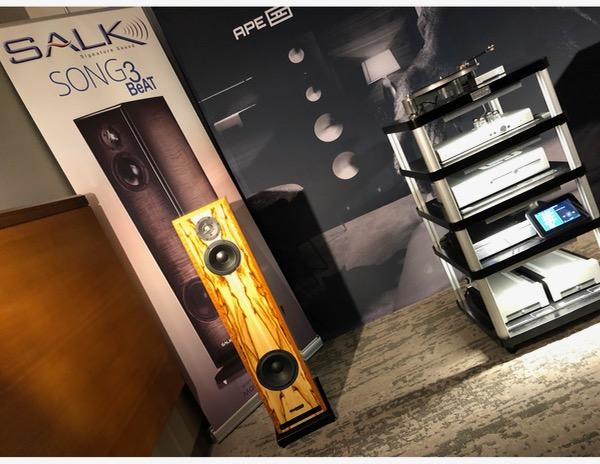 The annual Audio Expo North America (AXPONA) show in Chicago has exploded into the biggest audio show in North America. 2019 was my first experience there, and it lived up to its reputation. The only show that's now bigger, based on the number of exhibitors (though I understand it's heavy on static displays), is May's Munich show in Germany.
But AXPONA this year was so big that its three-day run was at least a day too short for comfort. With nearly 400 companies filling an estimated 150 rooms in the Renaissance Hotel in Schaumberg, IL, a Chicago suburb, I had to do some serious planning in order to see as much as possible. On Day 1 I made a quick run through most of the rooms, spending very little time in each but making both real and mental notes as to which interested me enough to return, over the next two days, for more extended listening. An early spring snowstorm that dropped several inches of snow in Chicagoland. This seriously limited attendance on Sunday, thinning out the crowds and making it easier to get into the remaining rooms on my list and spend a little more time in each one.
On those final two days, particularly the last, I was often able to choose the material I wanted to hear. Until around 2005 it was often possible to bring your own music to audio shows on CDs, as most exhibitors used CD players as their primary source. No more. Today, most use streamed sources and/or vinyl — CD players are rare. But many rooms at AXPONA were equipped with Tidal, and to a lesser extent Qobuz. This was a huge help for streaming some of my current favorite demo material as I moved from room to room. (Many of my favored choices are listed at the end of this report).
I didn't spend any quality time at the show with vinyl gear, but the most intriguing turntable was clearly the MagLev. It uses magnets to suspend and rotate the platter, keeping it totally independent from its mounting surface.
In Search of Home Theater
I was of course on the lookout for home theater, but as usual at audio shows there was little to choose from (we badly need a dedicated consumer home theater show, but home theater show setups involve additional costs and other complications, while also discouraging casual room surfing because of the darkness often required).
But there were four home theater demos at AXPONA 2019 (it's possible I missed others, but I don't think so). By far the most ambitious was the well-named Nirvana system. In a room the size of a small commercial cinema it featured speakers by JTR (including eight of its Captivator 2400 ULF subwoofers), amps by the Digital Amplifier Company (a firm unfamiliar to me), a Storm Audio pre-pro, a JVC DLA-RS4500K laser 4K projector, and a Trim masking L-150 (150-inch wide) 2.40:1 Enlightor-Neo acoustically transparent screen from Seymour-Screen Excellence. The demo material included not only the usual crash and boom stuff, but also videos featuring music (not music-video s— a distinctly different category). The setup was awesome, particularly the picture, though I would have preferred a bit less enthusiasm on the sound levels!
Other effective home theater demos were by Emotiva, SVS, ands HSU. Emotiva used JVC's top non-laser projector, the DLA-NX9, along with racks of Emotiva electronics and seemingly dozens of Emotiva's own speakers in another a very large space. I was unfortunately in a bad seat to judge the audio but the demo was crowded.
Hsu Research used a flat screen TV to good effect for showing off not only five of its CCB8 concentric 8-inch speakers ($699/pair) but also a prototype of an unnamed subwoofer with 15-inch drivers (price and delivery date TBD). I had brought along the Blu-ray disc of Oblivion and asked Dr. Hsu to play several early scenes, particular the chopper landing in a derelict stadium. The demo (in a small hotel room) was definitely impressive. The CCB8's might well be worth a closer look, particularly when that jumbo sub hits the market.
Finally, SVS's demo, also in a small room, employed its new but compact SB-3000 subwoofer and a full complement of SVS' Prime loudspeakers, including the Prime Elevations for Dolby Atmos and SVS' new Prime Pinnacle L/R floor-stander ($1,600/pair). The demo here was also effective, though the complexity of the setup, and crowded room, made it impossible for me to get a useful impression of that Prime Pinnacle speaker on its own.
Long Live Stereo
The attendance at all of the home theater demos gave a lie to the meme that home theater will always be a wallflower to the stereo setups that dominate all consumer audio shows. But the show was nevertheless a heavily two-channel event. Many of the lower floor demos occupied the largest rooms (too large in some cases!) and typically had gear reaching well into six figures — and that was just for the speakers!! The only exception to this that I heard was in the GoldenEar room, featuring the company's new Triton One.R loudspeakers. While the front-end electronics were pricey, at $6,000/pair the Tritons outmatched many of the big boys in their price-to-performance ratio — and in some cases in their performance alone.
Several other rooms, for budgets both modest and big, also impressed me. Joseph Audio's Perspective2 Graphene speakers sounded superb with their new, graphene-coated cones (more likely a mixture of carbon and graphene). At $15,000/pair they do use very high-end, Seas drivers made in Norway. But my choice here (also on hand though I didn't hear them) would be the Pulsar2 Graphene at $9,000/pair, a stand-mount with one graphene-coated woofer rather than the two in the Perspective2. Pricey, yes, but the $6,000 difference will buy you good stands plus a pair of first-rate subwoofers offering a far more extended low end than any full range speaker I know of can provide — at least after your budget recovers from the initial purchase. Five (or seven!) Pulsar 2's plus subs might just make for a dynamite home theater/surround-sound system, but at a price. (Joseph Audio doesn't offer subs, but the good options there are endless.)
The S610 stand-mounts from Ryan Speakers ($4,000/pair) also made a solid appearance; I haven't yet been less than favorably impressed by Ryan speakers in the three shows at which I've heard them. Other notable speakers I heard in the spendy but not Ferrari category were from Prana Fidelity Vayu/fs (just under $9,000/pair) and the Revel F228Be ($10,000/pair).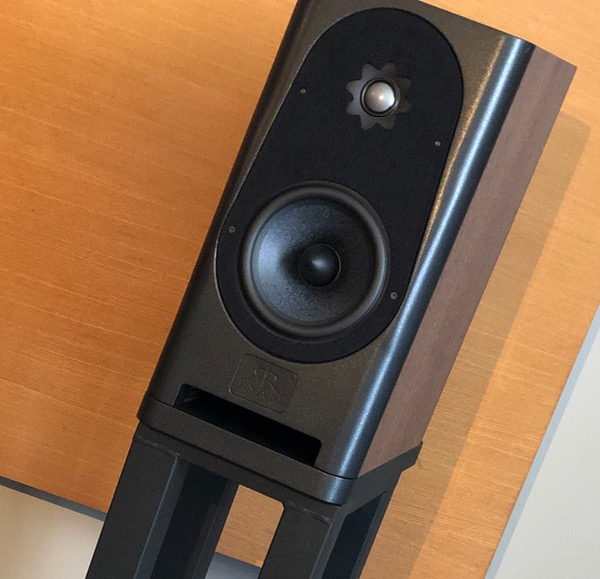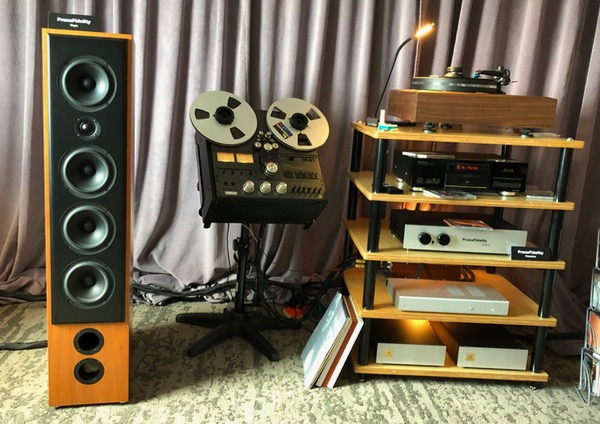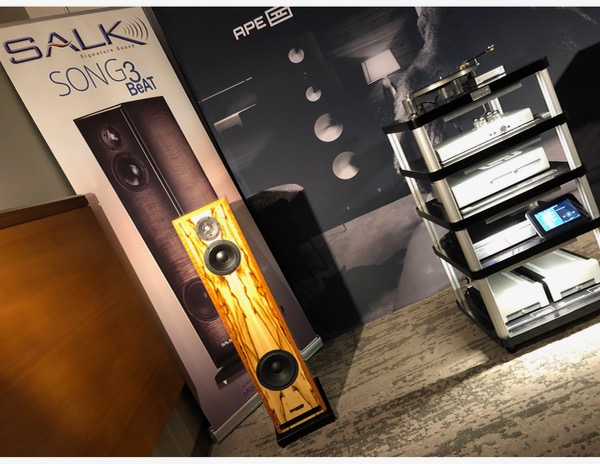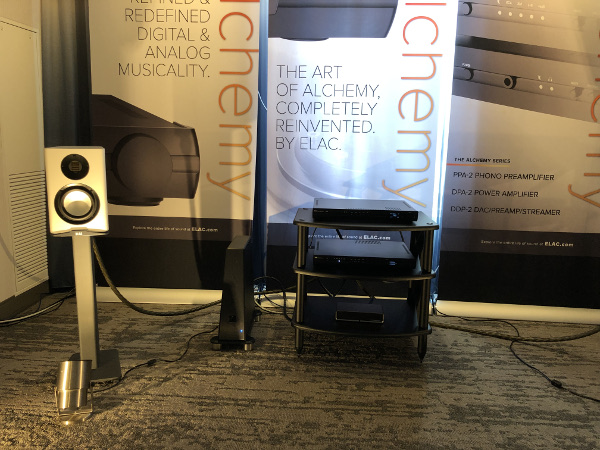 In the more, um, budget category the Salk Signature Sound Song 3 BeAT (say that fast, three times), at $4500/pair in black satin or white, $4800/pair in standard veneers, stood out. Salk isn't unique in using off-the-shelf drivers, but the drivers here — a Satori Beryllium dome tweeter and 7.5-inch Satori woofer (both from SB Acoustics) and a 4-inch Audio Technology midrange, are first rate. While available to DIYers, these drivers aren't even close to cheap (multiple $50 woofers aren't unheard of even in $20,000 speakers). And if you want a special finish, Salk (which appears to build its speakers to order, with some exceptions) can provide it. The stunning (extra cost) veneer shown in the photo above is Chen Chen. Also, as is visible there, the Salks were driven (send the kiddies to bed) by a rack full of Schiit electronics. Honest…Schiit was happening in the Salk room. And Schiit is affordable. (The jokes are endless #151; I've got a million of 'em. It would have been hilarious if they had been listed in the show program as Sc$#&t Audio.)
But three rooms stood out for me, not only in the show's underserved affordable sector but overall. The first was in one of the two Elac rooms. One room had a setup featuring Elac's powered, floor-standing Navis ARF-51s $4,000/pair). They certainly lived up to the standards of Elac designer Andrew Jones, featuring one of his traditional concentric midrange/tweeter drivers. But it was the Elac Carina BS243.4 (where do they get these model numbers!) in the other room that stood out. It was a non-traditional AJ design, a small bookshelf-sized model featuring a 5.25" Aluminum cone woofer and a folded-ribbon tweeter (Elac calls this its JET tweeter) (Carina floor-standers and a center are planned). Driven by Alchemy electronics (the $2,500 DDP-2 preamp-DAC-streamer and the $1,500 DPA-2 stereo/mono amp), it arguably sounded as good as anything else I heard at the show where I was able to use my preferred demo material, apart from the deep bass. I wasn't fooled into thinking that a subwoofer was hidden somewhere, but some listeners apparently were. At $1,200/pair the Carinas were one of the biggest bargains I heard at the show — unless you pop for the matching stands (outrageously priced at $400/pair). Available soon; I was told they're "on the boat."
Another solid budget room was Parasound, featuring that company's new Classic 200 INT integrated amplifier available early this summer at $1,195. It offers 110 watts Class D per channel into 8 ohms, a home theater bypass, a headphone output, an adjustable high-pass filter for a subwoofer, and an MM/MC phono stage. The speakers were the Buchardt Audio s400s that have recently received some seriously good on-line reviews (available factory direct from Germany at $1,800/pair). But AXPONA was their first appearance at U.S. audio show. It's a 2-way design with a 6.5-inch woofer, a waveguided tweeter, and rear-mounted passive radiator. The sources were refreshingly old-school (an Oppo 105 universal player and a $1,600 EAT B-Sharp turntable). No streaming services to be heard there. I had brought a couple of CDs; both sounded first-rate.
But it was in a limited attendance demo that I heard what might have been the highlight of the show — and at an astonishing price. Magnepan's new Little Ribbon Speaker (LRS) will sell for $650/pair with a 60-day home trial. Standing about 4-feet high, and open-backed as are all such planar designs, it sounded truly remarkable on Magnepan's program material. Downsides? They're very inefficient, and Magnepan recommends at least 300wpc into 4 ohms. That means a budget, low-power amp or receiver is unlikely to come even close to doing them justice — not that many buyers won't try! The good news is that Magnepan is working on its own amp to drive them and used a prototype of it at the show. No word on the price or availability of the amp as yet, but it will not likely be cheap. (Dirty little audio secret: there are China-made Class D pro amps available for under $500 from sources such as Crown that can do this, but I have no ears-on experience with them.)
Naturally there was also an extensive headphone section. I spent a couple of hours there, though found the experience frustrating. Apart from the Focal setup, which offered the opportunity to try several of their headphones using Tidal as a source, it was difficult to hear various phones elsewhere using the same material, which rendered useful comparisons impossible. But of the ones I heard, my favorites were the new Focal Stellia (a closed back design with a Beryllium driver) from France and the open back Meze Empyreans (open back planars) from Ukraine. The only downside was price: Both were $3,000.
So it went. It was a great show. And while glutted with unaffordable gear that attendees love to hear but 99% will never buy, there was more than enough at the other end of the price spectrum that most audiophiles can either afford now or realistically contemplate for the near future.
Favorite Demo Material
Here's a sampling of program material I used at the show, either on CD (as noted) or streamed from Tidal or Qobuz:
Kingdom, of Heaven (Soundtrack CD) – "Ibelin" and "Path to Heaven"
Loreena McKennitt: Nights from the Alhambra (CD) – "The Lady of Shalott" on disc 2
Gladiator (soundtrack) – "Now We Are Free"
Game of Thrones – "Light of the Seven" (Both instrumental and solo piano versions)
Dead Can Dance in Concert – "Kiko"
Lea Salonga The Story of My Life: Live from Manila – Selections from "Miss Saigon"