Tiësto and CEO of Audiofly Talk Headphones, Touring, and Iron Maiden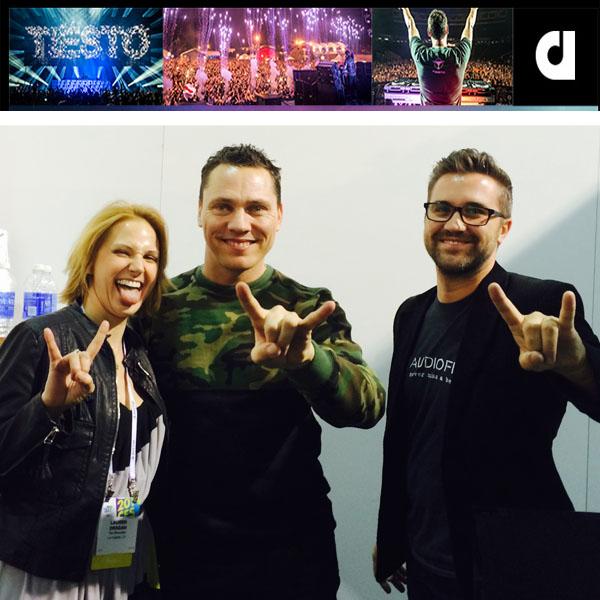 In a press conference at CES this week, Audiofly announced a partnership with
Tiësto
, world renowned DJ and record producer, in the creation of three new in-ear headphones. The line, called "Club Life by Tiësto" will range in price from $30-$150, and will be available this spring 2014. But what really goes into the creation of headphones, especially one with someone like Tiësto attached? After all the press had cleared their tripods, I got invited to sit down for an informal chat with Tiësto and Dave Thompson, CEO of Audiofly inside their booth on the CES show floor to find out.
Okay, first of all, let me say I was not expecting to walk into my first day of CES and score a one-on-one interview. I was completely gobsmacked when Audiofly's PR rep asked me if I wanted to talk to "the guys." Thankfully for me, Tiësto and Dave were both really easy going and approachable. The whole interview felt as though we were casually shooting the you-know-what at a pub. (If that pub were in a tiny modular office in the middle of a sea of thousands of people. But, you get the idea.) Also thankfully, I have always been curious about how these sorts of partnerships take place. Admittedly, I always had certain assumptions.
Like, for example, that in a pairing like this, the headphone company always approaches the celebrity. But not in this case. How did they first meet up?
Tiësto: "That's the beauty about this! I approached [Dave]. I don't want to just do products for the sake of it. I get asked to endorse a lot. But I want, if I put stuff out there, I want it to be the best and to care about it. I think that it's really cool to have $30 headphones that sound amazing."
Dave: "Tiësto said to me: These have gotta be accessible for people. We wanted premium drivers available for everyone."
So why in-ears?
Tiësto: "In-ears are so much easier, for example, on planes, or even in the studio. I use them all the time, except for, you know, onstage."
Okay, I have to ask this. Audio companies make headphones that are geared towards DJs, and they always push the super heavy-handed bass response because they say that's what DJs want and need. As a representative of one of the best DJs in the world, settle this bet for me: do you really want super heavy bass?
Tiësto: "I don't, actually! I don't like a lot of bass, I like to hear the whole thing. Especially in the mid- to high-range, there's a lot of ear candy going on. That's what you want to hear. You need the right balance. That's why I fell in love with Audiofly. I get sent a lot of stuff. I really fell in love with these, and I really like how [Dave] is so passionate about headphones."
Dave: "Sound is so subjective. Everyone has different opinions of what sounds 'good.' But as a musician, you kinda know what you want to hear, and what sounds balanced. It's that concept of balance in sound that has really guided us with our headphone design."
So, Dave, you're musical too!
Dave: "I play guitar. I grew up and started playing violin when when I was four, and then I fell in love with guitar in my teens. And then I got obsessed with making guitars, and that's actually how I got into product design. You remember the first time you bought a CD… there's a relationship that you form...that's what we're trying to recreate with Audiofly."
I do, actually. It was Queen. What was yours? With your own money. Family stuff and gifts don't count.
Dave: First CD I bought was Pearl Jam VS. and grew up on Midnight Oil and U2. The Edge's guitar playing did it for me. He knows what not to play."
Tiësto: Iron Maiden. Piece of Mind. I was such a heavy metal freak. When I was 16, I wore the patches, the long hair, I was headbanging… "
There must be pictures of this! Please tweet one for me.
Tiësto: "There are no pictures! [At that age,] I was so into heavy metal, I didn't like any other music. And now I'm this crazy DJ. When I run into kids from my class now they're like...wow… you... changed so much. But lots of musicians really liked Iron Maiden. The singer from Sigur Ros said his biggest influence was Iron Maiden. You can hear it in that melancholic sound."
Actually, though I never thought about it, when you tell me that about Sigur Ros, it makes total sense.
So, Tiësto, you're always on the go. Not only are you releasing Club Life by Tiësto headphones, but you have a constant flow of CD releases, global tour dates, events (he's playing the Winter X Games in Aspen, for example), and you're holding down a residency at Hakkasan in Las Vegas. How does a residency compare to your constant tour schedule?
Tiësto: I could only do a residency here, in Las Vegas. Every week you have a new crowd, and it's never the same, the crowd is never the same. So I can always change my style. I can always get new tracks in. I need to keep it interesting for myself. I could never be on Broadway and do the same performance every night. It's so impressive how they do it. It must be the hardest thing. Here, I can play a completely different set every night. Even being in a band must be hard, playing the same songs every night."
Speaking of bands, Dave, Audiofly is doing in-ear monitors now?
Dave: "We're moving into pro products: In ear monitors designed for working musicians. I have peers, myself included, who have been working musicians. You're gigging week-in and week-out and sometimes it's not viable to drop $1,500 on a pair of custom molded in-ear monitors. The in ears we have designed to be a really good universal fit in-ears monitors. And they're the best headphones to travel with, because you could have a screaming kid on a plane next to you and not know it."
Now that's music to my ears.
Club Life by Tiësto in-ear headphones will be pre-released to Tiësto fans, and then to select retailers around the world. There will be three styles to choose from: first being the $150 high-end flagship product, which will be an advanced hybrid in-ear headphone featuring a balanced armature and a dynamic custom voiced driver tuned to Tiësto's specifications. For more pre-release info, check out Tiësto's website, and Audiofly.com.