Artison Introduces Soundbars for New Generation of Ultra-Thin TVs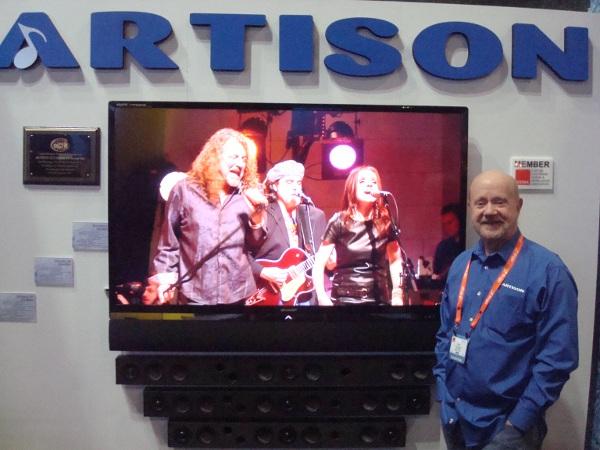 Artison, the company founded by respected audio designer Cary Christie nearly a decade ago, is replacing its SB-1 SoundBar with three low-profile models designed for seamless integration with the new generation of ultra-thin TVs. The numerical designations of the new Studio Series models---Studio39, Studio46 and Studio55---reflect the approximate width of the soundbar, although each grille is custom fitted and color matched to the TV it's being used with as in the photo above.
Highlights of the soundbars include a 2.25-inch-deep extruded aluminum, bass-reflex cabinet, 3.5-inch carbon-fiber mid/woofers---Studio39 has four drivers, the other models have six---three 1-inch Vifa tweeters and two 1-inch "stage" tweeters that fire out the sides of the enclosure to expand the sound stage. Pricing is $999 for Studio39, $1,499 for Studio46 and $1,999 for Studio55. The Studio46 ships this month with the other models expected to be available in October/November.
WHERE TECHNOLOGY BECOMES ENTERTAINMENT