April 2018 New Gear
AEmotiva DC-2 Desktop DAC
Supercharge your desktop rig! That's what you'll be able to do with the DC-2, an update of Emotiva's reference-quality DC-1 digital-to-analog converter (DAC). Emotiva CEO Dan Laufman calls the new half-height DAC a "no-holds-barred converter for any enthusiast whose music library is stored on a computer or hard drive."
Moving Up:
The upgrades begin with a new 32-bit AKM Verita DAC—equipped to handle a range of hi-res audio formats, including DSD—an AK4136 sample rate converter selected for its "extremely low jitter and detailed sonics," a beefed-up headphone drive stage, and a new low-noise switch-mode power supply. Connections include a USB port, standard (RCA) and balanced (XLR) analog inputs and outputs (one each), and three digital inputs (coaxial, BNC, and optical). You can select inputs and adjust settings via front-panel buttons or the supplied remote. Price: $699
Emotiva Audio • (877) 366-8324 • emotiva.com
Marantz AV8805 A/V Preamp/Processor
OK, you can stop salivating now. Yes, the new AV8805 flagship pre/pro from audio pioneer Marantz is a beast. Allow us to dip into its vast reservoir of features, starting with the 13.2-channel architecture (with 15.2-channel XLR and RCA outputs for flexibility), which sets the stage for over-the-top 9.2.4 or 7.2.6 speaker layouts with Dolby Atmos or DTS:X object-based surround processing (both on board). Or you can go with Auro 3D processing, which will be available as a free firmware update in the future. From there, think state-of-the-art in technical design, processing, and connectivity. Futureproof: When you're dropping serious coin on new gear, the last thing you want to worry about is obsolescence. Marantz told us AV8805 owners will be able to upgrade to HDMI 2.1 when the spec is finalized. It won't be free, but you won't be left out in the cold, either. Price: $4,499
Marantz • (800) 654-6633 • us.marantz.com
Riva Audio Riva Central Wireless Amplifier
Think of Riva Central as a pathway for integrating existing speakers and other audio gear with Riva Audio Arena and Festival speakers you've set up around the house. Connect your speakers (or component) to the nondescript box, and they become full-fledged members of your wholehouse music network, with centralized control of your music sources through the Riva Wand app. If the speakers you're adding are passive, no worries: A 55-watt-per-channel amplifier is included. Copious Connections: The Central's impressive selection of connectors makes it possible to make just about any audio device wireless. In addition to speaker connections, Riva provides a USB input—perfect for a memory stick loaded with favorite tunes—plus analog and optical digital inputs and outputs and a 12-volt trigger to power an external amp. There's even a line-level subwoofer output. Price: $399
Riva Audio • (844) 438-7482 • rivaaudio.com
LG SKY10Y Dolby Atmos Soundbar System
Last December, LG and Meridian Audio entered into a partnership to "raise the bar on acoustic performance, using natural and authentic sound derived from research and development." The SKY10Y soundbar is the first LG product to emerge from the collaboration, and it's got Meridian fingerprints all over it. Higher Ground: The bar supports Dolby Atmos 5.1.2 sound with two up-firing speakers and is built to handle hi-res audio files. In keeping with the high-performance theme, the SKY10Y has four HDMI 2.0 inputs and packs 550 watts of power, excluding the power built into the companion wireless subwoofer; it also incorporates Meridian's Height Elevation technology, which lifts sound to screen level and improves dialogue intelligibility, and is compatible with Google Assistant for voice control and Chromecast built-in for access to a wealth of content. Estimated Price: $1,200
LG • (800) 243-0000 • lg.com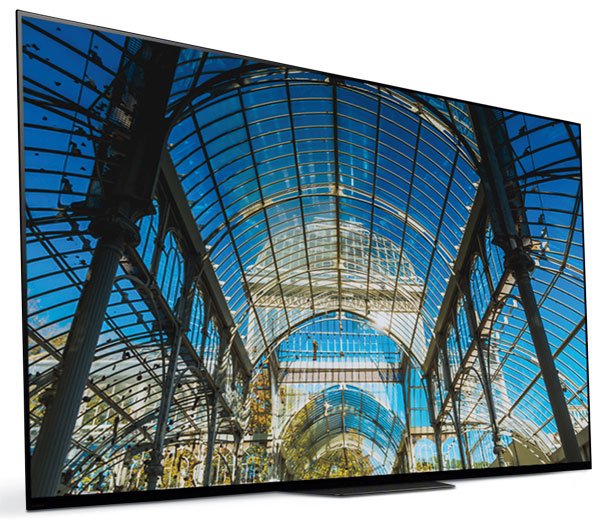 Sony A8F OLED Ultra HDTV
Sony continues its OLED comeback with a scaled-down version of the award-winning A1E, one of Sound & Vision's 2017 Top Picks of the Year. Available in 55-inch ($3,000) and 65-inch ($4,000) versions, the A8F models drop the easel base in favor of a more conventional stand but retain Sony's outstanding X1 Extreme processor, which does as good a job of upconverting HD and lesser- quality video to 4K as we've seen. The processor handles three flavors of HDR—HDR10, Dolby Vision, and Hybrid Log-Gamma (HLG)—and analyzes color and adjusts contrast in real time to produce a more realistic picture. See It, Hear It: The A8F series also retains Sony's unique Acoustic Surface "sound on screen" technology that turns the entire screen into a sound-producing diaphragm, complemented by bass from a subwoofer mounted behind the screen.
Sony • (239) 245-6354 • sony.com