Anthem AVM 50 surround processor
I go back a bit with Anthem. Years ago, with another publication, the Anthem AVM 20 and PVA 7 pre/pro and power amp combo were offered to me for review. I hadn't sought them out, but I knew the parent company Sonic Frontiers, and was very familiar with its other house brand, Paradigm loudspeakers, which I'd always liked and recommended to friends as Bose killers. What the hell, I thought.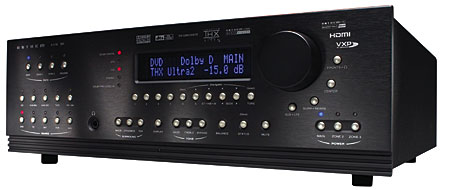 It was love at first listen, and the Anthem products have remained at the top of my list of most trusted recommendations based on their performance, which is all the more impressive considering that their prices made them relative bargains (especially the PVA 7, which still retails at just over $200 per channel, totaling just $1,499 for an impossibly sweet and excellent sounding seven channel amp).
Anthem's latest generation of surround processors are not the well-kept secret the components above were. In fact, they're becoming the separates to have in many circles for being loaded with all surround decoding features known to man, for boasting video processing that would make the multi-thousand dollar scalers of yesteryear jealous, but especially for being updateable in the ever changing world of HDMI and next-gen disc formats.
The THX Ultra2- certified AVM 50 is the top model in Anthem's junior line. But surprisingly, at $4,699 this controller shares all but a few features with Anthem's flagship, the Statement D2. Among the more dazzling features of the AVM 50 are Blu-ray/HD DVD friendly HDMI switching (ver. 1.1) and the Gennum VXP video processing suite that is now included in many high-end projectors and displays. This controller is a wicked package of features and performance.
Quick Tour
The swarm of front panel buttons belies the AVM50's simplicity of use, which I'll get to later. Most confusing are the three power buttons, one for each operational "Zone." At least in my house, this has resulted in some family members wondering why the pre/pro seems to be on, but no picture or sound is coming up. Of course this might be useful for someone who had actually set up the other zones, but not for me in my single room application.
The AVM 50 is a full 7.1-channel rig and it includes both single-ended and balanced audio outputs, but it's not a truly differential output, which requires twice as much circuitry. It also has two additional single-ended and balanced outs that can either be routed to Zone 2 or be used in the main zone for an additional center speaker or subwoofer.
There are a massive number of digital audio inputs. Seven coaxial, three toslink optical, and an AES/EBU for good measure, which indicates Anthem's background in high-end audio. On the analog input front, there are a wealth of two-channel inputs and a single 5.1-channel job.
On the video front things are at least as impressive, if not more so. Not only is HDMI and component switching included, there are four inputs for each, plus an additional component output for Zone 2. So, even if you're a kook like me with an HD DVD player, a Blu-ray player and an HD set-top box to connect via HDMI you're all set here.
My Ever Changing Pre/Pro The most significant aspect of the AVM 50's design is that it is in fact software and, kinda, hardware upgradeable. In the former case, this is straightforward. The latest software can be downloaded to a Windows PC and then connected to the AVM 50 to be uploaded. Another key, configurations can be saved to and restored from a PC in the case of a catastrophe, which is a huge plus. There's a ton of adjustability in here, and once you've got it all dialed in losing it all could induce a heart attack. Anthem offers a welcome reprieve from that cruel fate.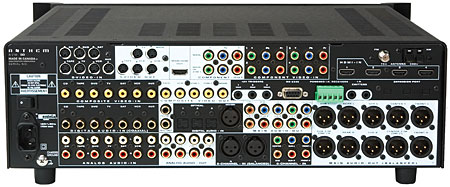 On the hardware side, it is the DSP board itself that is upgradeable, but it is not a card-style architecture that would allow changes involving the hardware on the front or back panels. So, while the DSPs could be upgraded to allow new decoding features, adding HDMI version 1.3, for example, would be impossible as this would involve changing out the HDMI receiving hardware on the back panel.
This is far more than you typically get from controllers anywhere near this price. I've reviewed more expensive jobs that don't offer as much on this front. And this has to count among the AVM 50's greatest strengths since the topsy-turvy world HDMI got even more topsy-turvy with the intro of Blu-ray and HD DVD.
Since the introduction of the next-gen formats, a week hasn't gone by that some new interoperability issue hasn't arisen between Blu-ray and HD DVD players and HD displays. New output frame rates and resolutions abound on both sides, and often source components and displays have to communicate their abilities to one another accurately to get the most from your setup. Diplomatic relations in the Middle East don't have anything on how often something is lost in translation here.
But Anthem is always up to the task of responding. Seldom do any issues persist for more than a week or two without a corrective firmware update rolling out. And keep in mind that I get new players in a lot earlier and more often than you civilians are likely to.
When the Sony PS3 updated to an auto-detect 24p output, this didn't work properly with the AVM 50. Less than two weeks after I'd downloaded the PS3 update Anthem sent a firmware update that solved the issue.
Over the past many months I've received updates that improved interoperability between HDMI 1.2 and 1.3 devices and the AVM 50's HDMI 1.1 inputs. For a time, losing audio or video when switching the AVM 50 and my sources on, or switching between sources, required a power cycle of the AVM 50 to regain A/V lock. A firmware update fixed that. A more recent update has made it more unpredictable again, but I don't doubt another upgrade solving those issues is on the way.
The point is that what's going on with HDMI implementations, across both sources and displays, is inevitably a moving target. Many pre/pro's out there offer the ability to update with firmware to correct such issues. But in my experience of months with the AVM 50, Anthem delivers and delivers quickly. And to that point, I spoke with more than one competitor at CEDIA that marveled at this aspect of Anthem's operation. What does that tell you?
LATEST VIDEO