Anthem's New MRX Receivers Reach Overhead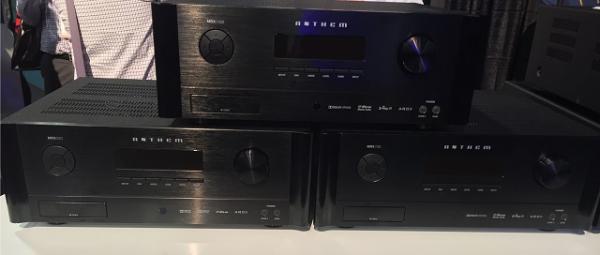 Anthem Electronics announced three new receivers at CEDIA, ranging from the entry-level MRX 520 at $1,399, to the MRX 720 at $2499, to the flagship MRX 1120 at $3,499. The new models feature many improvements over the previous generations, including Dolby Atmos and DTS:X (via free firmware update) for the top two, 720 and 1120 models. All models will feature network connectivity for control via a variety of automation partners such as Control4, Crestron, RTI, and URC.
Input-wise the models all new receivers will include seven full bandwidth, 18.2 Gbps HDMI 2.0a inputs with HDR support and HDCP 2.2 for handling all next generation 4K UHD video formats. One of the HDMI inputs includes MHL support. All units also feature two mirrored HDMI outputs, one with ARC. Additionally all feature six sets of analog audio inputs, three Toslink optical inputs, two coaxial digital inputs and pre-outs for all channels as well as Zone 2. Further they all feature 12-volt trigger outputs and RS-232 serial control inputs.
For perfect sound in every listening environment, all of the new models will feature Anthem's renowned ARC – Anthem Room Correction – software with improved correction algorithms, memory for four speaker configurations, and an improved Targets panel for custom settings.
The MRX 520 is a 5.1-channel receiver, while the MRX 720 and MRX 1120 both add Dolby Atmos and DTS:X via an update. The MRX 720 adds an additional front panel MHL equipped HDMI input and steps up to 7 channels of internal amplification, but has pre-outs for using external amplifiers to step up to a full 11-channel Atmos/DTS:X system. The MRX 1120 utilizes a toroidal power supply and includes 11 powered channels on-board to handle a full 7.1.4 Dolby Atmos or DTS:X surround system out of the box, or can power a 5.1.4 system plus speakers in a Zone 2.
Further both the 720 and 1120 feature Wi-Fi connectivity to the local network and are the first receivers to include DTS Play-Fi streaming allowing users to stream a variety of music services like Tidal, Spotify, Pandora, Songza and more directly to the system from a smart phone, tablet or PC and the receivers can become part of a whole-home Play-Fi system.
All models are expected to be available in January 2016.