All Access Bingeing on CBS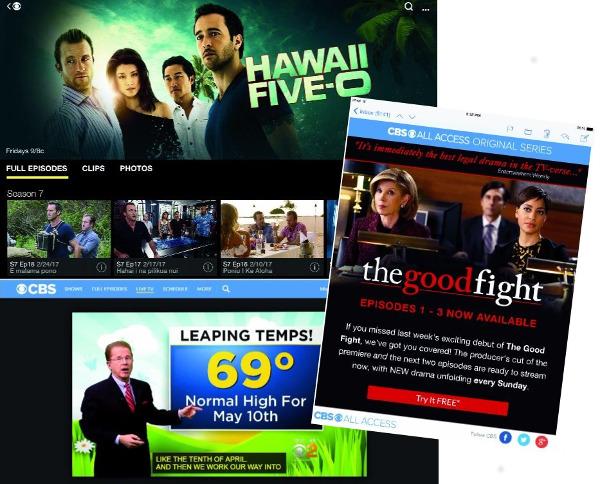 With TV listings divided between what's on and what's streaming, CBS has been salivating at the prospect of collecting subscriber fees from cord cutters and mobile users much like its sibling, the premium service Showtime, has been doing.
The network derives most of its revenue from commercials and retransmission fees from cable or satellite operators. So, allowing viewers to watch its shows without commercials or a pay TV subscription by tempting them with an over-the-top streaming service disrupts a business model that's minted money for years.
This is why CBS All Access, launched in 2014, seems so tentative even now versus the type of service it could become if the company decided to fully compete against the likes of Netflix and Amazon Prime.
There's much appealing about CBS All Access. To start, it has two blockbuster series. Both The Good Fight and Star Trek: Discovery draw upon established fan bases: the former, The Good Wife; the latter, a TV and movie franchise like no other. As of this writing, CBS TV had the moxie to tease the nation with one free episode of The Good Fight and planned to do the same with Star Trek: Discovery while simultaneously encouraging viewers to buy an All Access subscription to see more.
If you sign up through a computer, Android device, or Roku device, among others, the cost is $5.99 a month with commercials or $9.99 without them. The commercial version comes with a one-week free trial. If you sign up through iTunes, the monthly cost jumps to $6.99 and $11.99, respectively. But there's no advantage to enrolling through iTunes since you can still log into the CBS app on your iPhone or iPad once the account has been set up on another device.
At home I was soon streaming 2 Broke Girls on my PC, The Late Show with Stephen Colbert on my iPad, MacGyver on my Roku TV, and Perry Mason on my phone—four streams simultaneously. Movies are lacking, but there are some 100 current and vintage TV series to choose from. New episodes of CBS shows can be streamed the next day. Selections included 132 episodes of 60 Minutes, 156 episodes of The Twilight Zone, and 500 episodes of Survivor. All previous Star Trek series are ready to watch. The app also enables the live stream from your local CBS station.
In all cases, the picture quality was as good if not better than cable, though I was disappointed that nothing was available in 4K at a time when I regularly stream 4K series from other services on my 55-inch set. Also, I was let down by CBS All Access sticking to stereo despite the same programs being broadcast in 5.1. As for mobile use, the biggest drawback is that you cannot download a program for viewing when Wi-Fi isn't available or you don't want to incur data charges.
The most striking difference in streaming The Good Fight versus the one episode that aired on broadcast is Diane Lockhart's use of the F-word. Also, if you haven't suffered through blocks of commercials since the advent of the DVR, the less pricey subscription is maddening. While the ads play, not only is fast forward disabled, but commercials can be painfully loud.
I cancelled my subscription when the free trial ran out. I do, however, plan to come back once all The Good Fight episodes dribble out so I can binge watch—assuming CBS doesn't air them this summer as it did with BrainDead, the previous series from The Good Wife creators Robert and Michelle King. Also, if Star Trek: Discovery is sequestered in a streaming-only nebula, I'll have no choice but to re-subscribe, though this time definitely without the commercials.
Visit cbs.com for more information on CBS All Access.