Affordable Smart Home Automation: It's About Time (Install Time)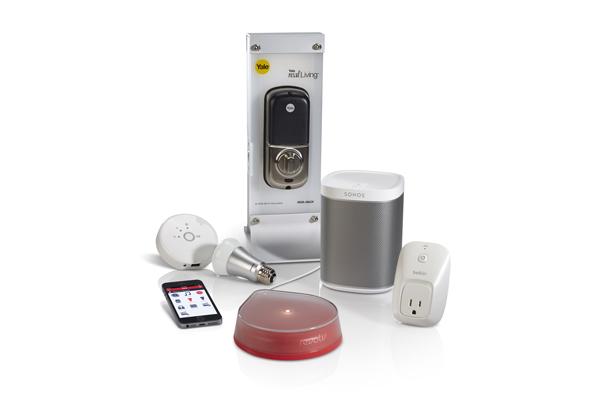 I'm on a quest to find the best of the affordable smart home automation systems that are available (or will be shortly). The first couple of review samples have come in, and one of the primary aspects these two systems have in common is the impressive amount of engineering and design effort put into making installation and set up as easy as possible. That's vitally important because for home automation to really get its foot in the door (so to speak) and appeal to more than just gadget-freaks like me, the system controllers need to be smart enough that the end user doesn't have to commit an overwhelming amount of brainpower to the process of setting them up and getting them running. If the initial installation of a smart home automation controller is anything close to the pain involved in creating a bunch of macros in a programmable universal remote control, there's going to be a lot of product returns from unhappy customers.
Piper: Self-Contained Home Security and Automation

The first system to arrive was Piper. Originally conceived primarily as a transportable home security system for apartment dwellers, the Piper now offers enough sophistication and control capabilities that it's equally appealing to both apartment renters and homeowners. Unlike most other smart home controllers, the Piper is a self-contained unit that incorporates a variety of sensors and devices in the chassis itself. Built into the Piper are the following: a motion detector, a siren, a 1080p camera with a 180-degree fisheye lens, internal memory for video storage, plus sensors for temperature, humidity, ambient light, and ambient sound. Piper uses both Wi-Fi and Z-Wave connectivity and can control a variety of third-party automation devices.
I haven't begun to give Piper the full torture test yet, but I was very impressed by the fact that going from out-of-the-box to connected, registered, and paired with two Aeotec Z-Wave devices took less than 20 minutes—and it might have taken even less time had I read the directions with a little more care.Of course, I still have to take the time to program security rules for customized alerts and scheduling/triggers with Z-Wave devices; but after 20 minutes I was already streaming video of my dinning room and kitchen from Piper's internal camera to the iOS app on my iPhone. To me, that's amazing—and that's the way it should be.
The Revolv Hub: Wireless Home Automation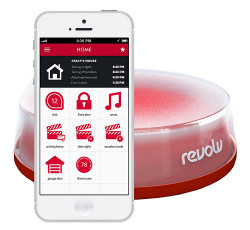 The second system to arrive was the eagerly anticipated Revolv Hub. While the Revolv Hub doesn't include as many sensors and gadgets as Piper's controller does, Revolv packs in seven wireless radios and will eventually be capable of speaking 10 different wireless languages. They're not all turned on at the moment, but Z-Wave, Insteon, and Wi-Fi are all active.
Revolv is serious about being wireless, too, so much so that the only cord coming out of the Hub is the power cord. Since there's no Ethernet connection, you have to connect the Hub to your Wi-Fi network. Normally getting the wireless network settings right can be a pain. Revolv, though, uses a proprietary Flash Link technology that uses your iPhone's camera flash or your iPad's front screen to transfer the network info to the Hub almost instantly. Revolv claims it takes 60 seconds for the process, and that was my experience in getting the Revolv connected to my Wi-Fi network.
The remainder of the set up was super simple, aided by the fact that the Hub is able to automatically discover compatible devices in your home. In my case, the Hub found a Philips Hue system with three lights, a Belkin WeMo Insight switch, the two Z-Wave devices connected to the Piper system, plus a Sonos Connect and a Sonos PLAY:5. The total time from plugging in the Revolv Hub's power cord to being able to control the aforementioned devices turned out to be just under 20 minutes.
So now we have two smart home automation systems with controllers that cost under $300 and can be set up with relative ease in 20 minutes. That's an amazing change from just a few years ago, and I can't wait to see what the other systems are going to be like.
Obviously, 20-minute installs are only the first of many hurdles these systems must overcome to be popularly accepted. There's also the number of compatible devices and protocols, the difficulty of the programming, and—above all—the reliability of the hardware and software. There's also the issue of security. Not only home security, though. The systems themselves have to be secure from hacking. It's great to be able to control lights, shades, door locks, and other devices in your house, but not if the hacking homeowner next door can control them, too. I'll be working with Piper, Revolv, and many more over the coming months to see how they stand up.
One thing's for sure, though. If you're interested in smart homes and automation, it's going to be an interesting year.