Add Some Wow to Your Walls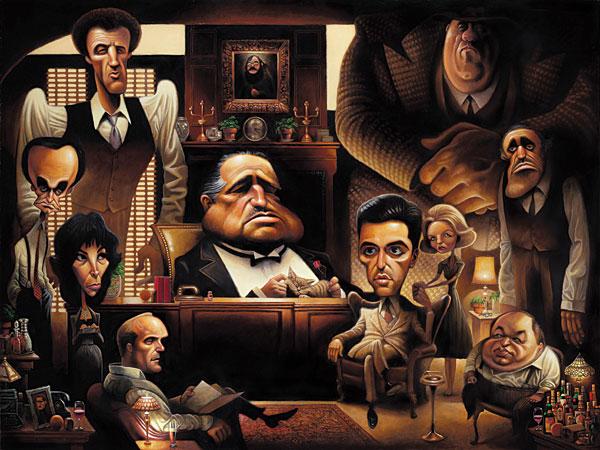 If you're the kinda guy who can recite classic movie lines like, "Leave the gun; take the cannoli" on command in between handfuls of popcorn, you may want a pop culture print, painting, or sculpture in your home theater with a little personality, right?
What better conversation starter or way to warm up a cinema space than with an original masterpiece from David O'Keefe Studios (davidokeefe.com).
The passionate pop culture artist—who has a solo gallery in Sarasota, Florida, but is based out of Tampa—nails it with his caricatures of everyone from his laugh-out-loud Animal House tribute, Knowledge Is Good, to his sepia-toned, spot-on, gun-toting Clint Eastwood as Dirty Harry, which by the way, is one of O'Keefe's favorites and on the gallery's most requested list. "Caddyshack is another staple for us," he adds.
O'Keefe is the first to admit that his masterpieces are geared toward men—guys who have man caves or media rooms and want something special for that space. Not surprisingly, there are some core favorites among the movie, sports, and music icons that O'Keefe illustrates. Seinfeld is a huge favorite for TV fans. Sports nuts are eating up the Tim Tebow stuff.
The statement piece for movie aficionados is the original Godfather painting—La Famiglia—which took a full year to complete—outfitted in a custom frame complete with the signature horse head, healthy representation of cherubs with tommy guns, and the church where the baptism took place. In all its dark majesty, it carries an $80,000 price tag (we hear it's negotiable). But don't worry; there are plenty of points of entry for those without deep pockets. A small original paper piece goes for as little as $40.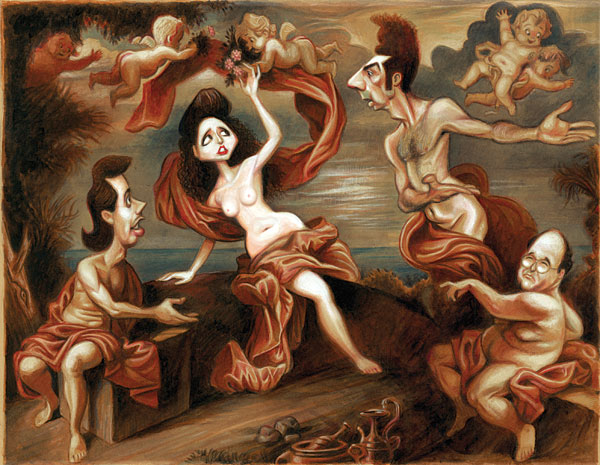 Interestingly, O'Keefe creates his art—and is so adeptly able to capture the likeness and personas of his pop culture icons—with a technique that has served him well. "I don't like to work from photos; I like to work from video." For the Godfather piece, he says, he watched the movie over and over and over to capture the distinctive personalities.
While the Coppola movie is one of the best ever, grants O'Keefe, he was able to name his favorite film without hesitation. "Oh, Goodfellas," he laughs. "It's the best comedy ever written." We'll be buying that print as soon as it's ready!