The 2002 Direct-View HDTV Face Off
Four manufacturers go head to head in our HDTV Demolition Derby.
What could be better than a head-to-head competition between four direct-view HDTVs and HD monitors? How about four direct-view HDTVs modified to function as robot-smashing dump trucks, then placed in a ring to beat each other's video-processing brains out! OK, so the Home Theater version of garage/robot wars didn't quite come to fruition. Budgets, deadlines, and wisdom greater than mine prevailed, and we stuck with our tried-and-true formula: several judges and several products, all in the same room at the same time. Still, the resulting upset was exciting.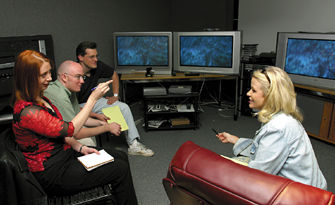 The contenders: We gathered four 34-inch (measured diagonally) direct-view displays for our head-to-head death match. This is a good size for a small room and gives you a 27-inch-diagonal 4:3 (or 1.33:1) image. Anything smaller is just too cute. Our roundup includes sets from Sony, Zenith, Philips, and Toshiba. Other manufacturers were supposedly in between models. Three of the contenders are HD monitors in the sub-$3,000 price range. One, from Zenith, lists for slightly more but comes with a built-in terrestrial ATSC tuner. External tuners cost about $300 to $400.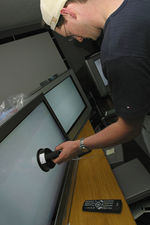 The rules: I adjusted all of the picture controls (contrast/picture, brightness, color, tint, sharpness, and color temperature), as best as I could, to match SMPTE specifications for NTSC and ATSC images. In some cases, the resulting image just looked too wacky, and I made reasonable compensations. This is the first Face Off in which we've been able to adjust the HDTV inputs, allowing us to accurately compare HDTV capabilities, if only a little. I fed the TVs composite DVD signals to provide a clean image that would still tax each set's comb filter. Component HDTV signals came from the Dish Network Model 6000 receiver and a JVC D-VHS player. First, I adjusted the images only through the user-accessible controls using a test DVD or an HDTV test-signal generator as a reference. I didn't use any measurement equipment or service menus. However, I conducted round two after service-level calibration, which included tweaking the gray scale and other service-level parameters to bring the displays much closer to SMPTE specifications.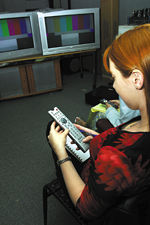 The judges: We had quite the parade of critics this time. It seems like everyone was looking to get away from their daily tasks, if even for a day or two. Editor and Big Kahuna Maureen Jenson, audio editor (aka Golden Ears) Chris Lewis, copy editor (aka Golden Grammar) Claire Lloyd, associate editor and eternal newbie Geoffrey Morrison, and video consultant/SMPTE boy Ron Williams all joined the fun at one time or another. Art director Heather Dickson was buzzing about one day but quickly left the room; apparently, the increased depth of field from HDTV broadcasts made her physically ill. Interesting. I sat back and played referee, keeping the judges separated as insults and differing opinions flew. I kept folding chairs on hand, just in case they were needed in a fight. A brief summary of each display follows, with closing remarks from each panelist at the end of what I can only call the greatest upset in Face Off history.