Marantz Unleashes HDMI 2.1-Upgradeable Flagship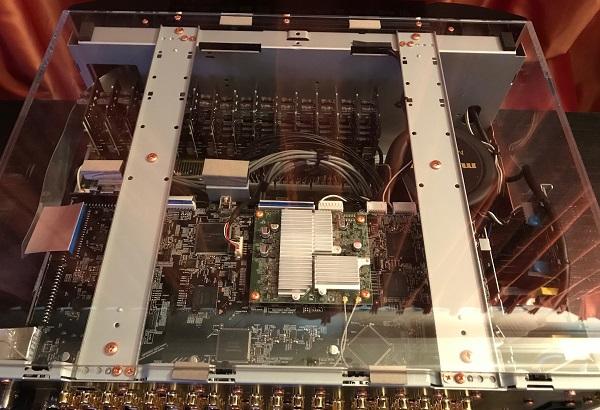 What you are looking at here is Marantz's new flagship pre-amp/processor, the AV8805. It also happens to be the next pre-amp I'm planning on buying for my personal AV rig! Read on to find out what this beast has under its hood….
It has been a couple of years since Marantz delivered a new pre-amp to bear the "flagship" title. While still a potent performer, it has come time for the AV8802A to pass the crown to the new successor, the AV8805. The new model will feature various upgrades, but chief among them is the ability to handle up to 13.2 channels of surround sound. This can be in either a 9.2.4 or 7.2.6 configuration, which will expand the immersion of Dolby Atmos and DTS:X installations. The 8805 actually has both unbalanced RCA and balanced XLR outputs for 15.2 channels, ideal for supporting different speaker configurations such as Auro 3D (available via a free update), but can "only" process 13.2 at once.
But the improvements didn't stop with just adding more channels. The new 8805 moves to two separate ICs for handling input switching and volume control chores, upgrades to a toroidal power supply, adds support for Dolby Vision (with a future upgrade supporting HLG), includes DSD 5.6 playback, adds Amazon Alexa integration, and includes HEOS multi-room support. It also utilizes premium AK4490 32-bit DACs across all channels and XLR input and outputs.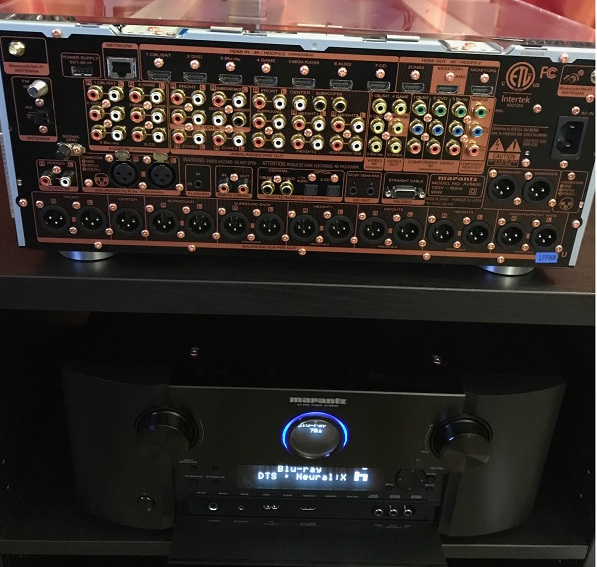 Also of major note is that the Marantz spokesperson told me that every AV8805 would be eligible for an upgrade to HDMI 2.1 when the specification was finalized and hardware was available. This will require a complete hardware/board change of all HDMI components to support the new standard. As there isn't any available HDMI 2.1 hardware yet, the cost of the upgrade to consumers remains uncertain. Marantz expects the upgrade to be available sometime in 2020 after they have received the hardware and had a chance to implement it. But the company is essentially giving purchasers of this processor assurance that they won't be left behind by the next major technology upgrade, and that if they make the commitment to the 8805, it will be ready to serve them well into the next generation of high-performance video and audio signals. [Editor's note: we originally reported at CES, based on information provided at the Marantz booth, that this upgrade would be free to consumers. Marantz has since qualified that this isn't the case, though we'd expect that the price would be a relatively modest outlay against the overall cost of this premium component.]
On the input front, you should be well covered with 8 full 4K/HDCP 2.2 HDMI inputs, and three HDMI outputs including the main which supports eARC (via firmware update). Other features includeees Audyssey MultEQ XT32, integration with advanced control systems like Control4 and Crestron, Bluetooth and Wi-Fi, dual 12-volt trigger outputs, and streaming support from Pandora, Spotify, TuneIn Internet radio, Amazon Prime Music, iHeart Radio, SiriusXM, Soundcloud, TIDAL, Napster, Deezer, Amazon Music Unlimited and Apple Airplay.
The Marantz AV8805 is expected to be available in late February for $4499.