Samsung Launches 146-in LED, 85-in 8K LCD TVs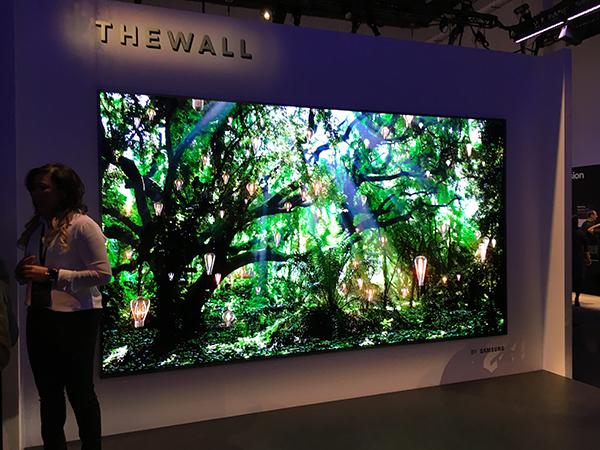 Samung made a huge statement as the 2018 CES was preparing to open—and we mean "huge"—with the introduction of The Wall, a 146-inch diagonal micro LED display that is expected to reach the consumer market later this year. Meanwhile, enthusiasts should cheer the company's new Q series quantum dot LCD UHDTVs, which will include the Q9S, an 85-inch model with 8K resolution, and the Q9, a more mainstream UHD set that marks the return of high-performance full-array local dimming to Samsung's premium model.
The Wall—yeah, that's what they're calling it—uses a high-density micro LED array that delivers independent, self-emanating RGB pixels (three LEDs to a pixel) at much higher density than possible with conventional LEDs, allowing the display to acheive full 4K resolution and no alteration of image quality from extreme viewing angles. Like Sony's commercial-market CLEDIS crystal LED wall display shown at last year's 2017 CES, The Wall is modular, pieced together from relatively small tiles that contain the micro LEDs, and is therefore capable of being built to any screen size. Samsung officials said the 146-inch dimension was used because the average U.S home has a wall that's 8 to 9 feet wide, which accomodates a 16:9 inch screen of that size. But they weren't ready to confirm that as the product's final spec, which will be announced at the company's March product showcase along with proposed pricing.
Samsung's Dave Das, general manager and senior VP of consumer electronics product marketing, noted that the self-emissive nature of a direct LED display like this allows for brigher whites and darker blacks, both of which were in full evidence (along with remarkable detail) in the stunning demo material cycled for the demo. It remains to be seen how such a display would handle movie and television content.
Meanwhile the Q9S 8K-resolution television comes out of Samsung's development of a new AI Technology chip, which performs advanced scaling. Samsung is said to be working with content to create a database in the chip that contains metadata to describe how specific, native high resolution masters are supposed to look. This information, which is updated as the chip encounters similar material over time (hence, the AI artificial intelligence designation), is then used to better refine traditional scaling approaches such as detail creation, noise reduction, and edge enhancement.
Based on demos, the new chip appears to allow excellent scaling of even standard definition content to fill out a full 85-inch 8K panel. While Das acknowledged that content with resolution greater than 4K remains scarce, he noted that screens are getting larger and larger, and higher resolution becoming more critical. "There is no reason that consumers should have to experience less than ideal image quality" with these sets, he said.
Of more immediate interest to Sound & Vision readers will be the Q9 models, which boast a full-array local dimming backlight and a new Ultra Black ambient-light-rejecting screen filter to acheive deeper black levels, less blooming around light objects on dark backgrounds, and an extraordinarily wide viewing angle for a set with a VA-type LCD panel. The Q9 was set up for demo in a dimmed room and tuned for optimal black level, and compared quite favorably against some competitive LCD and even an OLED set.
Samsung was also touting a new user interface for its 2018 models that includes full integration of its SmartThings automation platform (no special dongles required), and a Universal Guide program guide that combines selections from local cable and streaming services, and provides a dedicated guide area with suggested content based on user habits and preferences.
Samsung has also eliminated the multiple apps it was using for different product types across its entertainment lines and consolidated these with a new SmartThings App for your mobile device. The app provides an automated setup routine which can quickly transfer your network login credentials to the TV from your phone, and also automatically logs you into your favorite streaming service accounts without the need to retype usernames and passwords. Both the app and the TV can be used to control SmartThings-compliant devices around the home. The new TVs have integrated Bixby voice control as well when used in conjunction with the microphone-equipped remote.
Separately, Samsung said that support was gaining for its open-platform HDR10 Plus high dynamic range standard. Along with the announcement last month that Amazon would be making its entire Prime video library available in HDR10 Plus, Samsung announced new content deals with 20th Century Fox and Warner Brothers. HDR10 Plus encodes content with dynamic metadata, while conventional HDR10 uses static metadata that does not dynamically adjust the TV's HDR image settings to reflect the changing content.