Wolf Cinema DCX-1000i Front Projector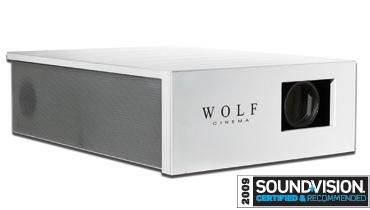 Key Features
$85,000 wolfcinema.com
• 1,000-watt xenon lamp (500- and 1,500-watt lamps also available) • 1080p resolution • 1.44x zoom lens (others available) • Accepts 1080p/24 input signals • Motorized zoom, focus, and lens shift • VariScope 2.35 zoom lens for constant-height projection without added anamorphic lens • Inputs: (6) HDMI, (2) component-video, S-video and composite-video; RS-232C, IR, USB (for software update) • Dimensions + Weight 111?2 x 281?4 x 31 3?4 in; 110 lb
The author F. Scott Fitzgerald wrote, "Let me tell you about the very rich. They are different from you and me." Besides the obvious fact that the rich have quite a bit more money, they're also different in their irrepressible fetish to have things customized. They'll always choose a bespoke suit over an off-the-rack rag. They'll wait years to get a custom-designed home rather than adjust their lifestyle to an existing mansion.
Wolf Cinema caters to this penchant. On the inside, all of its projectors essentially use the same 3-chip DLP light engine. The rest, though, is up to you. You can choose a lamp rated at 500, 1,000, or 1,500 watts. You can choose a plain "black box" enclosure if the projector's going to be mounted in a soffit or behind a wall, or a gorgeous brushed-aluminum enclosure if you want your projector out in the open. You can choose from several different lenses, depending on the installation. Once you've chosen your options, Wolf Cinema runs the projector through extensive quality control and setup procedures before it ships out.
This customization doesn't come cheap: Wolf Cinema projectors are priced from $65,000 to $110,000. But comparing the Wolf Cinema DCX-1000i projector I recently tested with the ones we normally review here is like comparing a 20,000-square-foot architect-designed mansion with a tract home.
Most projectors use UHP lamps rated at around 200 watts. The Wolf Cinema projectors use xenon lamps that are much more powerful, and that the company says will last at least two to three times as long as a UHP lamp - and without starting to dim visibly when the bulb life passes the halfway point, as UHP lamps do. To cool its 1,000-watt lamp, the DCX-1000i is built into the i-Box, a large enclosure designed for thermal management. Intake and exhaust tubes connect to ducts on the sides.
Like most high-end video projectors, the Wolf Cinema models are capable of constant-height video projection, which allows the use of an ultra-wide 2.35:1 aspect ratio screen. However, while most projectors require an accessory anamorphic lens to stretch normal widescreen images out to 2.35:1, the Wolf Cinema projectors do 2.35:1 (and any other aspect ratio up to 2.40:1) through the use of Wolf's VariScope motorized zoom lens. By my reasoning, the zoom method is superior because it eliminates the image distortion visible with most anamorphic lenses, and because it doesn't suffer the loss of brightness and contrast that an add-on anamorphic lens produces.
Each Wolf Cinema projector comes with a separate video processor/switcher. The switcher comes with a remote control, and the back of the i-Box also has projector controls, but these controls aren't particularly user-friendly. When you're buying an $85,000 projector, it's a sure bet that you're going to control it with a custom-programmed home-automation system like Crestron or AMX.
SETUP
The DCX-1000i isn't some plop-it-down, zoomand- focus, sit-back-and-enjoy projector. All Wolf Cinema projectors must be custom installed. To do a temporary installation in my home theater, Wolf Cinema's Guillermo Lemus placed the projector on a stand, ran the intake tube to one side of the room, and ran the exhaust tube out my back door so as not to heat the room.
Wolf Cinema technicians had already calibrated the projector for a 1.0 gain screen such as the 108-inch, 2.35:1 Stewart Filmscreen StudioTek 100 that I use. Lemus set up several picture memories for me: aspect ratios of 1.78:1 (HDTV), 1.85:1 (standard widescreen movies), 2.2:1 (an old 70mm standard), 2.35:1 (CinemaScope), and 2.40:1 (Panavision). After that, there was little for me to do but set contrast and brightness.
For a room like mine, Wolf Cinema would usually recommend the $65,000 DCX-500i, which is intended for screens between 8 and 11 feet wide. The DCX-1000i is recommended for screens between 11 and 15 feet, and the DCX-1500i for screens measuring 15 to 20 feet.
A few minutes of experimentation showed me that the DCX-1000i produced far more brightness than I could use. For most of my viewing, I ended up setting the lamp brightness at minimum and closing the projector's adjustable iris down as far as it could go. Just for kicks, I decided to see what the picture looked like at full blast. With the iris open all the way and the lamp power set to full, I got an astounding 142.3 footlamberts of luminance - about seven times what I need. That's bright enough that you can open the curtains, let the sun shine in, and still get a very watchable picture.