What a Crock of Bluetooth!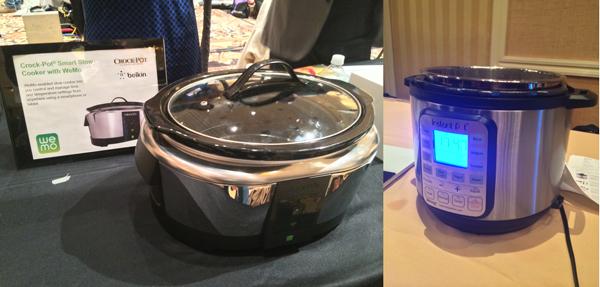 Proclaiming that "the era of smartcookers" has arrived,
Instant Pot
displayed its new "iPot" – a programmable electric pressure cooker that the company calls "the Industry-First Bluetooth Smart Connected Smartcooker", which is shown to the right in the photo above. (iPot is a much better - but easily misinterpreted – name for the kitchen appliance.) According to Instant Pot, rather than being a gimmick, Bluetooth was added because the product designers had run out of space on the smartcooker's control panel to support all the programming features that have been requested by users of the other Instant Pot models. Instant Pot says, "Once the limiting factor of a control panel is removed, the "iPot" app can implement complex cooking functions, expand and upgrade those functions at will. This offers unparalleled simplicity, a huge variety of functions and most importantly a consistent result." The iPot is expected to be available for sale in the US sometime in the second quarter of 2014. Pricing info was not released. Belkin is also joining the smartcooker revolution. The company announced it has partnered with Jarden Corporation, the maker of Crock-Pot and Mr. Coffee to incorporate
Belkin's WeMo technology
into everyday kitchen appliances, such as the WeMo-enabled Crock-Pot Smart Slow Cooker shown on the left in the photo above, which is to released in the spring of 2014. The MSRP will be $99.99.