Smart Tech Finding its Way into Home Renovations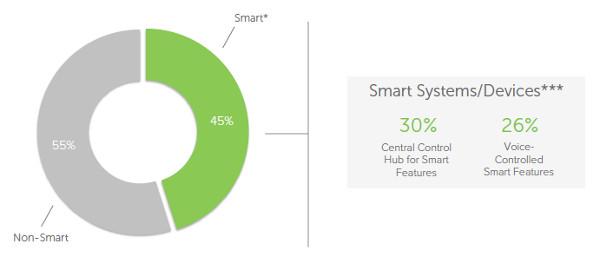 A growing number of homeowners are integrating "smart" features into their homes during renovation projects, according to the 2016 U.S. Houzz Smart Home Trends Survey, conducted in collaboration with CEDIA.
Almost half of 1,000 homeowners who recently completed a renovation project or are planning or engaged in one, told researchers they have included (or plan to include) "smart" technology in their homes as part of the project. Smart tech is defined as systems or devices that can be monitored or controlled via a smartphone, tablet, or computer.
The survey found that homeowners are more than twice as likely to install a smart system or device once they are involved in a renovation project than before the project began (51 vs. 20 percent). Nearly a third of upgraded smart home systems or devices can be controlled via a central hub (30 percent) and a quarter include voice control (26 percent).
The homeowners surveyed say they opted to install smart devices in their homes for security/safety (25 percent), entertainment (18 percent), climate control (14 percent), and lighting (12 percent). The top smart security/safety devices include fire and gas alarms and cameras (9 percent each), followed by motion, glass breakage, and/or door sensors and door locks and/or video doorbells (5 percent each).
A third of upgraded alarm systems and two-thirds of upgraded cameras have smart features. Additionally, 12 percent of renovated homes include a smart thermostat, 8 percent a smart TV, and 7 percent smart speakers or video/music streaming devices. When it comes to lighting, 11 percent of renovated homes include smart indoor lighting, and 4 percent include smart outdoor lighting.
The majority of homeowners who upgraded smart security systems spent $1,500 or less (76 percent), while 5 percent invested more than $5,000. When it comes to smart entertainment upgrades, half of those surveyed spent $1,500 or less (48 percent) and another half invested more than $1,500 (52 percent). One-fifth of homeowners who upgraded entertainment systems spent more than $5,000 on the technology (21 percent).
Similarly, nearly half of those who upgraded smart lighting spent $1,500 or less (47 percent), while just over half spent more than $1,500 (53 percent). In terms of smart climate control, half of the respondents reported spending less than $1,500, and another half more than $2,500 (50 percent and 46 percent). A fifth of homeowners who chose to update climate control systems invested more than $5,000 (21 percent).
The survey found that homeowners choose smart technology for a variety of reasons: To protect their homes against intruders (67 percent), monitor and control their home when they are away (52 percent), or monitor systems from anywhere in the home (30 percent). Protection against intruders is a stronger motivation for those installing smart security/safety features than those installing non-smart options (67 vs. 51 percent).
When it comes to smart entertainment, key drivers are improving the entertainment experience (80 percent), comfort (55 percent,) and the desire to have the latest technology or to change the mood of the home (27 percent each).
Smart climate control features are selected to improve the comfort of the household (71 percent), reduce energy consumption (68 percent), and to monitor or control devices while away from home (41 percent). In terms of lighting, homeowners are motivated to include smart tech to reduce energy consumption (59 percent), improve comfort (54 percent), and have the ability to change the mood of the home (34 percent).
The top two challenges homeowners face when incorporating smart home features are educating themselves about the options and finding the right products/technology. This is consistent for security/safety, lighting, climate control, and entertainment features. More than half opted against adding smart technologies during their renovation projects (55 percent). Among the non-adopters, only a third gave the technologies some consideration (34 percent) but ultimately decided not to go the smart tech route due to a lack of interest (37 percent), cost concerns (31 percent), or privacy concerns (23 percent).
The survey found that most homeowners rely on professional help for the installation of both smart and non-smart security, climate control, and lighting products, though they are more likely to turn to pros in the case of smart technology upgrades in these categories. This is especially true for the installation of smart alarms and fire/gas detectors (67 percent turn to pros vs. 46 percent of those installing non-smart solutions), motion-sensing lighting (63 percent vs. 45 percent) and cameras (42 percent vs. 21 percent).
Renovators upgrading entertainment systems/devices tend to enlist professional help to a lesser extent than those upgrading security or safety. TVs and music streaming devices with smart features are more likely to require professional installation (38 percent and 27 percent) than those without smart capabilities (26 percent and 17 percent).
For more information, visit houzz.com.