Samsung Redesigns Smart Hub and App Store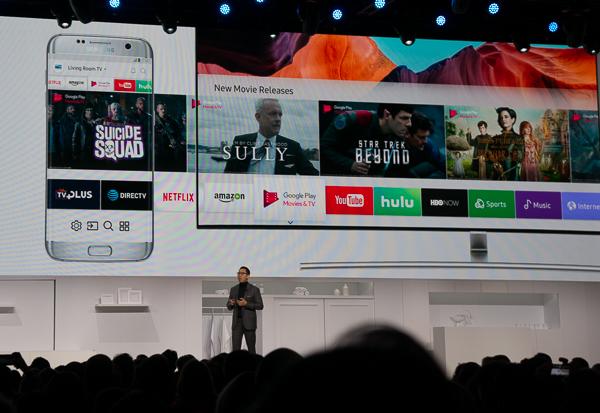 Samsung continues to redesign and refine its smart TV experience. Last year the company released TVs with the Tizen powered smart TV hub and one remote with voice control. In 2017 Samsung has three goals for their streaming and entertainment experience—a unified experience across all devices, improved personal discovery of content, and expanded 4K UHD HDR content availability.
The redesign extends to Samsung's Smart View app for Android and iPhone. The mobile app has a unified design of live TV, Video On Demand, and streaming services as that of the Smart TV hub home screen. Tapping on a title will start it playing on your TV. For those times you want to be inspired and discover new titles to watch, recommended TV programs and movies from streaming services and live TV can be displayed below the currently watched TV show or video. Or you can access different streaming services from the line of apps available below the suggested shows. Notifications can be set up to let you know when a specific film title or TV show episode is about to air (similar to the Roku Feed feature).
Samsung's Sports Service makes it easy to find the team you want to follow and know when the next game will be available. After choosing your team, live local TV broadcasts and live streaming options of upcoming games are listed together along with game replays. Once you choose the teams you follow, a message will pop up on your TV to let you know when a game is about to start. Notifications can be set up on your smartphone to alert you of the upcoming game even when the TV is powered off.
Another feature, "Music" was not shown at the press conference but Samsung's press release describes it as a sort of Shazam-like service. Music can identify songs as they are being played live on a TV shows. No longer will you have to scramble for your phone to find out the title of a song in a movie or TV show.
Samsung claims that they've simplified the experience of finding new 4K content and quickly buying or renting the titles to watch. When you've found a title in the app, it takes you straight to the "Samsung Checkout" experience where you can buy it and watch it with the help of Samsung's "new partner" Fandango Now (formerly M-Go that had a presence on Samsung Smart TVs.) I'm not sure how this is faster/better than choosing a movie in Vudu or Fandango Now and clicking "buy," but I'll reserve judgement until I can give it a try.