Salamander's Slim Cabinet Is Apartment Dwellers' Delight
Rob Sabin
|
Oct 15, 2015
|
First Published: Oct 16, 2015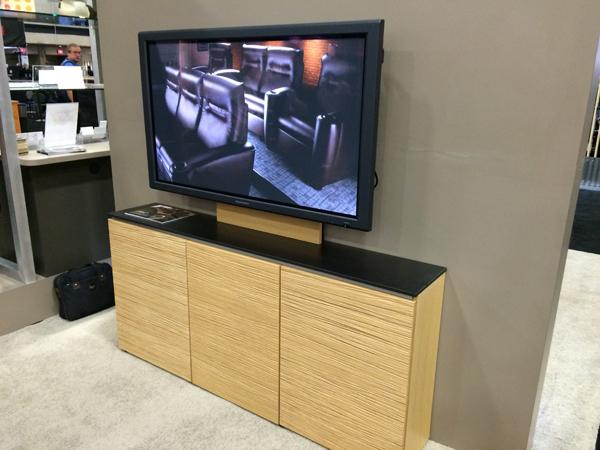 Salamander Systems is at CEDIA offering up a variety of enhancments to its furniture and accessory line, among them a new roll-out component rack system for its cabinetry, a new high quality premium leather offering for its theater chairs, and the slim-profile lowboy pictured above.
The cabinet has just a 12-inch depth, allowing it better mate visually with a hanging flatpanel than traditional cabinets, and with a 10-inch internal depth, can house smaller components on its shelves like cable boxes and media streamers. Additionally, an internal 3RU component rack behind one of the doors can suspend a single component horizontally inside the cabinet (with controls facing up).
The integrated flatpanel mount sits on a pillar attached to the cabinet, making it a standalone fixture. All wires are hidden in the pillar, making the low-profile cabinet a good choice for apartment dwellers or others who want a minimally invasive wall-style mounting solution.
WHERE TECHNOLOGY BECOMES ENTERTAINMENT