Rachio Waters the Lawn with Wi-Fi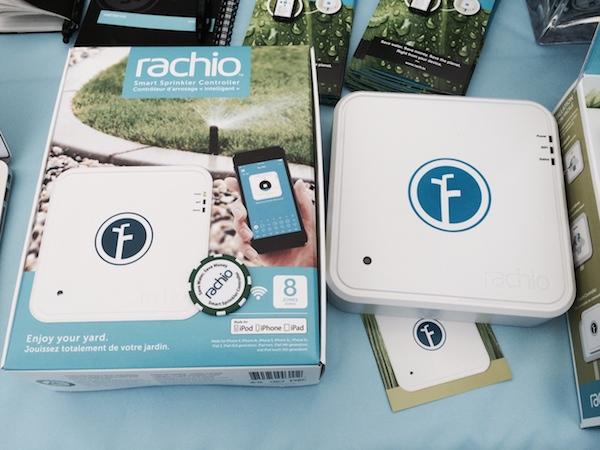 When it comes to gardening, some people have a green thumb. Others say they have a brown thumb. In my case, I happen to possess one of the few thumbs covered in sand and tumbleweeds. It's not that I hate plants. (Although, it seems, plants evidently hate me…) I simply can't remember to take care of them. It's always weeks after plants at my home have turned to petrified wood when the thought finally pops into my head that I ought to give them some water. Lawn care is similarly problematic for me. Fortunately, Rachio is a new company that offers an alternative to brown lawns and dead gardens.
The Rachio Smart Irrigation Controller is a DIY sprinkler controller that replaces an existing controller - or becomes your first controller - is just a few steps. It connects via Wi-Fi to your smart device and helps you create a watering schedule. If you already have a sprinkler controller, this may not seem like a big deal; but after you see the unbelievably simple way you set up and help program the system, it's clear how amazing the Rachio Smart Irrigation Controller is.
During the Press Preview at CEDIA, Brian Ewing, Vice President, Sales at Rachio, gave me a quick glimpse at how simple-but-powerful the Rachio Smart Irrigation Controller is. When you initially set up the controller, you enter answers to multiple questions about the soil, the plants, the types of sprinkler heads, the amount of sunlight for that set of sprinklers, and more. Based on that information, along with the current local weather data Rachio's servers pull from the cloud, the system creates the optimum watering schedule. Rachio says this "smart auto scheduling" can reduce water use by up to 30-percent and is supposed to both strengthen root structures and prevent excess water runoff. Since the system is maintained via the cloud, you can check on and adjust your sprinkler system from anywhere you have internet access on your iOS or Android device.
The Rachio Smart Irrigation Controller is available in 8-zone and 16-zone versions ($249 and $299, respectively) now directly from Rachio or at Home Depot and Amazon.