Monster Announces Odd Headphone Partners-TV Production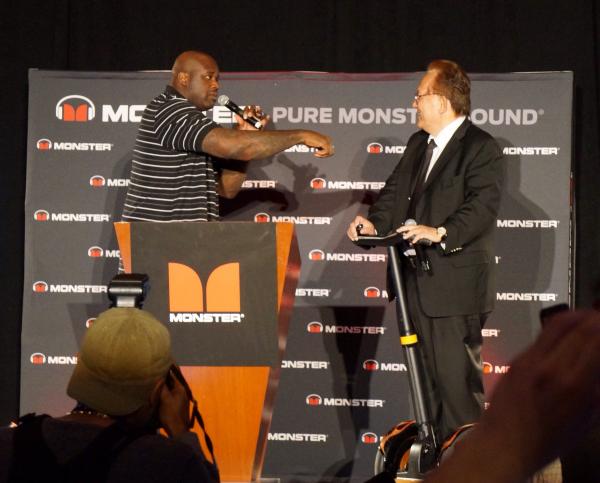 Monster cable announced that as it celebrates its 35th anniversary, it wants to revive its audio roots, remembering how it started with speaker cables in 1979. At today's CES Press Conference, Head Monster Noel Lee waxed nostalgic about those original cables and how they will be bringing back the original Monster logos on T-shirts. With the memory of classic rock musicians lingering in the air, Lee began a parade of new, (and I might add unlikely) headphone partners for the company's 2014 offerings.
The new headphone presentation began with the DNA Pro Wireless. These bluetooth-enabled wireless headphones can be controlled by swiping a finger across the outside of the headphone covers to raise/lower volume, play, pause, etc. The Head Monster also presented a second generation of the Monster N-Pulse Pro headphones for DJs and professionals that pairs well with the Pro DJ portable mixer. The portable mixer will now come with a choice of color plates to make it look snazzier.
Actor, Nick Cannon joined Lee onstage to announce their continuing collaboration mentioning that he and Monster will be producing a reality TV show for kids and teens that involves DJing. While this is big news, I'm skeptical if it will ever get off the ground. Have you ever heard of Monster's book, "Home Theater Made Simple"? It was another non-accessory product that was promoted but not sold. I know a little about it. I wrote it.
A representative from Adidas announced that they will work with Monster to design and manufacture the German sports company's performance headphones in spring of 2015 but nothing was shown.
It was the final two collaborators presented that were a little outside of the typical hip, Monster partners. The first odd partner was the UFC (Ultimate Fighting Championship) organization. Tracey Bleczinki a representative from UFC, explained that music is important to the fighters as they prepare themselves for fights and especially when they enter the arena. The headphones are called "Octagon" and have a burley, bulky style. The other surprising new partner is the World Poker Tour. Representative, Mike Sexton explained that Poker is the "only sport where people wear headphones during the game."
The conference ended with Shaquille O'Neal joining Noel Lee onstage to say "size doesn't matter" with the announcement of the new super power card cell phone charger that is the size of a credit card. The charger is 3400 maH and is able to supply a full charge to a tablet. It will be priced at $69.95.