LG Does Ultra HD and OLED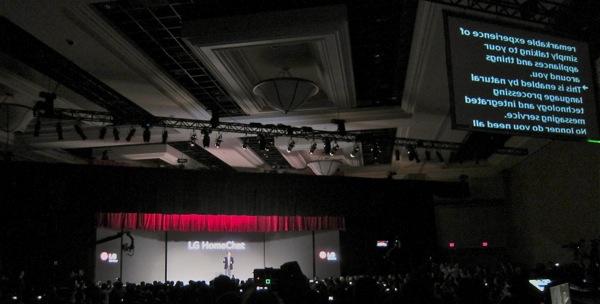 LG isn't just talking HDTV picture quality this year. Like other manufacturers, it's now it's into everything but the kitchen sink—actually they may be into that as well. In any event, if you can plug it in or it runs on batteries, LG probably makes it.
Even in TV, various forms of Smart TV and how they can light up your life are front and center this year with every TV maker. But quality HDTV and Ultra HD are my beats today and I'm sticking to them.
And LG is showing its biggest LCD/LED Ultra HD set yet at this year's International CES. It's just over 104-inches diagonal (that's a width of just under 96-inches), its curved screen has an aspect ratio of 21:9 (2.33:1), and its resolution is 5120 x 2160. Its 7.2-channel sound system was designed in collaboration with Harman Kardon.
In case you're wondering if this is a one-off " show car," it at least has a model number (105UC9), but as yet no price or availability date. At a likely price several times that of a quality projection setup of equivalent size, however, I wouldn't expect to see it in Best Buy.
LG's giant 4K Ultra HD set may be a statement piece, but LG is jumping into 4K with both feet. In LCD designs, its new, premium UB9800 series comprises four models (all 16:9—the flagship 104-inch 105UC9 is the only LG 21:9 model) ranging from approximately 65- to 98-inches (diagonal, and not curved). The sets will decode both H.264 and H.265 (the latter the compression codec that appears inevitable for use in 4K consumer applications), will accept 4K at up to 60 frames per second, and will display Ultra HD content whether it arrives over HDMI, USB, or LAN.
LG's new LCD Ultra HD models, like the company's standard HD offerings, employs passive glasses 3D (in a 4K set this gives each eye a full 1080p image). Their IPS LCD panels also provide wider viewing angles than do other types of LCD sets.
LG isn't content to just go big on 4K in LCDs, however. They're doing it with OLED as well. The big OLED Ultra HD launch from LG is the 77-inch diagonal, curved, 77EC9800. The EC9800 Ultra HD OLED line will also include 55- and 65-inch models. They'll all come with HDMI 2.0, H.265 decoding for 4K sources, 4K upconversion for lower resolution material and, thanks to HDMI 2.0, can all handle up to 4K at up to 60 frames per second.
There's more OLED from LG as well, including the UB9500 range (about 55- and 65-inches, not curved and standard HD), and the UB8500 models (about 49- and 55-inches)
LG announced no pricing or availability dates for its new Ultra HD sets, either LCD or OLED.