LG 50PG60 Plasma HDTV
Price
: $2,700
At A Glance
: Exceptional color adjustments for excellent color • Outstanding resolution • Punchy image but disappointing black level • THX Cinema mode is inaccurate
Calibrator's Delight
LG may be one of the world's largest LCD makers, but the company is still very much in the plasma game, with an updated lineup of six plasma HDTVs.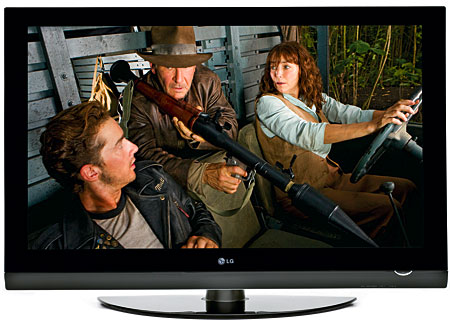 One of those sets, the new 50-inch 50PG60 plasma, is one of the first THX-certified HDTVs to be sold in the U.S. THX has long been known for its audio certification program and post-processing for surround sound, but it recently branched out into home video as well. This plasma includes a THX Cinema mode claimed by LG to deliver an "optimized playback experience" at the push of a button.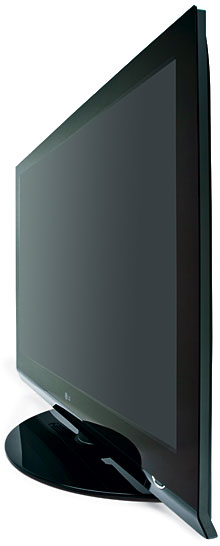 The Ten-Dollar Tour
The 50PG60 doesn't have a funky, red-colored back or a prominent, illuminated LG eyeball below the screen. The styling here is per- fectly functional. And the set does include a swivel base that has a range of +/– 30 degrees.
The back-panel inputs include three HDMI 1.3 connections and a side panel provides an add- itional HDMI 1.3 jack. There's also a USB jack from which you can view photos or listen to music from an external storage device.
The set's own audio system is quite respectable, with a full- bodied sound (though no real bass), reasonably smooth highs, and far less coloration than we hear from most flat-panel sets.
While it's compatible with 1080p/24 sources, the LG first converts them to 60 fps before display. This negates the advan- tages of 24-fps program material, which has the potential to elim- inate the artifacts associated with 3:2 pulldown.
The set offers seven preset picture modes: Vivid, Standard, THX Cinema, Sport, Game, Expert1, and Expert2. All of them are user-adjustable except THX Cinema, which offers aspect ratio control but is otherwise locked.
For its display certification, THX developed tolerances for many of the most important picture parameters, such as peak contrast (THX calls this sequen- tial contrast), uniformity, noise, color gamut, color tracking (gray scale), resolution, gamma, luminance, and video processing. These tolerances must be met before a display can meet THX certification. While it does not release specific information on what these tolerances are (a practice it follows in its audio certifications as well), THX says its picture quality testing is based on the best video practices rec- ommended by organizations such as SMPTE, ANSI, and VESA.
Engaging THX Cinema mode should provide a properly adjusted picture, but it is not intended to eliminate the need to call in your friendly neighborhood calibrator. While the LG's non-adjustable standard video settings (Brightness, Contrast, Color, Tint, and Sharpness, etc.) in that mode were close to ideal, its color tracking accuracy was not. THX points out that some out-of-box tolerances are to be expected from an assembly line, but it's working with LG to tighten them up. The company also points out that the THX mode can be re-calibrated in the field via the service menu. Nevertheless, LG states in its promotional materials that its THX mode "promises to deliver an optimized playback experience" with no mention of any need for an after- market tweaking at the consumer's expense. I expect to hear a similar line from other manufacturers who release THX-certified sets. Take it with a grain of salt.
I used the Expert1 picture mode for all of my calibrating and testing (apart from measuring the THX Cinema mode). There are also two additional hidden modes: ISF Day and ISF Night. These appear in the menu only when a calibrator sets them up in the code-accessible service menu. A calibrator can lock these two modes so that the user cannot change their settings.

In addition to the standard video controls, the Advanced Control selection in the Picture menu (it's called Expert Control in the Expert1 and Expert2 modes) provides a wide range of adjustments. Fresh Contrast is a dynamic contrast feature. For me, it made the picture unnaturally vivid on most material. I also didn't use the noise reduction (three settings plus Off). Gamma (also three settings) looked best to me in Medium.
White Balance (color temperature calibration) and color gamut adjustments are available only in the Expert1 and Expert2 modes. White Balance offers calibration either at the usual two points (the top and bottom of the brightness range) or at 10 individual steps ranging in brightness from 10 IRE to 100 IRE (full brightness). The color gamut adjustments provide color (saturation) and tint control for each of the primary and sec- ondary colors (red, green, blue, yellow, cyan, and magenta).
The set's aspect ratio options include Just Scan, which (in theory) provides a direct 1:1 transfer of all the source pixels to the screen, with maximum resolution and no overscan. Just Scan is available only in 720p, 1080i, and 1080p (component and HDMI). There's no PiP capability. The code-programmable remote, which can control three components apart from the TV, is straightforward. It has a sensible number of full-sized buttons, but it's not backlit and you can't select inputs directly. However, the input selection menu only shows inputs that are connected to a source.
Whenever you connect a source, the LG automatically configures an input. The LG alerts you to this by perhaps the most quaintly polite onscreen menus in the business. The menus state, "New external device is connected. Do you want to enjoy this?" and, "Select input source that you want to appreciate."
LATEST VIDEO