Sound & Vision's CES 2023 Editor's Picks Page 3
Nakamichi Dragon Soundbar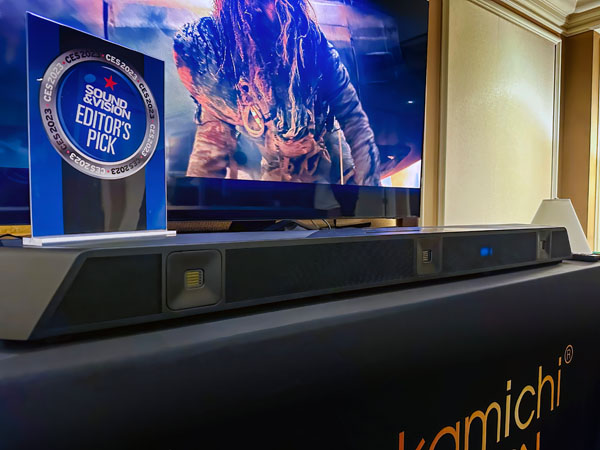 Nakamichi introduced the Dragon Soundbar, a high-end soundbar that offers extraordinary performance. For example, the soundbar and speakers come equipped with air motion transformer tweeters, and the soundbar system uses the sort of Atmos processing you find in AV receivers, which allows it to go past 7.1.4; other soundbars have to use upsampling to get past that channel count. But the Nakamichi does it natively.
The main question is whether this is the best-sounding sound bar. And to my ears, it is. The only exceptions are passive soundbar systems that cost a lot more and require you to also buy an AVR and a subwoofer or two to run them, but that's a different animal. As far as wireless, all-in-one, integrated, active soundbar systems go, this one is bonkers in every respect. It effortlessly creates a seamless bubble of envelopment, handling all the nuances of music (including classical), gaming, and movie sound at whatever volume level any reasonable person would ever request. The tentative retail price is $3499 and Nakamichi will begin taking preorders in the April-May time frame. Visit dragon.nakamichi-usa.com for more photos and a video that explains the history of the iconic Dragon badge that first appeared on the game-changing Nakamichi Dragon cassette deck in 1982.
Razer Leviathan V2 Pro Soundbar
The impressive Razer Leviathan V2 Pro soundbar is a gaming-focused soundbar that offers innovative head-tracked beamforming immersive surround sound and support for Dolby Atmos technology. Packed with proprietary THX spatial audio technology, it is a compact wonder that sits on your desktop and offers a couple of compelling virtualized listening experiences: THX Spatial Audio Virtual Headset mode and THX Spatial Audio Virtual Speakers mode.
The demos of the Leviathan V2 Pro's modes were jaw-dropping — this technology works, and when you block the camera, the immersion goes away. Head tracking is the key! It makes the sound incredibly realistic; desktop audio will never be the same. $400, ships January 31, 2023.
Samsung Neo QLED 8K TVs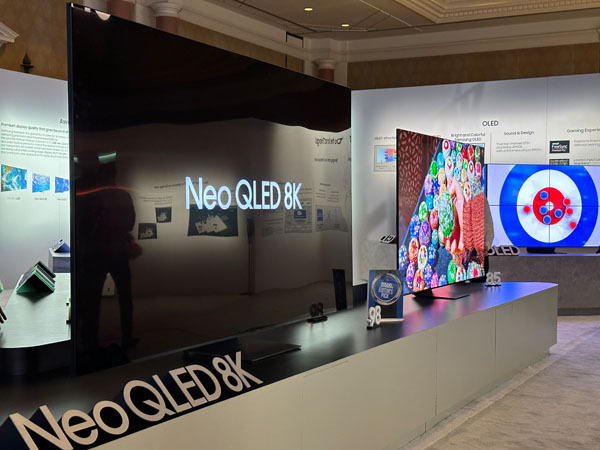 Samsung showcased its Neo QLED 8K TVs, which feature advanced quantum dot technology and offer ultra-high definition resolution. The improvements may be incremental and evolutionary, but what I saw qualifies as some of the finest-looking TVs I've seen, regardless of the underlying technology used. There's a reason Samsung is number one in TVs, and these flagship models speak to why. They are spectacular.
Samsung 77-inch Quantum Dot OLED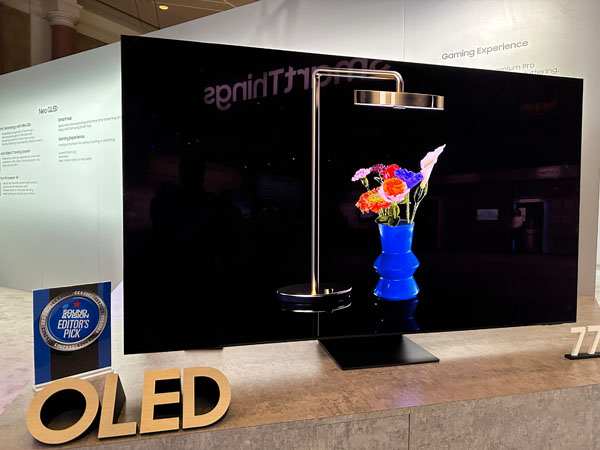 Samsung also displayed its newest quantum dot OLED TVs, which offer deep blacks and accurate colors. These QD-OLEDs don't need the white pixel used in the more familiar and popular W-OLED models. Why? Because blue OLEDs create all the light, and quantum dots convert it into green and red light. The result is a TV that easily exceeds the DCI/P3 color gamut used to master most HDR. And this type of OLED maintains picture quality even when viewed from way off to the side, even better than regular OLEDs. What's new at the show is the addition of a 77-inch model to the 55-inch and 65-inch models offered in 2022. This should prove to be a very popular option!
Samsung The Premiere 8K UST Projector
One more Samsung! This one was truly impressive, it's The Premiere 8K UST. This is a powerhouse ultra-short-throw projector that touts 8K pixel-shifted resolution. It's also very bright, and Samsung also showed a wireless subwoofer and wireless surround speakers that will work with it, which allows the built-in speakers to act like a soundbar in a proper surround-sound system. I saw and heard it in Las Vegas and there's no question Samsung is swinging for the fences in the UST category.
Sony 27-inch Spatial Reality Display
Sony's futuristic 27-inch Spatial Reality Display is a display that offers 3D-like depth and a realistic viewing experience. It's not just static 3D, like some glasses-free displays. Here, you can move your head around and get a different perspective on the 3D scene you are looking at. The trick here is it lets you see into virtual spaces, like the Metaverse, without the need for goggles. The 3D effect is vivid, detailed, and utterly seamless. You just look at this display, and it's 3D. A 16-inch version is already on the market for $5000, so it's not cheap, and I'm sure a 27-inch version will cost more, but it's also a glimpse at the future of personal displays. No pricing yet but it will be available to buy later this year.
TCL QM8 mini-LED TVs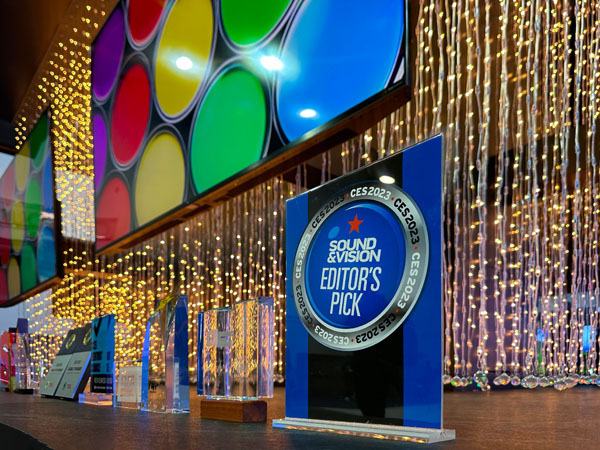 TCL introduced the QM8 4K mini-LED Series TVs, which feature advanced backlight technology and offer a high-quality viewing experience. TCL is taking care of business in terms of covering all the sizes, packing in all the features, and offering quality tiers so you can buy the performance you need, but it's at the flagship level that the company really impresses. The new backlight offers over 2300 mini-LED zones. With sizes ranging from 65 inches up to 98 inches, the 2023 QM8 mini-LED line is ready to dominate.
In this video TCL's Brandon Clark chats with me about the QM8 series as well as the 98-inch 240 Hz concept TV seen below.

TCL 98-inch 4K 240 Hz Gaming TV
TCL showcased a 98-inch 240 Hz Gaming TV Concept, which offers a large screen size, fast refresh rate, and support for advanced gaming technologies. Early in the morning on the last day of the show, I woke up with a thought in my mind: I needed to give an award to the TV that came closest to my ideal TV. And that is the 98-inch 4K 240 Hz concept shown by TCL.
Why am I so excited about this 4K monster? Because the 240 Hz makes it an absolute beast for gaming, basically the biggest gaming monitor I've ever seen. That alone is amazing. But also, this TV features a matte screen coating. And right there on the show floor, the benefit of going matte was glaring. Or rather, glare-free, as compared to every other TV there (except for those TVs meant to look like pictures hanging on a wall).
I know my dream TV when I see it, and TCL had one sitting on the show floor, so of course, it gets an Editor's Pick. This model is still a concept under development.
Victrola Stream Onyx Sonos Compatible Turntable
The Victrola Stream Onyx turntable is a modern take on the classic record player, with Sonos connectivity as the focus. It follows the somewhat more expensive and slightly fancier Stream Carbon that debuted at CEDIA 2022. The Onyx uses less expensive materials, like an aluminum tonearm, rather than carbon fiber. But the mechanical and audio underpinnings are the same as its sibling.
The main thing is with the Victrola Stream Onyx, you can get a good-sounding, plug-and-play turntable that directly interfaces with a Sonos system for a reasonable price. $599, available to preorder.
I took a minute to talk with Victrola's Don Inman about the Stream Onyx and how its different from the Stream Carbon.