Product News: Late Fall 2020 Edition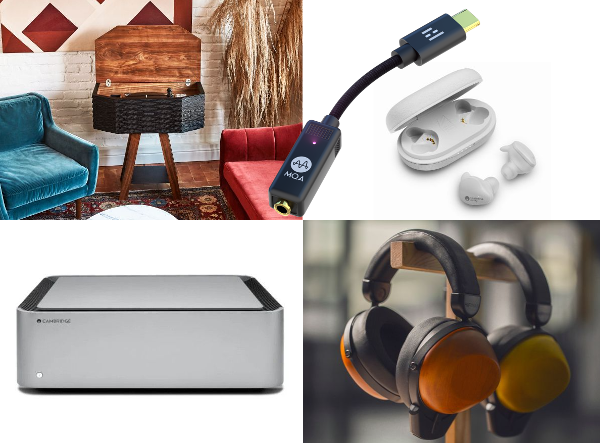 New gear to brighten the New Year — and maybe Christmas if you hurry.
With Christmas only three weeks away, the 2020 Holiday Season is in full swing as A/V makers fill the pipeline with new gear and performance updates in hopes of bringing holiday cheer to a pandemic-weary public that's embracing home entertainment like never before. Thank goodness for big-screen TVs, home theater setups, and the plentiful selection of music and TV/movie streaming services. From a $100 amp/DAC to a unique and nostalgic take on the classic hi-fi console, we review the latest A/V news.
Clarus Packs Big Tech in Tiny Headphone Amp/DAC
Clarus, sister brand to Florida-based cable specialist Tributaries, has introduced a $300 USB DAC that doubles as a headphone amplifier and MQA processor.
Designed for use with smartphones, tablets, and PC/laptops, the new Coda amp/DAC (digital-to-analog converter) is built around an ESS Professional Series SABRE DAC featuring patented Hyperstream II technology for "improved sound stage and clarity" and a "quad DAC" architecture with four converters connected in parallel — a configuration said to extend dynamic range to 124 dB and lower noise and distortion (THD+N) to an impressive –112 dB. Playback support includes PCM up to 32 bits at 384 kHz and DSD up to 5.6 MHz.
The thumb-drive-size device is upgradeable via firmware and employs an audiophile-grade clock designed to reduce jitter, metal-film resistors with a ±1% tolerance, and a tightly regulated power supply with multi-stage CMOS regulators. Clarus says future performance improvements will be made available via software updates on the company website.
The amp section is a super low-power Class G design that has been optimized for mobile use without compromising performance; Clarus compares its performance to that of a Class AB amplifier. A robust output voltage of 2.0Vrms means the amp is capable of driving even the most demanding headphones without draining your playback device's battery.
Tiny plus/minus buttons on the Coda control volume and selection of three filters with different roll-off characteristics, while an LED indicates the sample rate of the track playing: blue for standard definition, green for high definition, and magenta for MQA rendering.
"With any DAC, the printed circuit board layout is critical for low noise and best performance," explains designer Jay Victor. "Because of the small enclosed space, we used a high-grade, high-temperature PCB material to eliminate any overheating problems. It's that level of attention to detail that enables CODA to provide a very enjoyable listening experience."
Visit claruscable.com for more information.
Denon and Marantz Go Pro with Home Theater Update
Sound United is giving home-theater performance a serious boost with a new firmware update for AV receivers from two of its top brands — Marantz and Denon. The update enables 13-channel DTS:X Pro decoding for DTS:X and IMAX Enhanced/DTS:X soundtracks and expands DTS Neural:X "upmixing" to 13 virtual channels.
Released in mid-November, the update is available for Denon's new AVR-A110 ($5,499) as well as the AVR-X6700H ($2,499), a Sound & Vision 2020 Top Pick, and the AVR-X8500H ($3,999), a 2018 Top Pick.
On the Marantz side, the update applies to the new SR8015 A/V receiver and AV8805 AV preamp, a Sound & Vision 2018 Top Pick.

The firmware update also enables Dolby Surround Front Wide speakers and Dolby Atmos Height Virtualization in the Denon AVR-X8500H AV receiver and Marantz AV8805 A/V preamp in addition to adding the following features:

• DTS Neural:X capability for all 2019 AVRs (2020 models supports the feature out of the box)
• 180Hz crossover setting
• 80Hz speaker + sub and 120Hz LFE crossover settings for IMAX
• Screen saver function for all 2020 AVRs

Sound United also announced that the update will restore the popular Dolby Center Spread function in 2019 and 2020 AVR models from both brands and include a power-up volume level default fix for 2020 AVRs. Visit denon.custhelp.com and marantz.custhelp.com for more information.
Wrensilva Reimagines the Stereo Console
San Diego's Wrensilva took a decidedly classic approach to home audio when it revived the stereo console a few years ago. Designed for compact spaces, the Loft is a dramatic update of a console the company introduced a couple years ago. It's also the least expensive model in the line. At $4,999, it's by no means cheap but it is a unique, all-in-one system housed in a hand-built walnut cabinet featuring a distinctive "ebonized oak" grille.

Opening the lid reveals a "fully decoupled" belt-driven turntable, fitted with a Pro-Ject aluminum tonearm and Ortofon OM5E moving-magnet cartridge, and an aluminum control panel that presides over a Sonos-compatible solid-state preamp with Bluetooth streaming and 2 x 100-watt IcePower Class D amplifier that brings the system's two-way speaker system to life. The Loft is rated to play down to 55 Hz (±2.5 Hz) and provides storage for up to 60 albums — in a nook to the left of the turntable and on the metal shelf near the bottom of its legs.

Anyone who orders a console as a gift this year will receive a "gift pack" that includes an Elvis Christmas album, record cleaner brush, and vinyl tote bag so the giftee has a package to open while the console is being built. Lead time is currently 6 weeks once an order is placed. Visit wrensilva.com for more information.
Cambridge Audio Improves its Wireless Earbuds, Debuts High-End Monoblock
U.K. audio specialist Cambridge Audio has announced a significant evolution of the Melomania 1 wireless earbuds it introduced last year. Slated to ship the first of the year, the $150 Melomania Touch 'buds cost $50 more than their predecessor but offer increased battery life and a more comfortable design with slightly larger graphene-enhanced drivers, a transparency mode, intuitive touch controls, and a "high performance audio mode" that uses amplifier technology borrowed from the company's CX power amps to lower noise and increase higher dynamic range. The earbuds weigh a mere 0.2 ounces and are supported by a companion app with controls to adjust the amount of outside noise you hear and an equalizer for adjusting bass, midrange, treble and selecting a half dozen EQ presets; the app will also facilitate future performance upgrades

Cambridge engineers analyzed data points collected from more than 3,000 pairs of ears to develop earbuds that "ensure long-lasting comfort" and improve noise isolation and sonic immersion. Rated play time in low-power mode is 9 hours on a single charge, which can be extended four times using the supplied charging case for an additional 41 hours. Play time drops to 7 hours when the performance mode is engaged and you get an additional 33 hours from the charging case. Like its predecessor, the Touch is resistant to water and sweat and employs Qualcomm's Clear Voice Capture noise cancellation with dual microphones to ensure clear phone calls.

The Melomania Touch earbuds are offered in black or white and come with an assortment of silicone ear tips and fins to ensure a tight, comfortable fit. Visit cambridgeaudio.com for more information.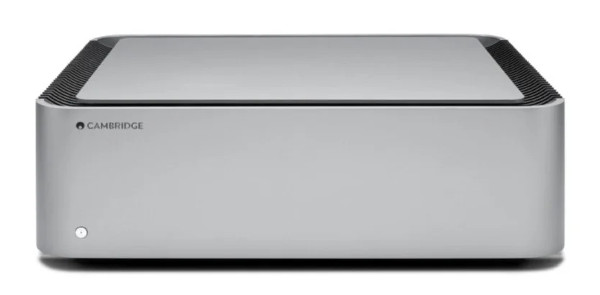 At the opposite end of the price spectrum, Cambridge Audio also added the Edge M monoblock amplifier to its high-end Edge series. The amp is rated to deliver 200 watts into 8 ohms or 350 watts into 4 ohms — double the output of one of the Edge W's stereo channels — and carries a hefty price tag of $4,000, which means it'll cost eight grand to power a stereo setup. The M is a proprietary Class XA design — a more efficient version of Class A that produces less heat while shifting the crossover point out of audible range.

Offering balanced and unbalanced inputs, the Edge M sports an elegantly curved aluminum front panel and a top plate that "floats" above the heat sinks. The M employs twin toroidal transformers in a symmetrical arrangement designed to cancel stray electromagnetic interference while ensuring hefty power reserves. Like its stereo counterpart, the M is built using a minimal number of components to keep the signal path as short as possible. Visit cambridgeaudio.com for more information.