The Who: Tommy Super Deluxe Edition
Pete Townshend was on a spiritual mission, determined to produce a rock opera that would reflect his own path to enlightenment. His band mates in The Who were initially wary, but once they understood the multifaceted story of a deaf, dumb, and blind kid who sure played a mean pinball, there was no turning back from climbing the mountain. The epic sprawl of 1969's Tommy catapulted The Who forever into the rock 'n' roll stratosphere. And now Tommy gets a fuller archival due on this four-disc 45th anniversary Super Deluxe box set, achieving yet another new-vibration milestone on Blu-ray. (More on that disc's groundbreaking surround mix in a moment.)
Disc 2 unveils 25 of Townshend's demos and outtakes, a treasure trove of the sonic tentpoles of Tommy's transcendent holiday camp, including hard-panned swirling effects and squalls of feedback ("Dream One") and down-home mouth organ vamps ("Tommy, Can You Hear Me?"). Disc 4, labeled The Live Bootleg Album, consists of Tommy tracks culled mainly from a ferocious performance in Ottawa, Ontario, on October 15, 1969. John Entwistle's punishing low end drives the engine of "Go to the Mirror!", while Roger Daltrey's exultant roar punctuates a jubilant "I'm Free." And Keith Moon's all-out cymbal assault in the middle of "See Me, Feel Me/Listening to You" sets the tone for Townshend's walloping guitar solo, wherein gobs of gnarled feedback give the phrase "windmills of my mind" an entirely different meaning.
As thrilling as all of that is, it's disc 3's 5.1 mix by Bob Pridden and Richard Whittaker that fully welcomes you into the camp with a difference. Dubbed by Universal as their "High-Fidelity Pure Audio Blu-ray format," the 96/24 presentation of Tommy in surround sound is a revelation of breadth and precision that should serve as the aural blueprint for how producers and engineers should approach all future historical 5.1 remixes.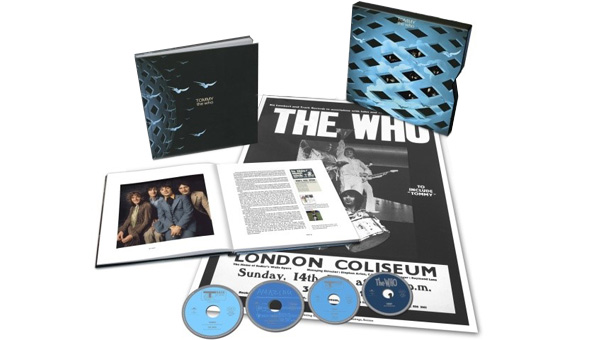 When Tommy came out on SACD in 2003, Townshend handled the 5.1 mix himself, deftly capturing the essence of The Who's patented thrashing crunch by amplifying how the original recording's dynamics unfolded all around you. But Pridden and Whittaker's new 5.1 take on Tommy follows the much more adventurous animus of how they remixed eight tracks from Quadrophenia in surround for that album's 2011 Director's Cut box set. With their 5.1 Tommy, the listener is often placed in the position Daltrey would take onstage, and you instinctively feel yourself turning and facing each band mate depending on the song's vibe. Once you accept literally becoming Tommy himself in the mix, you won't be jarred by having Moon's drums emanate mostly from the surround left like a recurring percussive devil perched just over your left shoulder.
And oh, the clarity! Each guitar string resonates during Townshend's furious acoustic strumming that opens "Pinball Wizard" in the surround right before his signature electric riff kerrangs on through in the front right. During the elegiac denouement of "We're Not Gonna Take It," all of the album's seeded themes bear 5.1 fruit, starting with the seething whispers of the title phrase burrowing and then gnawing at you in the back stage. You'll also marvel at Daltrey's dramatic pause that turns the pivotal word touch into two syllables, leading right into the stacking, uplifting harmonies on the repeated choruses that rise to envelop you like a heavenly ascending bubble.
That's but a peek at what awaits you underneath this 5.1 eyeshade. By pushing the surround envelope, Pridden and Whittaker have elevated Tommy's brilliant palette to an even more divine experience. Tommy, can you hear me? You've just taken me on one hell of an amazing high-rez all-channel journey. Listening to you in 5.1, I truly get the music.
CD & Blu-ray
Label: Polydor/Universal
Audio Formats: 44.1-kHz/16- bit PCM Stereo (CDs), DTS-HD Master Audio 5.1 96-kHz/24-bit (Blu-ray)
Number of Tracks: 70 on three CDs, 24 on one Blu-ray
Length: 4:39:49
Producers: Pete Townshend (box set), Kit Lambert (original album), Bob Pridden, Richard Whittaker (Blu-ray)
Engineers: Damon Lyon- Shaw (original album), Pete Townshend (demos)